It's been a while since I was posting about splinterlands but with the game going from strength to strength over the past year I am still as excited about it as the day I played my first tournament. Back when they were still manually organised with a calendar and a draw for matches on some external site.
You had to search for your opponent and then report back the scores to the tournament sheet. Sometimes it would take forever if people weren't getting back with the scores and moderators would cut them from the game to keep it moving.
I'm not sure how many people still remember those days but it's amazing how much progress can be made in such a short time. Getting the full site running with tournaments, markets, potions, untamed and now tron and ethereum capabilities. @splinterlands is going to be big.
They are doing a great job and have a great product to go with it.



End of season 14/01/2020



Not a bad one as I finished up in Diamond II again but I can feel it getting tougher and tougher. At this stage I will need to either try and max out some cards to keep placing in a good position or slowly drop down the leagues until Diamond becomes a struggle to reach. The matches at end of season are really tough so if you don't get in there early it's very hard to gain points on the last couple of days.
Anyway this gave me 50 reward cards for the season which looked a little like this.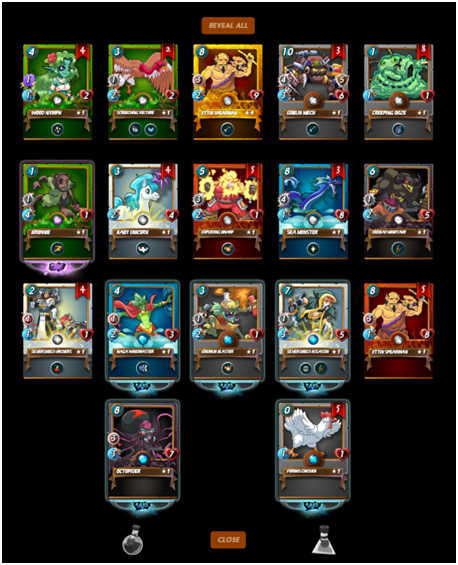 Nothing spectacular here with one gold to sell. I don't have a fire splinter. An epic and a few rares. None of these will help me too much as I'm always trying to buy and earn gold cards for my deck. The more gold I can get the better as it can earn you a lot more in matches and tournaments. I will probably sell most of this batch and pick up a few that i need.
I do also have a second account as when i was buying beta packs ended up with a lot of doubles and decided to play this too with a few of my level 4 cards to see if you could level up organically. Funnily enough I seem to get much better rewards on that one which is silver/gold most seasons. Even this one where I hit gold I with a solid run towards the last day.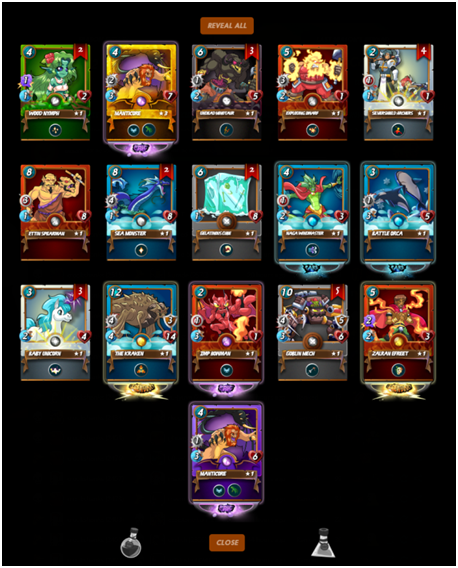 Only 30 reward cards on this one but ended up with 2 legendary and a gold foil Manticore worth about $16. One of my best results from playing the game and a few handy cards to fill out my main collection.


All in all a good season and looking forward to pushing it a bit more in the next one.