The crypto space right now is one that's full of opportunity for those who are watching closely. It pays to be the first person in the door to a good project and on WAX blockchain it can pay even better.
WAX have been making huge strides in the area of minting and selling NFT's over the past few months with some big names jumping into the space through their simple system.
WAX will be a big force in this space and it was great to see @splinterlands expand their partnerships by adding interoperability with WAX for splinterlands assets. It's moves like this which will be vital for projects to grow and thrive as they expand.
WAX were the platform for launching projects by blockchain heroes, street fighter, Topps trading cards, William Shatner and lots more big names.
For collectors on WAX, there is a huge premium on the mint number of each card as that is where it's main value derives from within the collection. Having the number 1 mint is the same as having a first edition comic book for new age collectors.

Splinterlands Integration.
Splinterlands cards have been in existence for almost three years and the value of these is in their attributes and use within the splinterlands app. It is interesting to see how these two contrasting systems managed to collaborate and present a great opportunity to splinterlands collectors on WAX.
The interesting part of this joint venture is that the ability to mint cards on WAX resides with the splinterlands players who own the cards on HIVE and want to change them into WAX assets.
The opportunity resides in the first person to transfer each type of splinterlands cards will own the valuable no1 mint of that edition.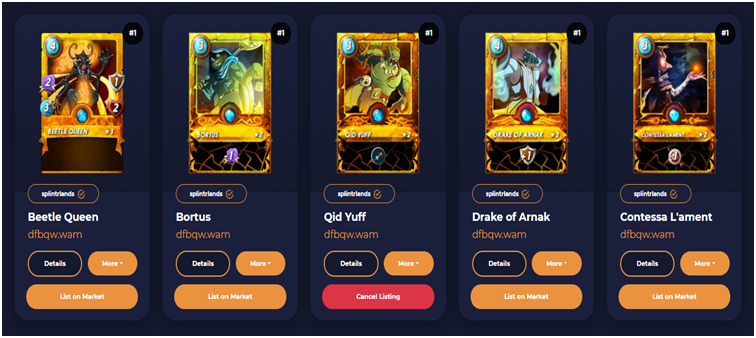 It was very much a case of first come first served on WAX. The splinterlands team spelt this out for anybody watching for opportunity in the days before launch and gave people the chance to gat involved if interested.
Mint Numbers
The AtomicHub platform tracks the "mint number" of each different type of asset and there are many people who like to collect first mints or low mint number assets. Splinterlands cards will also have mint numbers on WAX, however they will represent only the order in which the cards were minted on the WAX blockchain and not in the Splinterlands game. That means that the first Goblin Shaman card that is transferred from the game to the WAX blockchain will be the first mint of that specific card regardless of when it was actually minted in Splinterlands.
Ref: https://peakd.com/splinterlands/@splinterlands/splinterlands-wax-integration-announcement


I jumped at the chance when it was offered as they are two platforms that i have a lot of interest and respect for.
Minting strategy



I knew that there would be plenty of others watching this space and didn't want to miss out on those number 1's by minting the same cards as everybody else at the exact same time and so tried to mind some rarer cards at level 1 as the actual level which gives them value on hive adds no value on WAX.
I minted some gold cards, gold summoners, legendaries and anything that people wouldn't have lying around spare.
I was lucky enough to mint a few number 1's and plenty low enough mints on the day.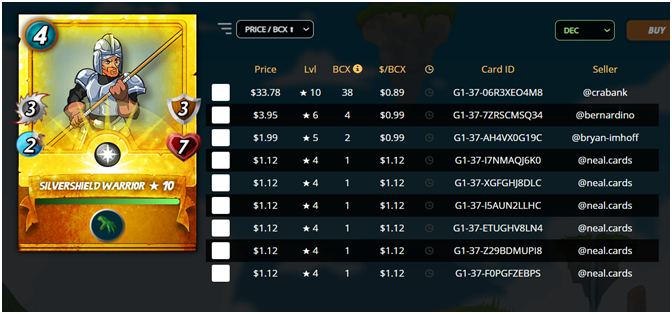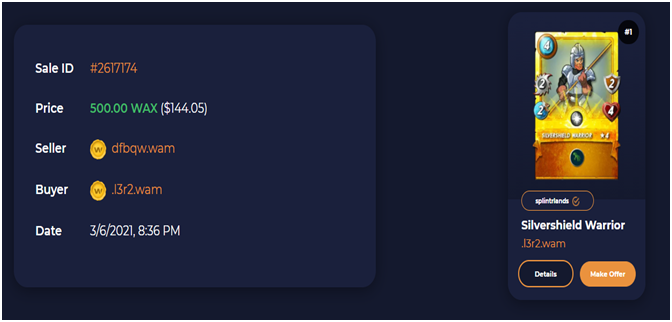 A simple gold life card that you can pick up on HIVE for a dollar becomes quite valuable on WAX with the right number in front of it.
Note: This card was sold when the WAX price was a lot lower and for about $50 but it's nice to see the latest spike in price.
I have only sold a couple of my low mints as the prices are not cheap but if they take off over the next couple of years then people could be fighting for low splinterlands mints. Just look at how Pokémon cards have gone over the past decade and think about if you had held them over a long period of time.
I can sit on these for years and see how the markets move as splinterlands expand to see if the value can grow with demand.
Crypto is full of opportunity for those who are logging in every day. Effort and consistency will pay off over time and HIVE presents new chances every single day. It's just a matter of keeping your eyes open to see them.
This will be an ongoing opportunity as every time a new card is released you can be the first to mint on /wax. You just need to be ready.
Posted Using LeoFinance Beta