img source
Markets experienced some crazy days lately!! People understood what they can do if they gather up...or so I'd like to believe. What is also understood is that markets are really manipulated.
Anyhow, we have some great news these days.
Elon Musk became a Bitcoiner he also did mention that Dogecoin some time ago. This is gonna wake the cryptos I guess.
Doge went up more than 300% in just two days. How crazy is that?
Ok, let's see what's happening on those charts!
BITCOIN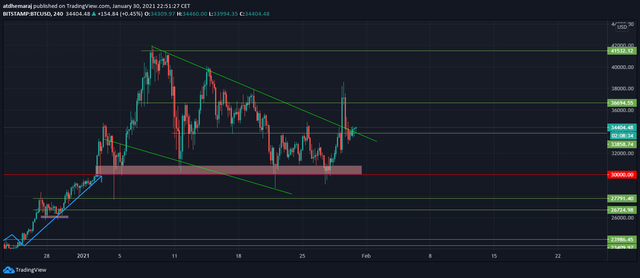 Congrats, BTC broke the bullish flag pattern, now it's holding on that 33858 area. I expect some ranging there before it goes any further upwards.
I think that by the end of February we will touch the ATH or break it.
STELLAR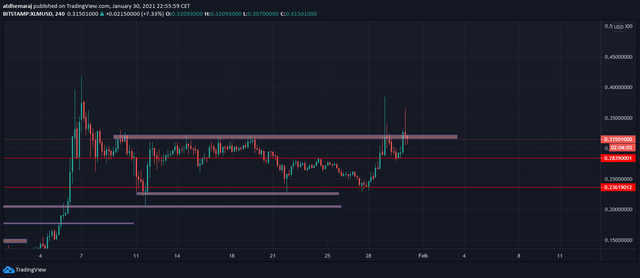 Stellar found support 0.2839 area but 0.3228 it being quite a pain in the b*tt. Anyways, let's see how this daily candle closes...is think there is still room for another bullish run. But unless we fail to break above 0.3228 we might see some pullback.
ZILLIQA
Crazy times for Zilliqa, they tokenized a Scotch Whiskey, they are having some games that reward you in Zil also they are cooperating with the singer's Akon crypto...AKOIN. Just a fun fact...this guy contributed a lot for Africa, bringing electricity to more than a million Africans.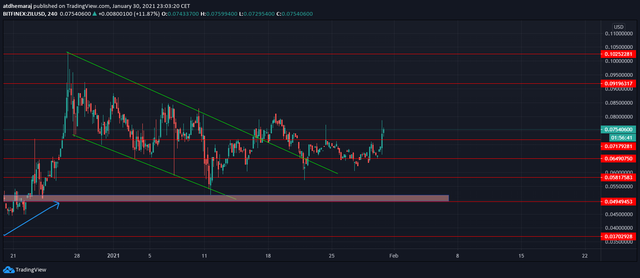 The bullish flag pattern was broken for quite some time now, but Zil was ranging a lot and couldn't go any higher just yet. But, today was pretty a good day for Zil, it went up for more than 10%. I do expect it to reach 0.09$ by tomorrow night.
TRON
Why so hateful!
Anyways, Justin Sun said that he will back up the community in this Gamestop thing, immediately after that, TRX price when up for more than 50%. But it didn't manage to hold it. Let's see what we look like today.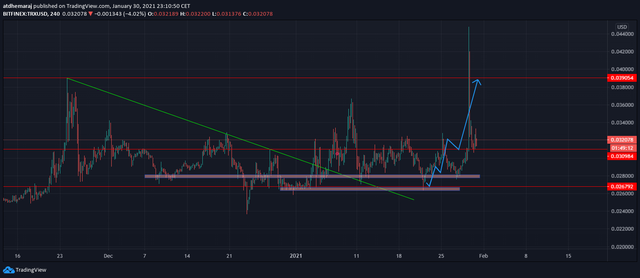 As you can see...everything went just like I expected 0.039 area was quite hard on Tron. Anyways, we are holding pretty strongly on 0.030 area and the way that candles are forming I do some confirmation that this area will hold and give Tron another push. I think we will close February above 0.039.
What do you think about my analysis?
What would you like to see next?
theatdhe!