I decided to go to Perancak Village again in the afternoon near sunset time the same day I went on my motor cycle trip. I was just so curious, how would the beach, the river, the bridge would look like around sun set time. I went with my family there, but they did not actually know they would go to the beach. All they know was that they would follow me to do some "photography." Since I blog on HIVE my family knew that sometimes I would go out for photos and find story to create content for my blog.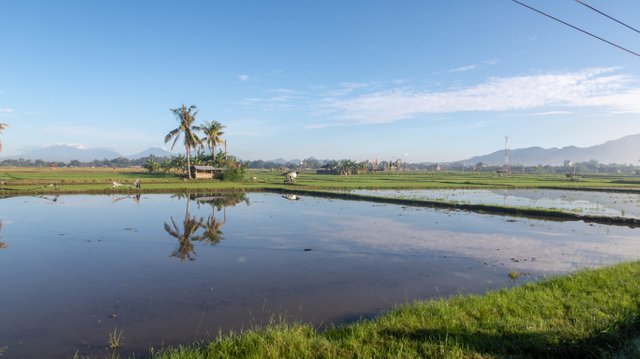 On our journey to Perancak Village, I stopped by the road when I saw this beuatiful view.
When we arrived on the bridge, the day was still quite hot. We stopped for a few moments, then decided to continue riding passed it. I planned to go back to the bridge after we finished in the beach.
After few minutes riding motor bike passing some villages, we arrived on the narrow road that lead to the beach. There were some people standing by the road. They brought some tanks contain of desifectant to spray cars that enter the village. They did not spray us with desinfectant since we're only riding motorcyles, so we just continued ridinng into the narrow road.
There was an area designated for motor cyle parking about a minute walk from the beach. We parked there. And from there we could see that there are many motor cycles. It only meant there were many people visiting the beach.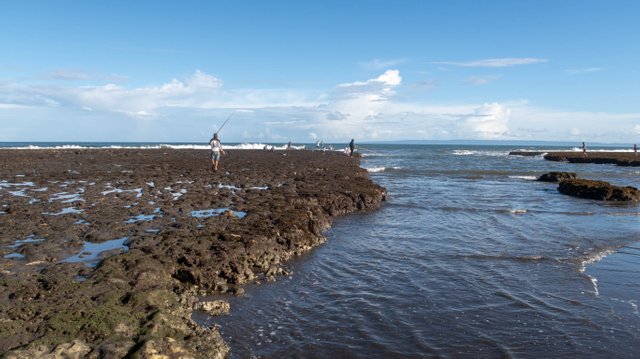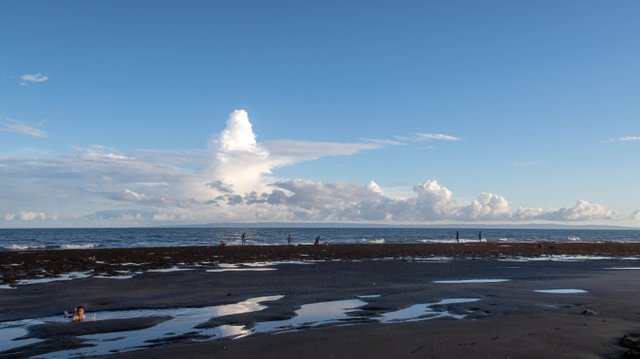 Walking to the beach, the water was far far away from the shore. It was ebb. And not surprisingly (as hinted by many parked motorcyles) there were many more people than what I encountered in the morning. Many of them were standing on rocks close to the water while holding fishing rods. Some collecting corals or seaweed from the beach, and some just spend their time with their family or dogs. And there were few more motor bikes passing by on the sand.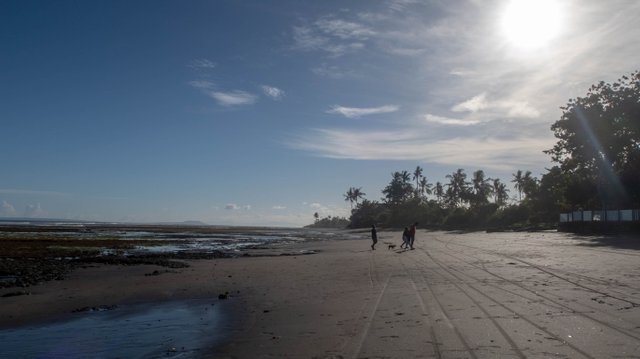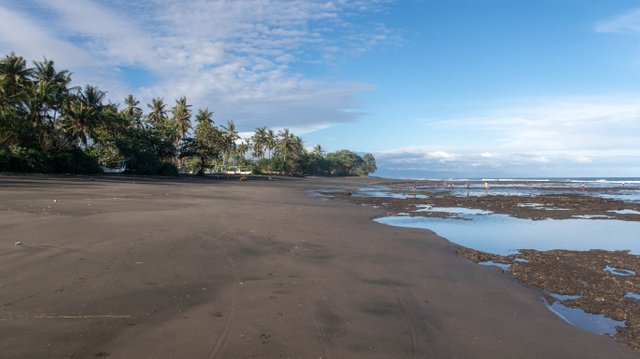 I walked along the beach with my family. Then my kids became excited when the got near the splashing water. I let them had some fun in the water.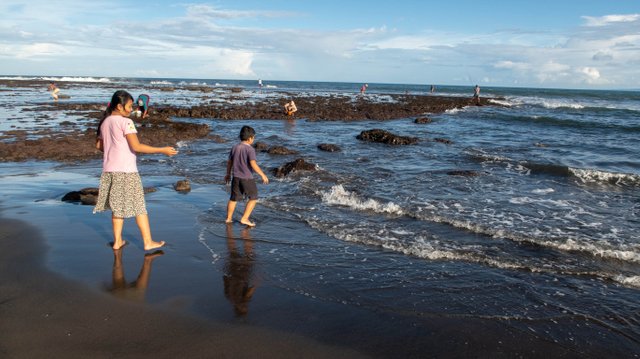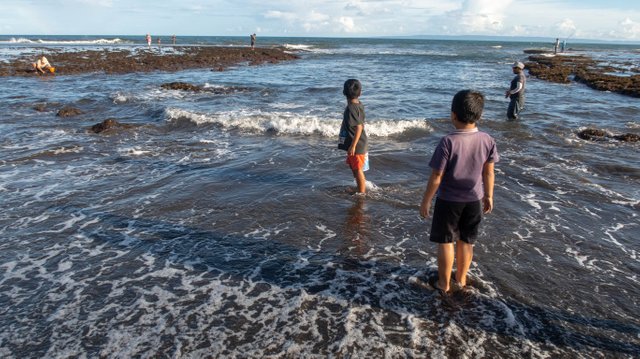 The sun look was still high. It was 4.30 PM when we got there, while the sun will set at about one and half hour later. So, we had plenty of time playing in the beach.
Just fifteen minutes before six, we walked back to our motor cycles. "Remember to put on the masks or covid-19 will be angry to us." said my 7 year old son referring to the people who spray desifenctants we met when got the way to the beach. We laughed. Then I explained to him my best that covid-19 is a kind of virus.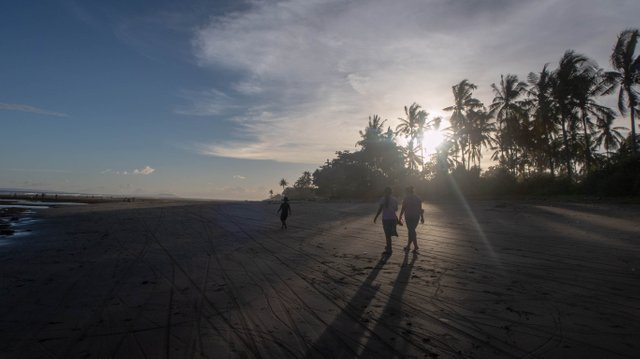 We start our way back home. On the way, we had few more stops including the bridge and the rice fields. I knew that this would be better at twilight time, but I could not wait for that time or it will be too late for the kids. But I think I still have some okay photos.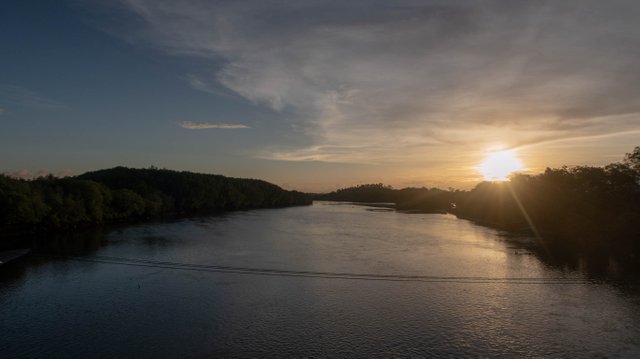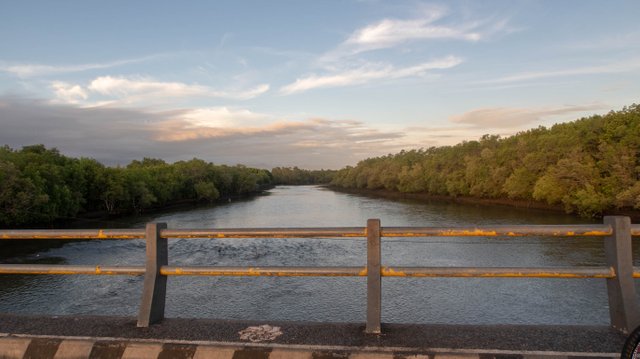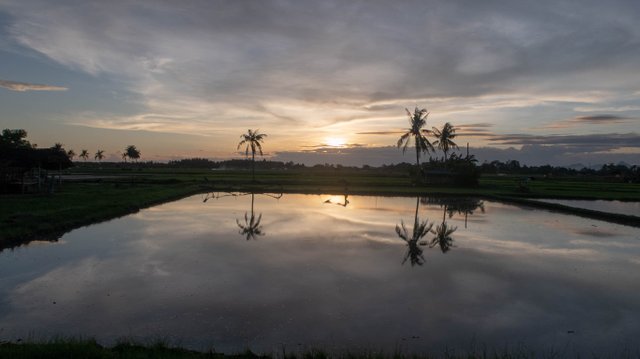 After stopping on the bridge, we rode again our way to get home. I stopped once again near a rice field for photos. It was great scenery of rice fields and the reddish sky in the background.
And that's our adventure for today. Thanks.
Cross posted from my blog A Trip To Perancak Beach at Sunset Time