Do you remember playing FarmVille during your early Facebook days? This sandbox social network game was developed by Zynga in 2009. FarmVille initially ran on Adobe Flash and created ripples in the social media after integration with Facebook in 2009. It was the most popular Facebook game for two years. Presently the game exists as FarmVille 2. FarmVille is a farmland management simulation game. Here the players plough land, harvest crops, harvest trees and raise domestic animals and pet birds. The players make cities also. FarmVille's USP was its sandbox game feature. You play while you learn to play. It gave an option to the players to become creative. FarmVille is a free game but the players spend 'Farm Bucks' in the game to purchase items. The gamers either earn 'Farm Bucks' while playing or they purchase with real currency. FarmVille really rocked once upon a time.
Game to blockchain game
People are crazy for games. In 2019, the games industry surpassed the value of $152 Billion and now the market cap of the games industry is twice of the Music and Movie Industries. Almost 1/3 population of the world participates in gaming after advancement of the mobile games and smartphones. The game model is being re-invented nowadays. People don't like fixed pattern games. A sandbox game like Minecraft is ruling the video game market since a long time. The fast-developing blockchain technology is planning to change the way a game is played. Blockchain games? There are so many already. A game like Minecraft has blockchain plugins now. People are exchanging in-game digital assets over the blockchain while playing the game. Blockchain can provide a paradigm shift to the gaming industry. Decentralized in-game asset exchange or verifiable scarcity of an in-game asset was 'out of the world' concept even some years ago. Blockchain is making all these possible. A new economic life is waiting for the gaming industry.


Townstar – the blockchain FarmVille
Farmville creator Eric Schiermeyer wanted to bring a version of FarmVille on the blockchain. He has built a blockchain infrastructure called Gala Network. It is a Zynga venture. Gala Network will encourage the developers to innovate and provide revolutionary gaming experience by providing in-game asset ownership over the blockchain. So far, so good. But this not a concept. They have actually launched the first game recently. It is called 'Townstar'. The creative team of FarmVille 2 is behind the designing of the game. It is basically a blockchain version of FarmVille. Gala is using Ethereum blockchain and ERC-1155 token standard. Yes, the in-game assets are NFTs (Non-fungible tokens) and tradable over the blockchain. 'Townstar' is farmland management game. You can harvest crops and trees here. You can build your cottage and eventually a whole city. The game is in the 'Alfa' stage. You need to register by using your email and a password. The game can be played from desktop or mobile. Once you log in, you need to set up a new Ethereum wallet. You need to secure your wallet with a strong password. Don't forget to note down your recovery phrase in a safe place. After registration, there is a cooling period to start playing the game. Remember that it is an 'Alfa' version and not designed to handle high traffic now. But the present version is quite stable. I started playing the game without any hassles. The game loads pretty fast. The UI is smooth. The design will remind you about FarmVille. There is something called 'FarmBot' here. It mines BoxCoin the 'Townstar' game. You can look for a location to mine on your map during playing the game. The Marketplace section shows a few items which will be coming soon. There is an inventory section which allows you to store Bitcoin, Ethereum, BoxCoin and Gala. The Gala balance can be transferred now. Most probably, both Gala and BoxCoin will provide a token economy to 'Townstar'. There is an option to get the 'Gala Gold Account' for $10. The game is accepting only payment by Bitcoin now. The gold account includes limited virtual game items, $100 towards Gala node and digital rewards for app shares. You can play without the gold membership also. The game has a referral scheme.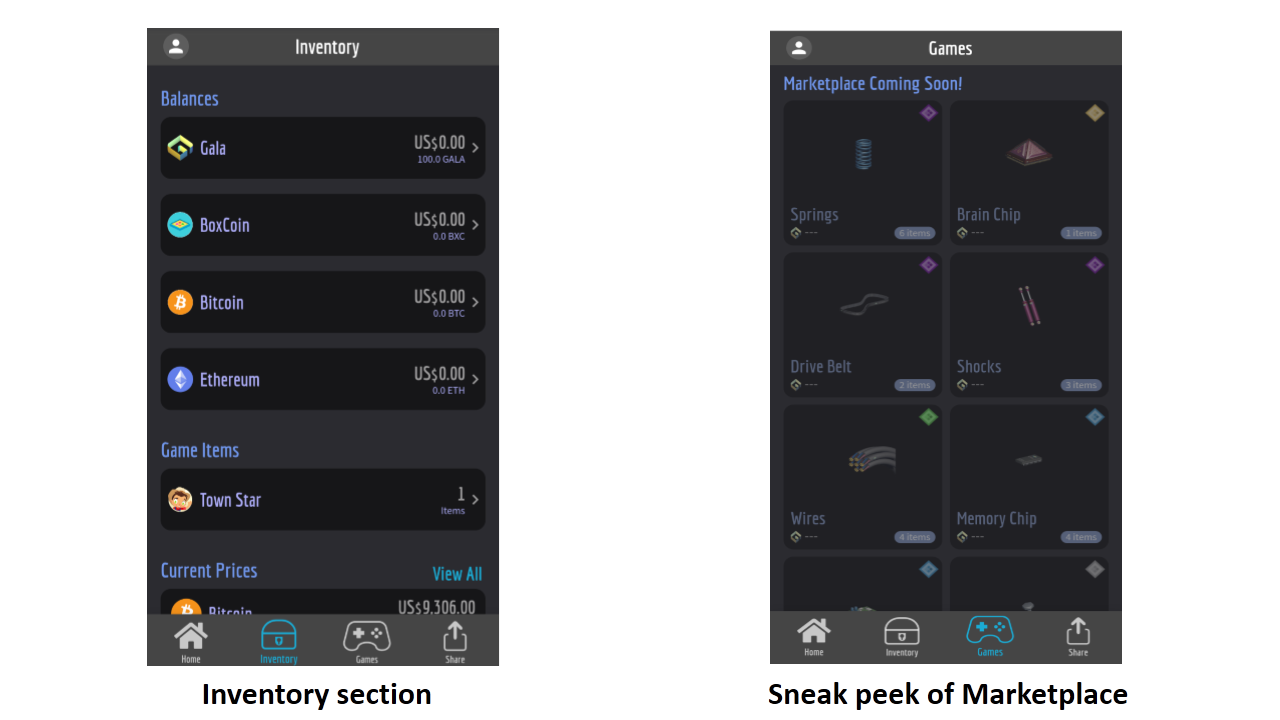 Participate in the game before the game
You can try to play Townstar game registering with Gala Games. You also get 100 Gala free when you sign up. If you are a game lover, be an 'Alfa' tester.



Zynga has a history of creating so many 'AAA' hit games. They are a leading innovation player. The creative minds might be on the right track. This time they are backed by the blockchain technology. In FarmVille, you made a city and enjoyed gaming. In 'Townstar', you can make a city and sell it too. Some similar games are already operating on several blockchains and people are gaining crazy money. Play while you learn and earn while you play. The next generation gaming revolution is prepared to enthral you. The gamers are ready. The game economy too.
Cheers!
[paragism]
Note: The images are created from in-game screenshots and pictures available on Gala website. You can follow the author on twitter.