With the mainstream media going full tilt banging out war propaganda, going unnoticed are the developments in Canada and the EU.
Canada has given up the pledge made by its leader to spread freedom and democracy around the world to now removing the freedoms of its own citizens.
With the new Canadian regulations regarding holding crypto, many exchanges are now adding Ontario to their list of restricted jurisdictions. The ability to own crypto, even if it involves having all your details sent to your local government officials for approval is no longer very easy. Is a full block coming?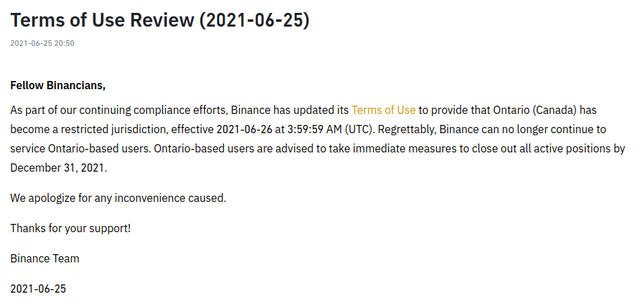 Binance has blocked Ontario
source
Will we also soon start to see the same message on some of our favourite exchanges within the EU?
Canada is most likely a forerunner here in closing the on/off ramps to free crypto wallets in preparation for the new central bank controlled ones. The recent back and forth from the EU about tracking all crypto payments is a flavour of what is to come.
Moving crypto around could be the same as downloading a copyrighted MP3 in the future. Will there be a Crypto Tracking Team set up to try and find people's crypto? What developments in the Blockchain space can be made to protect people from the overreach of tyrannical governments like Trudeau?
A possible interim solution for those in Ontario is to purchase your crypto using a VPN or a TOR browser and pretend you are surfing from Mexico. Once you have purchased what you need, you can download it to your personal wallet and you are done.
Thanks for reading