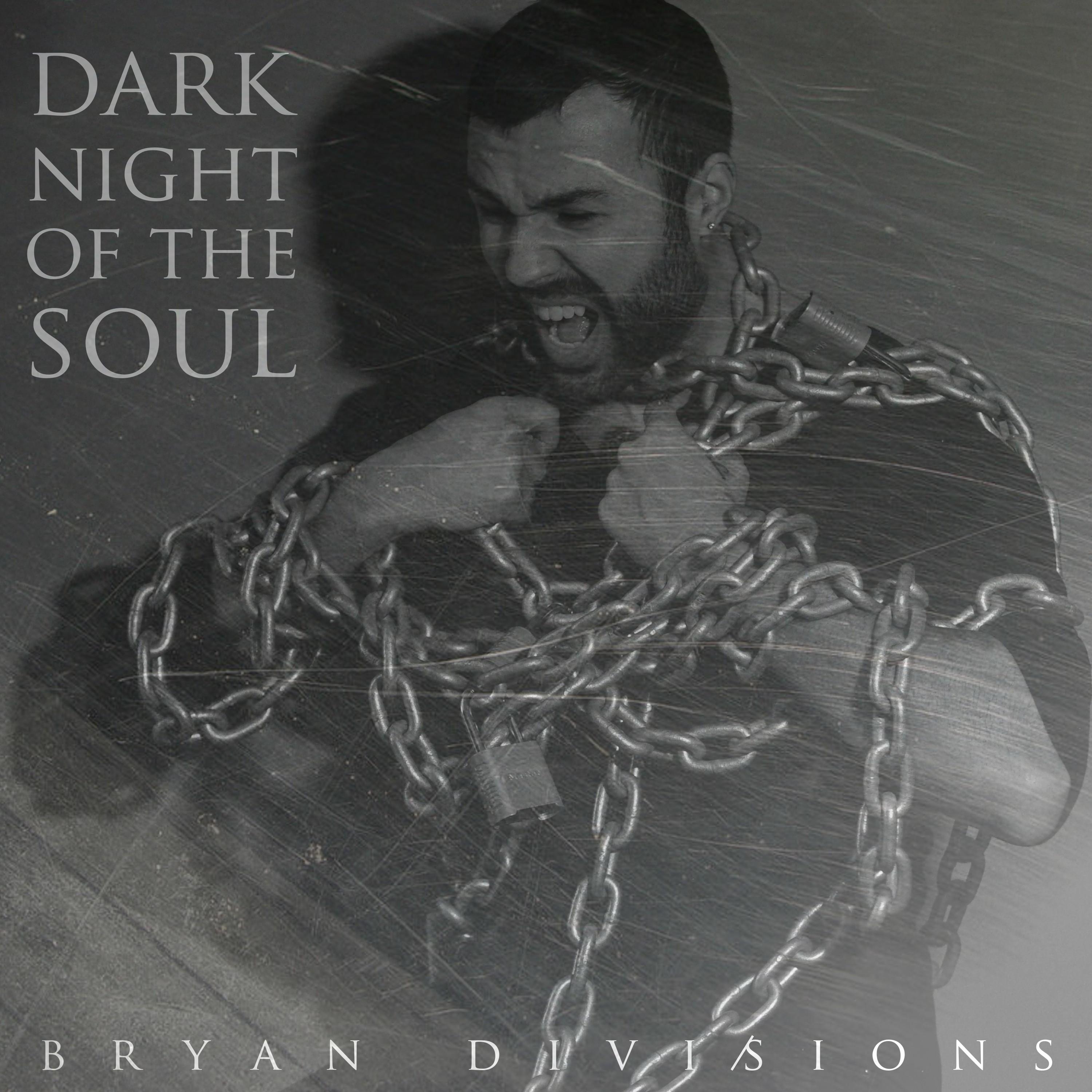 'Dark Night of the Soul' by Bryan Divisions
Although I often focus on positivity and higher vibes, the reality of feeling the heavier and darker emotions in life is one I also choose to express in my music.

I wrote Dark Night of the Soul as I was reflecting on my own Dark Night experiences, when circumstances would shake my life up and down to my deepest core beliefs.

Although I originally created the beat for this song back in 2013, the lyrics manifested themselves in 2018 as I was going through the very real scenario of my parents separating after being together my entire life. This brought back a lot of emotions from my childhood, namely those of desire for a happy and tight-knit family.

The album art was created to express the feeling of struggle when trying to escape one's own emotions and inner world, i.e. the self created prison of the mind, and the chains and locks we create for ourselves.

Being able to express myself through lyrics and my music is part of the way I can unlock and escape the chains that had bound me. By allowing my feelings to be felt and captured through music, I've been able to bring light to what was once dark.

Lyrics:
Yeah, which path do you walk when you just wanna take away the paint
No one sees the light in you but you can feel the flame
The burning desire, for your soul to be free
And we just try to get higher, hoping we'll finally leave
And escape from this place, erase this horrible taste
From all this darkness we face, and all these feelings we hate
We cannot live with this fate, there's gotta be a new place
Where true expression is safe, and where it's give and not take
Gotta fake it just to get through every day, every day
Put on a fake smile so they'll all just go away, go away
Curious to know what can never be told
Bought into beliefs that your mind has been sold
Supposed to be young but life's already old
Don't wanna hear what this world's gotta say, nah
Cause they can't see the real you underneath all of this haze, nah
The maze of what they think life is, how could they see it like this
They've been repressing our gifts, and putting our hearts at risk
Cause the darkness wants to eat us all alive, all alive
Keep us cornered in our rooms without the hope to try
This isn't life
Told that it's not right for you to cry, you to cry
Keep your feelings to yourself until you die, you're forced to live a lie
Cause the darkness wants to eat us all alive, all alive
Keep us cornered in our rooms without the hope to try
This isn't life
Told that it's not right for you to cry, you to cry
Keep your feelings to yourself until you die
But that's not life, that's not life, that's not life, that's not life
But that's not life, that's not life, that's not life, that's not life
But that's not life, that's not life, that's not life, that's not life
But that's not life, that's not life, that's not life, nah
Behind this mask, I know there's so much more for me to show
Too much contrast between all my highs, all my lows
Ups and downs, I can't find my ground, threatened by the sound
Of my heart when it pounds, each and every beat I count
Keeping me aware, of the soul inside that I have found
Even though the world around me wants to keep it locked down
Never knowing the true toll that this'll take, scared to make a mistake
Just keep to myself and assume I will be safe
I'm aching inside, want to connect with the light
And heal the divide, between a family that forever tries
Swimming cause we're capsized, with dark storms in the skies
Destroying the times, when water and the sun were aligned
I just want to find, a true way to get my voice out
Step out and decide, that it's time to clear this noise out
Let go of the shadow that's been keeping me constricted
And give in to my voice, that truly wants to see me lifted
Cause the darkness wants to eat us all alive
Keep us cornered in our rooms without the hope to try
This isn't life
Told that it's not right for you to cry
Keep your feelings to yourself until you die, you're forced to live a lie
Cause the darkness wants to eat us all alive
Keep us cornered in our rooms without the hope to try
This isn't life
Told that it's not right for you to cry, you to cry
Keep your feelings to yourself until you die
But that's not life, that's not life, that's not life, that's not life
But that's not life, that's not life, that's not life, that's not life
But that's not life, that's not life, that's not life, that's not life
But that's not life, that's not life, that's not life
Never will I give up, and never will I give in
Never will I give up, and never will I give in
Never will I give up, and never will I give in
All the darkness in my past I know that I have forgiven
Never will I give up, and never will I give in
Never will I give up, and never will I give in
Never will I give up, and never will I give in
All the darkness in my past I know that I have forgiven
Have forgiven, have forgiven