I think that in a hostile environment like a desert, no matter if it's inside of Tatooine planet or Marsoom ... when you have a friend it's the best way to live everyday and help each other ...
This way happened to our protagonists of our today's episode ...
While, Jawa was meditating and tried to imagine his sketch of his desert hut ...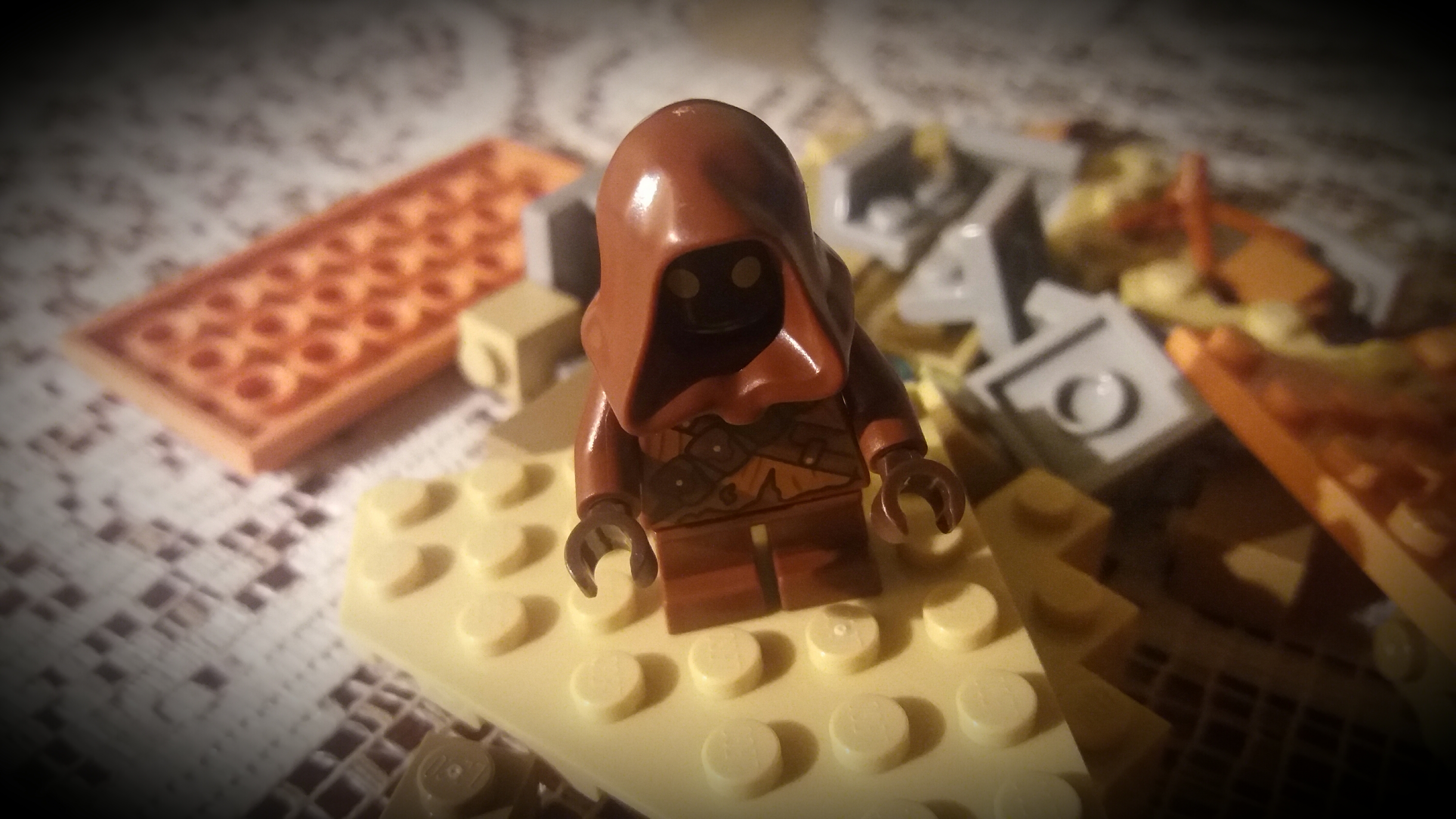 C-3PO appeared out of nowhere,after a big pile of lego, on a perfect moment, whe Jawa just started to make a plan on how should he build his new desert hut ...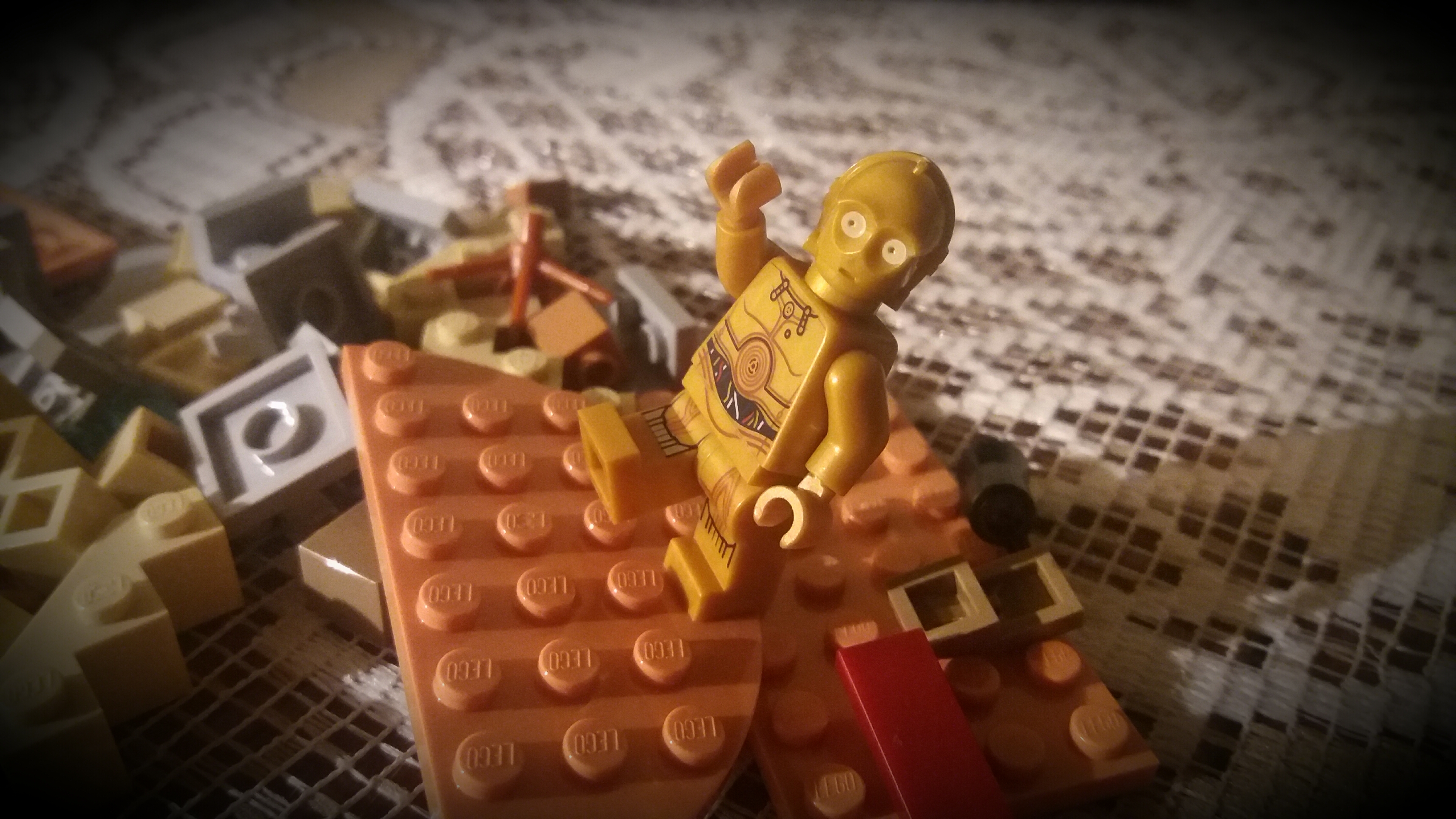 Jawa was sitting there between those lego bricks, without knowing yet the design of his future desert hut ...
With the appeareance of this awesome new friend, C-3PO things were changing, while he saw that this robot had some cool ideas to build his hut ...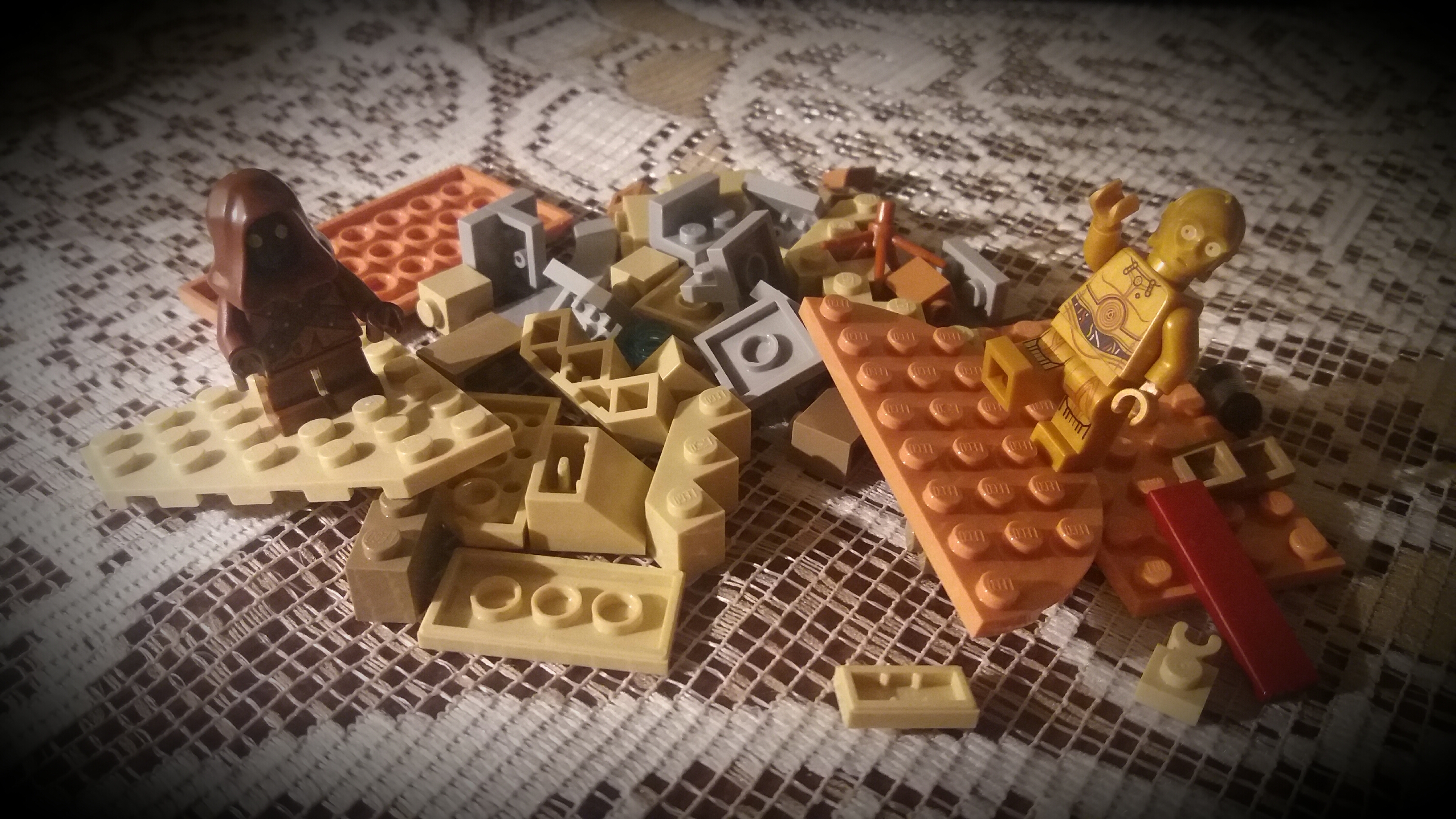 They've started right away to put in plan their ideas ...
C-3PO started to help Jawa and gave him every piece of lego, so they could finish the hut before a sand storm would appear on the desert Horizon ...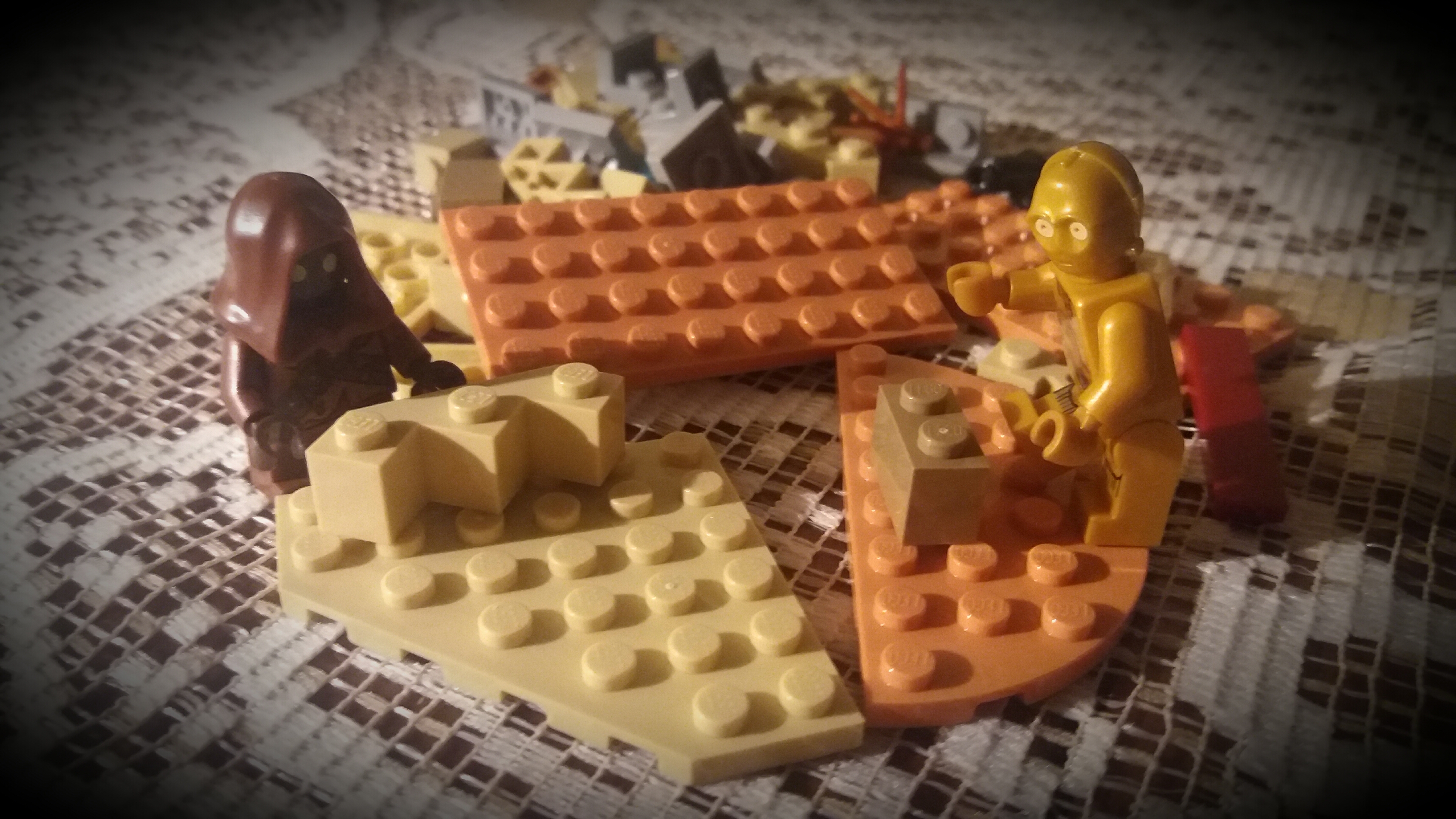 Brick after brick and his desert hut started to receive a shape ... which made Jawa happy ... Even if C-3PO was a robot as well ... something told Jawa that he was happy as well and there might be a soul inside this robotic machine ...
After quite a short time, the hut started to have a cool shape, worthy of the creativity of two master masons ...
Jawa knew that through this collaboration out of nowhere, they will remain like brothers under the Oath of the Jawa's Desert Owl ...
Before the last details to be finished on their hut, Jawa's idea was to to strengthen the roof of the hut.
C-3PO gave him the final bricks and the entire desert hut looked amazing ...
When we think that this kind of collabration would signify the true heart of a community, we would question ourselves if this World still has it ... or it has disappeared ... ?
Maybe that old Oath of master masons are still existing inside a desert like the one where Jawa and his new brother C-3PO are living in ...
To build, even a desert hut, brick by brick, using the lego world and ideas, might something challenging for nowadays ...
In the end, the results are those who will confirm, if the effort worth it or not ...
For the moment, Jawa is happy that his hut is protecting him inside the desert and the most important thing is that he made a new brother in this hostile environment, that will stay will him and will help him in the future ...
Jawa was very happy to try the new desert hut right when the Sun set, and while C-3PO went to search for some woods for the fire, he entered inside the hut to observe the magical light from above ...
I think to live inside the desert might be a magical way of living ... for some ...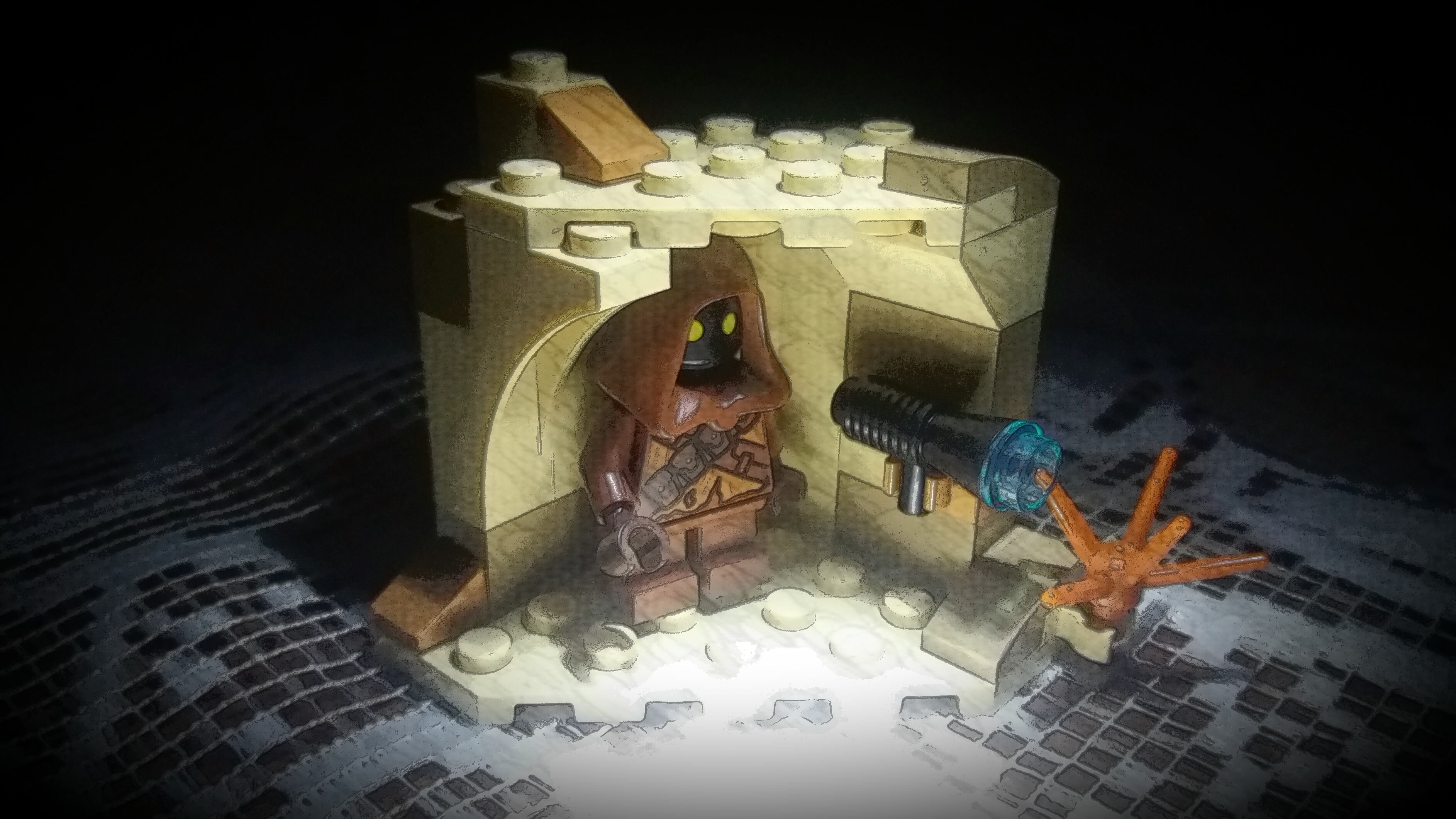 Stay tuned people ...
Soon, more episodes with our buddies, Jawa and C-3PO ...