NFTs are fun, from "stickers for adults" to Play2Earn boosters. Most NFTs are art, and I am an art collector. Some NFTs will have utility, while others will have some kind of entertaining concept. 
The Experimental Greenhouse utilizes the powers of WAXDAO on the WAX blockchain, and starts with a rough patch of land and some seeds. The journey from seeds to flowers involves staking NFTs to earn activity tokens, gain access to NFTs locked and available only to those that stake in the farms, and then lots of super blends and pre-minted packs. Read The Experimental Greenhouse Part 1 by Byron for the full explained tutorial.
The Experimental Greenhouse is mixing all off the above into a gardening related activity. Byron and Monica will guide gardeners into a journey that involves growing stuff.  The first time I came across the concept was when My Zickle Army invited the wax fam to grow a cucumber. 
I didn't manage to grow the cucumber but I collected many zickles since then, some of them after fancy blends. You can join the fun if you mine on Magor 22:1 in Alien Worlds.
Meanwhile, Byron created an amazing pfp collection on wax. I minted my random generated tortilla chips and I can use it as a profile picture whenever I want. Just to be factually correct ... it's a Candy Corn not a Tortilla Chip! 
Have you minted anything cool lately? You can still get the Creepy Candy Corn PFP for 9.9 WAX or 124.99 DHC! WTF is DCH? You will learn while you read my article! 
Let's go back to the Experimental Greenhouse, and the game mechanics. Super basic and simple ... plant that seed. But you need a gardener to plant the seed, and also a plot of land to plant the seed into. If you ever planted something ... you know that you will need some tools to help with the planting.
Is that all? No... you need sunlight because plants can't grow without the sun, and you may want to water the plant. Don't worry to much about all that ... as the starter pack is available for a quick start! 
Every journey starts with a single step and that is the starter pack! Then you have to stake the Gardener and the Landowner NFTs to their respective farms to earn  the Greenhouse currency called MONARCH. (Stake your Gardener / Stake the Landowner)
You can claim your nearly free SUNSHINE and RAIN from the Greenhouse homepage. If I remember well ... it's one sunshine every 8 hours and one water every 3-4 days. The timer was set to avoid crazy claims and people trying to abuse the system. 
Done the steps above and claimed some sunshine after I staked the Gardener and Landowner. I got my rain water and checked how the staking is going. The farm rate for MONARCH is cool, adding a decent amount of tokens on a daily basis. I was impressed by the amount of DHC (Da Horde Coin) I farmed as well .... but what is DHC?
I love Byron's art and he is a top friend, and I decided to be one of the "Founders".  I paid a bag of $WAX for a pack containing 3 NFTs ... the staking coin, the subscription airdrop coin and a burnable coin that will give $DHC.
I staked one coin to farm 23 DHC per hour, didn't burned the one with locked tokens, while the subscription one will grant me NFT airdrops for all 2023. The whole idea was innovative and I was thrilled to be part of the NFT evolution.
DHC is available on Alcor Exchange and can be easily bought with $WAX. I tested the process for you and works smooth. Not financial advice but this may be a cool token to have, considering some/most of Byron's NFTs will be available for DHC. There are some rumors that some NFTs may be available only for DHC ... but shhhhh... don't spread the word.
While exploring Alcor I remembered that I have a big bag of the shittiest token ever, AETHER from RPlanet. Never seen 13 million tokens having such low value and no utility! 
Let's go back to the Greenhouse, and more details about the blends are available on Byron's part two! I am a humble farmer but a weak gardener, as my plots of land are with weeds. Done my part and collected rain water and sunshine, and managed to blend the plots up to the 2nd Growth with 2 suns and one portion of water.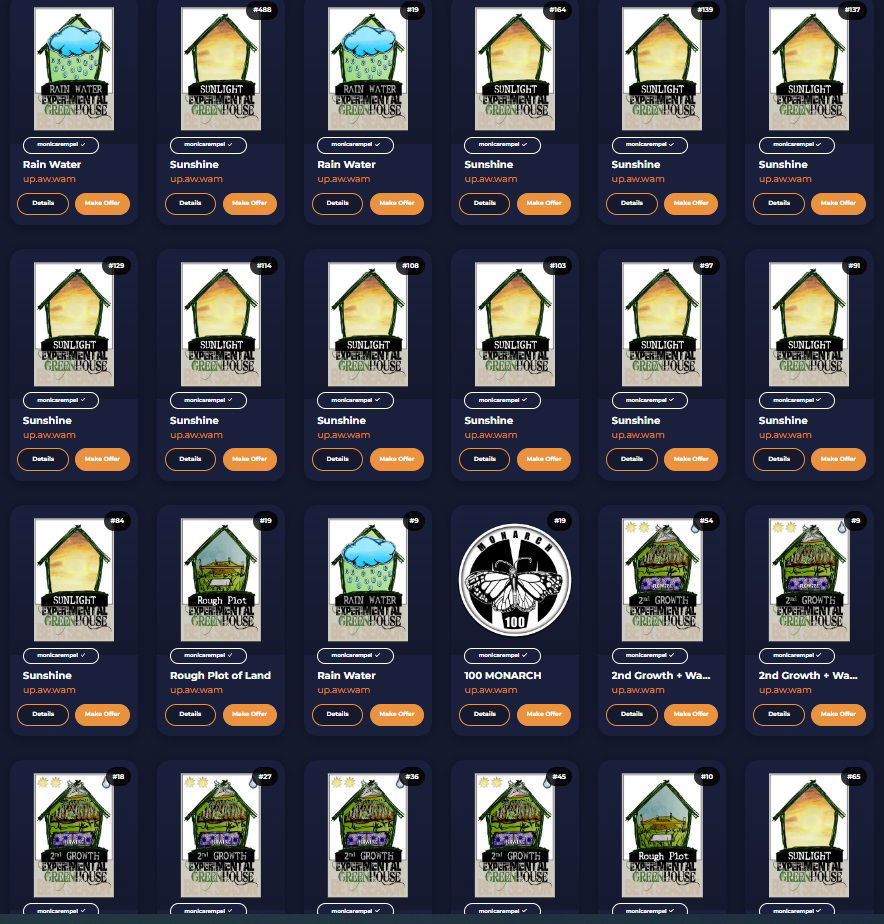 I went on with the "green thumbs" adventure and after some unsuccessful tries I finally reached success. I now have two purple flowers and looking forward to the next step. Byron said it may add some bugs as well. What I found cool? That you get a rough patch so you can start it over! 
I took you through a crash course about the Experimental Greenhouse and DHC, all in a chaotic sequence. The Horde is about chaos and unexpected results ... and this is why I went back to WaxDAO! After countless tries and few failed attempts ... I finally got my Purple Flowers! The blend came with a free rough plot so I can start planting again!
I claimed my MONARCH and DHC and went straight to the tortilla chips generator (sorry Byron but it sounds funnier than Candy Corn). Why? Because I can buy the random Candy Corns with BCH! 
You can get one random generated pfp for 9.99 WAX or 124.99 DHC! I used Da Horde Coin to mint set of 4 and waited patiently for them to be shown in my wallet. It may take a while to be generated due to the multiple layers but don't panic! 
Spend a handful of DHC and got myself 12 new Candy Corn PFPs. My favorite is ... one of them! I am a nice guy and will share a few in a twitter giveaway. There are only 200 pfp Candy Corns and 66 were minted last time I checked! 
Do you want one of the Candy Corns? I will give away 3 of them to my P0x Bros and Twitter followers! Drop your WAX wallet in a comment and tag a fren' for 4 raffle tickets, or do the things on the tweet for 2 raffle tickets. Maybe you wanna do all and get six chances in the draw! The choice is yours....
Residual Income:
Hive Blogging - LeoFinance, Peakd, etc
CakeDeFi $30 DFI for new users
The fountains: PipeFlare ZCash & Get.ZEN