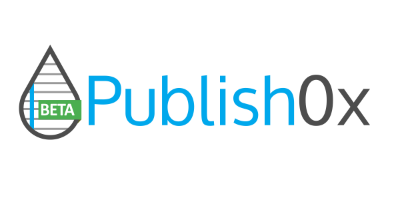 The platform offers an extra 10% on top of the withdrawal amount for the next 2 weeks.
I have been sharing my Hive and LeoFinance publications on Publish0x for two months now, and it's been a pleasure. I joined Publish0x in January 2021 and have found 68 followers so far. Not great, not terrible. I know some of my fellow Lions in here are actively contributing content on Publish0x, so I'm sure they will appreciate the heads up.
For those of you who didn't know, Publish0x is a blogging platform that allows you to earn crypto by sharing and tipping content. I've definitely learned a thing or two consuming content on the platform, and the best part is that I have been able to generate income in ETH, AMPL and FARM just by sharing my original content and handing out free tips. It goes without saying that it's been totally worth it, especially considering the time spent.
Earning from blogging: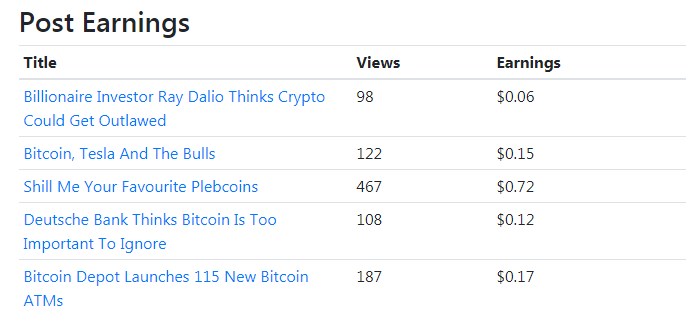 Earning from tipping: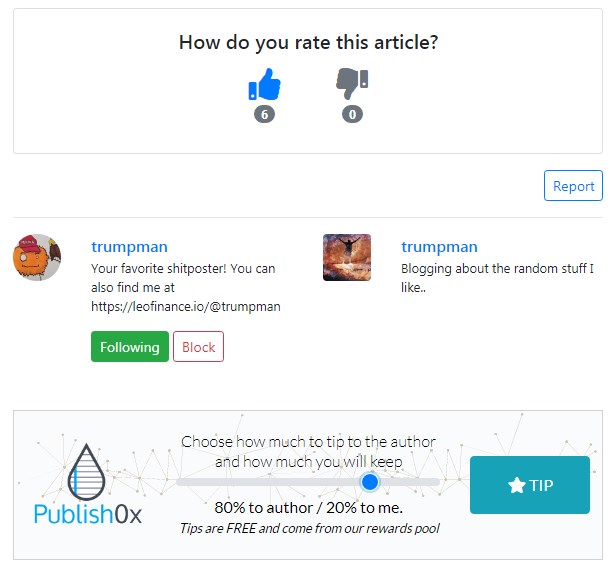 Is it worth it?
No doubt. Now, the truth is that my rewards have not been very lucrative, as I make something around $0.30 per post on average, but it's still good enough to keep me coming back to the platform to share my Hive and LEO blog contributions. Besides, the rewards come in crypto, and we all know crypto has great potential.
Thus, it doesn't even make sense to think about it in terms of USD value unless you are willing to sell or trade those tokens. Personally, I am currently in accumulation mode, so I'm just stacking and holding for the long haul. Plus, the rewards really add up with time, and free tips do contribute to it even though they may seem petty. Time flies, and if doing what I love can bring in some more crypto, it's more than welcome.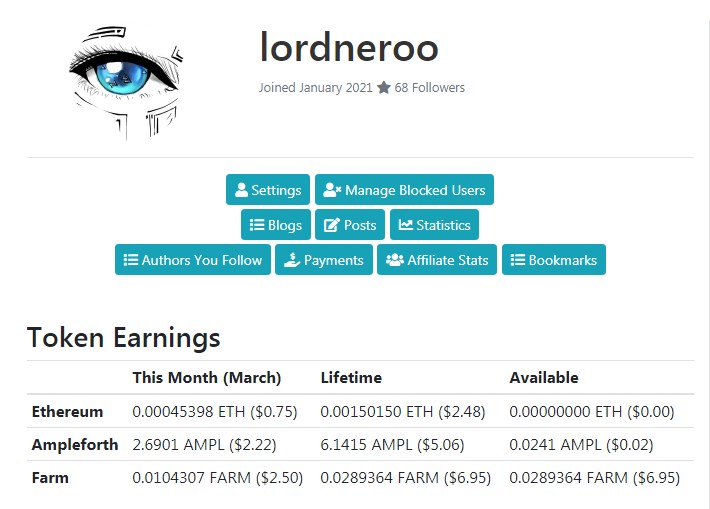 Getting paid.
To be frank, I had never tried to withdraw my Publish0x earnings, until I received an email earlier today mentioning that I could take advantage of a 10% boost on my ETH and AMPL withdrawals to KuCoin for the next two weeks. Everybody loves free crypto, so I decided to log in to my KuCoin account after several months of inactivity and give it a try.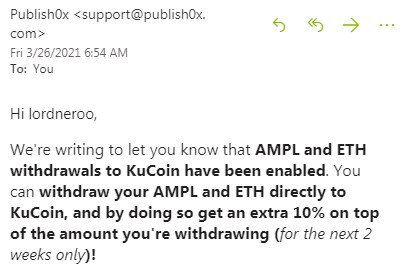 To my surprise, I noticed that I still have some BTC resting over there, along with a bunch of tokens I have been receiving as dividends or referral bonuses for the past 4 years or so. Been there before, and it's a great feeling to realize you have bags of crypto you had completely forgotten about. Cool stuff.
All I had to do to was provide my KuCoin user ID and I was good to go. Now I've got ETH and AMPL on the way to my KuCoin account, and I'm getting 10% more than what I have earned so far, so I'm a happy crypto junkie. To be honest, I wouldn't have withdrawn my ETH and AMPL funds had it not been for this offer, but I figured why not? Free crypto is always good.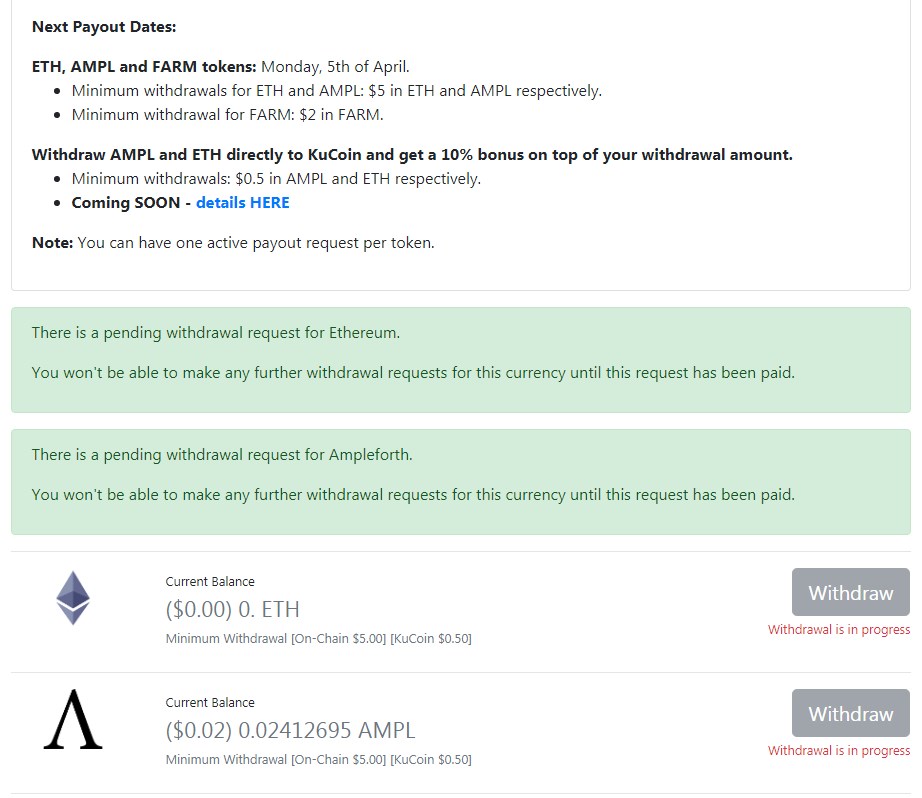 If you don't have a KuCoin account you can register using my referral link and get started today! If you don't like referral links (I mean, who doesn't?), you can visit the exchange here.
Publish0x rocks.
To say the least. I have been able to earn more crypto for my content, but it's not just about the money. There's a lot of valuable information on the platform regarding the cryptocurrency industry and some of the best projects out there, so the place is worth keeping an eye on even if you don't feel like creating an account and getting started. Lots of technical folks share personal experiences and valuable insights into the markets, and being able to earn just for reading without having to invest a single dime sounds like a no-brainer to me.
What about you?
---
Thank you for your attention.
Alright guys, that's it for now. I sincerely hope you learned something new today. Thank you for taking the time to read those lines.
Just my two cents. This is by no means financial advice. Just sharing my personal views and experiences. Please do not take my word for your investment choices, and always do your own research.
Stay safe and have a good one,
@lordneroo
---
Image Sources: 1, 2, 3, 4, 5, 6, 7
---
Best Faucets to Earn Crypto with Zero Risk (Affiliate Links):
Best Exchanges to Trade Crypto (Affiliate Links):
Best Platforms to Earn Crypto for your Content (Affiliate Links):
Connect with me Here: