Your future self will be thankful.
It is true that there are numerous ways to earn free crypto online nowadays. You can do so by blogging, chasing airdrops, curating content, playing games, listening to music, mining, staking, farming and so on. You name it. There are literally hundreds of ways to grab some free crypto carrying out tasks online from the comfort of your home, and the number is increasing as the weeks go by.
The crypto game is now starting to attract major attention, and we are witnessing large amounts of money flowing into the space as more and more powerful players are entering the fray. However, it's probably still early in the game, as the vast majority of internet users do not know anything about crypto. Besides, the revolutionary technology behind this emerging crypto economy was only invented twelve years ago, which basically means that there's still a long way to go before we go mainstream.
As you can understand, this also means that we are all presented with a huge opportunity to fill our bags at a discount and take advantage of this early lead. Personally, I've regretted selling everything I have sold so far, as every single token I've invested in over the last 5 years has gone up. Hell, even Dogecoin exploded and made me regret selling my stake some years ago. I remember claiming hundreds of DOGE every day just by visiting faucets and spending a few seconds on them.
If you visit the Stats section of freebitco.in, you will be amazed by how much BTC early adopters have earned on the platform just by clicking the roll button and inviting referrals. Now, I do realize that most of them probably sold their earnings way below the $20k mark, as it would have been absolutely moronic on their behalf not to take such massive gains, but I can't stop thinking what if some of them never sold and are actually still holding their free BTC earned on that platform.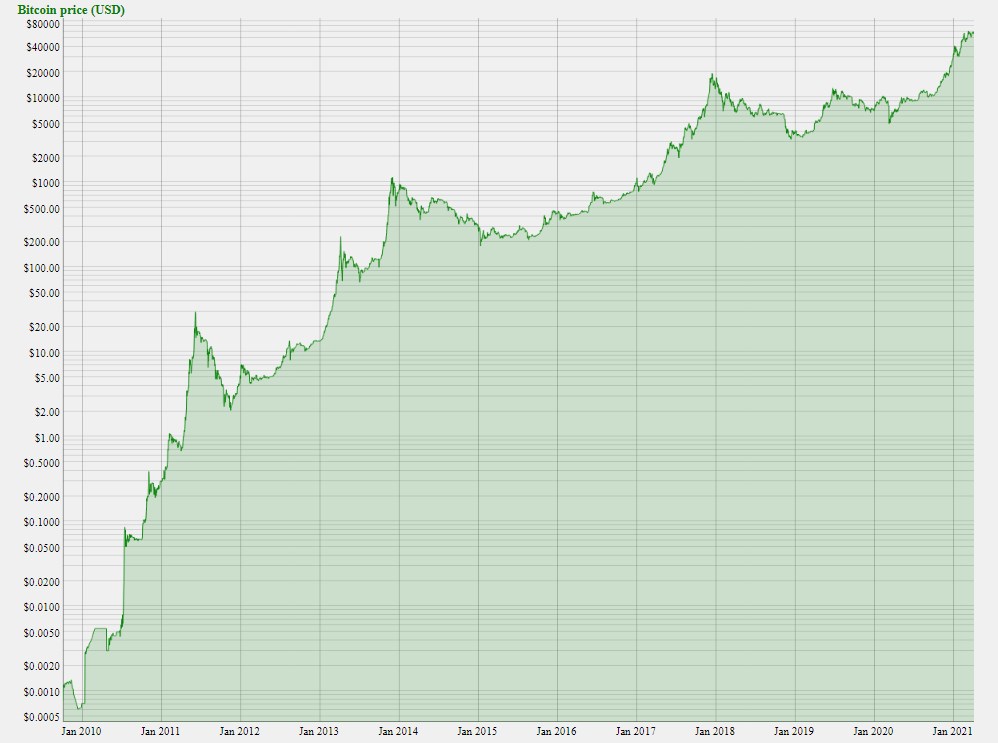 In the image above you can see the most accurate BTC all-time price history chart you can find on the internet. BTC is the flagship of the cypto space, and it's mind-boggling to think that one dollar could buy you 1,000 BTC in 2010. Of course, that 1,000 BTC translates into $57.8 million today, and even though you would have probably sold most of it by now, you'd still have enjoyed huge profits just by holding it for a few years. We are talking about life-changing amounts here. No amount of hard-work and honest effort could ever make you that money.
It is true that the game has huge potential, and the story with Bitcoin is just one example. There are literally hundreds of tokens which could have made you rich just by holding for a few years, and as we are witnessing this surge in users getting interested in the crypto game, I believe there are going to be many more similar opportunities in the future. All it takes in order to take advantage of the situation is to devote time to research things on a daily basis, and that's exactly what I have been doing for the past few months.
I am currently in accumulation mode, earning fiat money and turning it into crypto, and grabbing as much free crypto as I can as part of my daily online crypto-hustling. Holding and staking my earnings in order to get more, and always looking for new opportunities, be it exclusive airdrops or yield farming / staking. There is literally a new airdrop every single minute, and I have been chasing those like a maniac, grabbing free crypto which I can use to invest in some of my favourite projects.
However, as I mentioned above, I've regretted selling everything I have sold so far. Therefore, I'm currently FOMOing too much to sell crypto for crypto or fiat. Grabbing and stacking works for me, and my crypto holdings are looking healthier than ever after just a few months of buying, earning and not selling anything. I do realize that investors want to ride waves, and there are certainly people who can make money in the market regardless of the trend, but I've come to realize that holding is the safest way to earn money in the crypto business.
Of course that's just me and I may be wrong, but I believe that it's still early in the game. 2021 is already proving to be a spectacular year for crypto, but I believe there are many more to come. The blockchain technology is here to revolutionize the way we perform transactions on a global scale, and mass adoption is inevitable. It's just a matter of time, so I plan to make the most of my early lead and fill my bags while I still can.
One thing is for sure: I've learned from the mistakes of the past, so I'm not selling anything until selling can completely transform my life. What about you? I would love to hear your thoughts in the comments below.
---
Thank you for your attention.
Alright guys, that's it for now. I sincerely hope you learned something new today. Thank you for taking the time to read those lines.
Just my two cents. This is by no means financial advice. Just sharing my personal views and experiences. Please do not take my word for your investment choices, and always do your own research.
Stay safe and have a good one,
@lordneroo
---
Image Sources: 1
---
Best Faucets to Earn Crypto with Zero Risk (Affiliate Links):
Best Exchanges to Trade Crypto (Affiliate Links):
Best Platforms to Earn Crypto for your Content (Affiliate Links):
Connect with me Here: