I'd rather lose 10 bucks than miss a 10,000x.
It is true that the cryptocurrency industry has provided us with opportunities never seen before, and the best part is that there's probably going to be many more of those. I do realize this is a bold assumption, but I think all the signs are there.
The recent DOGE pumping frenzy is all the evidence you need that the game is still in its infancy stage; it's all about hype to these kids. The blockchain technology has the potential to change our lives for the better in so many ways, yet most of us are just looking to use it as a means of generating and accumulating wealth.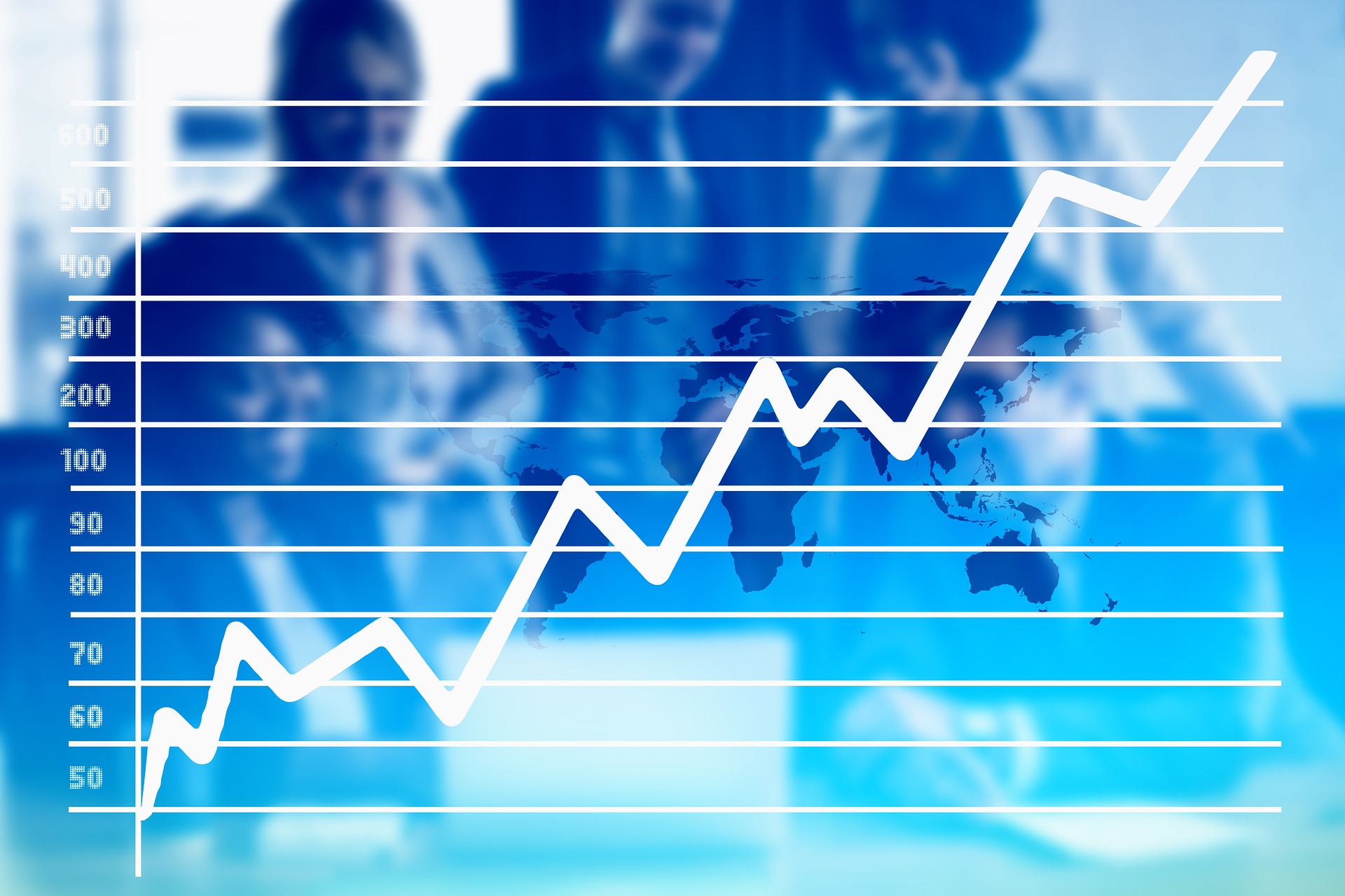 I'm guilty of that too, but isn't this a noble cause? Money makes the world go round, and we all need it to cover our life expenses. Personally, I see it as a way to buy back all the time I've spent working by not having to sell my time for money in the future. It's not about the money itself, it's more about the quality of life it brings.
After all, you only live once, so having to spend one third of it working for someone else isn't what you would call a bargain, is it?
Let's cut to the chase.
I wrote a post about how DOGE has been outperforming all the beasts out there the other day, when @ezrider dropped by and left a comment that made me stop and think about it. Of course, I didn't mention anything about how I dumped 235k DOGE back in 2015, not only because I'm trying to forget about it and move on, but also because my DOGE stake was all farmed. I never invested a single dime in DOGE.
Yeah, I'm that stupid. It appears that my seven-year-old niece is a much smarter crypto investor than me. It is what it is, that's why I always warn you not to take my word for your investment decisions. I don't know what I'm doing here.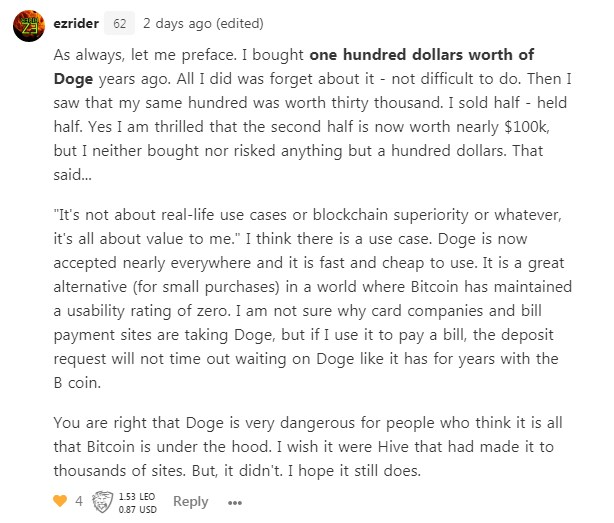 The conversation went on, and EZ left another comment that makes sense to me. Some would argue that this is gambling, but in my humble opinion it's worth risking to lose just a few bucks when you could potentially make hundreds of thousands just by buying into some low market cap gems that show promising signs and forgetting them for a few years.
As a matter of fact, things would have been better for me had I just decided to do just that with my DOGE stake, and the fact that I earned all those tokens without ever investing a penny makes dumping them for peanuts an even worse decision.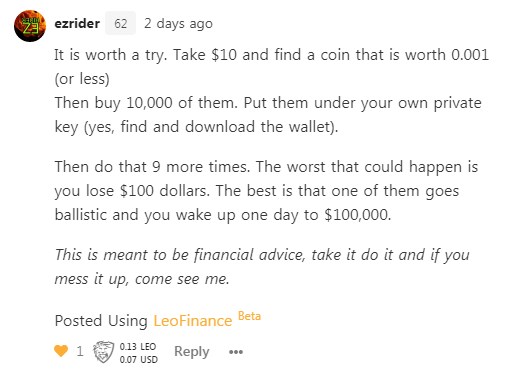 Of course, the crypto game is full of shitcoins with no future, and more and more of those are popping up out of nowhere as we speak. As you can understand, this can be a very risky hobby, and this is exactly why I'm talking about literally tiny investments. Now please just don't go around buying up every scamcoin out there blaming it on me; I'm just a guy blogging about his personal views and experiences, and you should never trust anything I say without looking it up on your own first.
TL;DR
The point I'm trying to make is that BTC, ETH, BNB and the rest of the beasts out there are not going to give you a 1,000x at this point. Sure, nobody has a crystal ball and everything is possible in crypto, but let's face it: 1,000x on BTC would drive its market capitalization all the way up to $1 quadrillion dollars. I can't see that happening within the next 100 years. But yeah, I may be wrong.
Also, do not underestimate the power of small steps. You don't really need that 1,000x to make money in crypto. Go for the first 2x, try to get another one and then another one, and there you have it. Small wins here and there will do the trick for you, and that's where you should focus on. However, in case you have a few extra bucks laying around that you can afford to lose, pick one or two absolute shitcoins and buy up loads of them.
Just make sure you don't end up holding a million different useless tokens. I know this is the kind of mentality that sent freaking Dogecoin to the top four, so please don't hate me for this post. Trust me, I hate DOGE more than you do.
I'm just speaking from experience here :)
---
I appreciate your attention.
Alright guys, that's it for now. Thank you for taking the time to read those lines.
Just my two cents. This is by no means financial advice. Just sharing my personal views and experiences. Please do not take my word for your investment choices, and always do your own research.
Stay safe and have a good one,
@lordneroo
---
---
Best Faucets to Earn Crypto with Zero Risk (Affiliate Links):
Best Exchanges to Trade Crypto (Affiliate Links):
Best Platforms to Earn Crypto for your Content (Affiliate Links):
Connect with me Here: