PYRO.NETWORK is a series of innovative projects utilizing the deflationary ERC20 token.
---
Technical Details
Initial supply : 1 BILLION $PYRO
Burn rate : 5%/ each transaction
Burn stop : When 1% from initial supply is in circulation ( at 10 MILLION )
---
STAKING
When users freeze their $PYRO token 2.5% from 5% burned will be distributed even to the all users who have $PYRO already locked.
Staking into PYRO.NETWORK can be made if you have 1000 $PYRO in your wallet.

---
Claiming $PYRO

You can claim 10,000 PYRO for every 1 ETH your address held in your wallet at block snapshot 8900000.

You can only claim once per address and there's a claim minimum of 100 PYRO and a claim maximum of 100,000 $PYRO

https://pyro.network/web-wallet/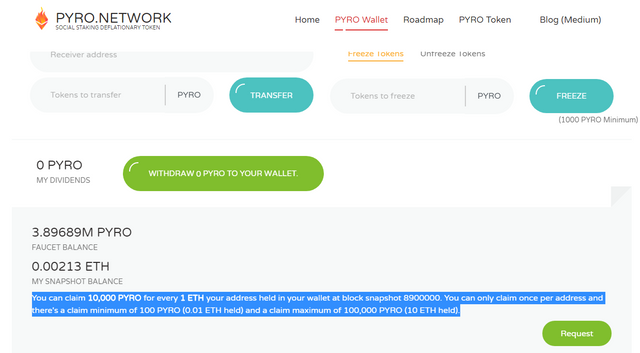 ---
LINKS

Twitter : https://twitter.com/PYRODOTNETWORK
Discord : https://discord.gg/XNNczK
Whitepaper : https://pyro.network/whitepaper/
bitcointalk : https://bitcointalk.org/index.php?topic=5221130.0
 - - - - - - - - - - - - - - - - - - - - - - - - - - - - - ------------------------------
Hope you like this review , always DYOR
@cLEarnProject #cLEarn