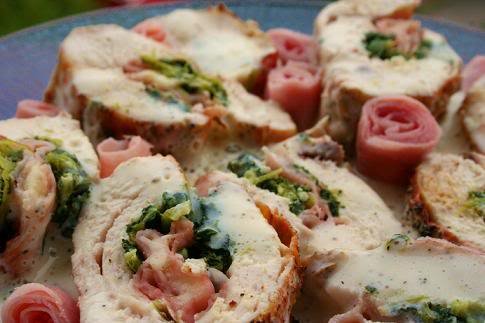 After children have always had fun and played a lot and the first thing they tell you is that they want to eat or snack something and you as a good parent want to fulfill them and well, here I bring you this simple and easy recipe where you will only need 4 ingredients and lots of love to prepare these stuffed breasts that will delight your babies and reward them for good behavior. And always remember to use your imagination and give it your personal touch. You know prepare, enjoy and share.
Preparation time: 30 minutes
Servings: 4
Ingredients:
4 chicken breasts
4 ham slices
4 cheese slices for yellow
400 grams spinach
preparation:
1.- Take the breasts and with a knife chop them into filet
2.- Season the fillets with salt and pepper and cover them with a slice of ham, a slice of cheese to melt and the spinach, which you have previously cooked, drained and chopped into strips.
3.- Now, roll the fillets carefully and place the rolls in a silicone case with the fillet joint facing down.
4.- Water the roll with a few drops of olive oil and put them in the oven already preheated.
5.- Once ready, serve the roll cut into slices.
I advise you to accompany them with small cups made with mashed potatoes as a garnish.