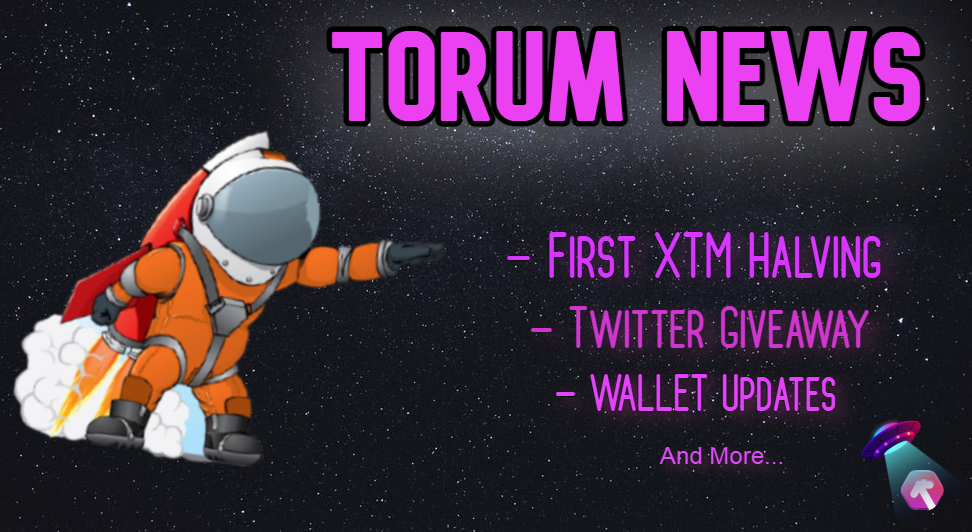 Are you keeping up with the latest TORUM updates? Well, I don't blame you if you don't cause so many cool things happening over there it's hard to keep track.
In today's blog I am gonna highlight the most important TORUM updates over the past couple of weeks as well as include a couple more info about TORUM's future plans and ideas.
Let's roll!
---
XTM Halving
The first-ever XTM halvening is a fact!
TORUM users now earn half the #XTM (TORUM's native token) they used to earn a week ago for completing their daily missions.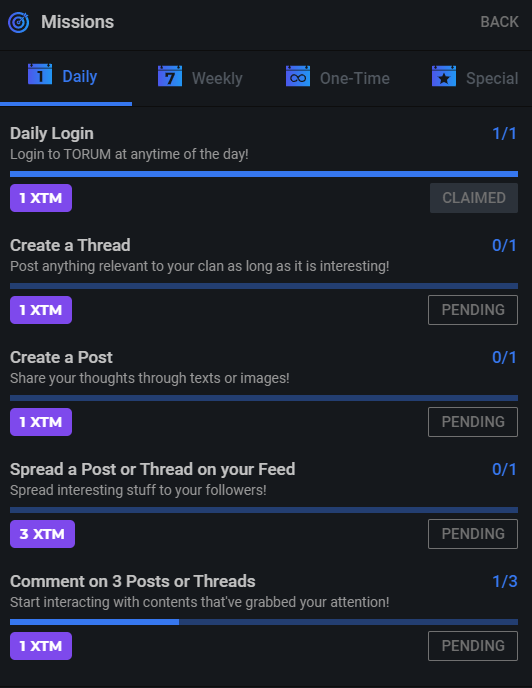 Halvening happened so Team TORUM can ensure a successful XTM listing event and prevent token inflation. As you can pretty much guess, it gets harder and harder to get your hands on some XTM day by day so I suggest you sign up on TORUM and start hustling these #XTM with your posts and engagement.
The early birds get the worm
---
XTM Giveaway on Twitter
TORUM's userbase is growing every day. More than 25k users have signed up and TORUM is killing it in terms of internet traffic according to Alexa Rank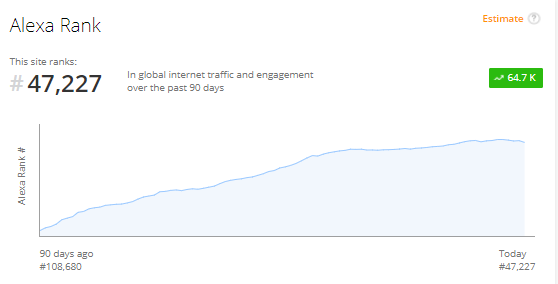 To celebrate these milestones, TORUM Team is organizing a super-easy and fun Twitter giveaway and everyone who participates is guaranteed to grab some XTM.
All you have to do is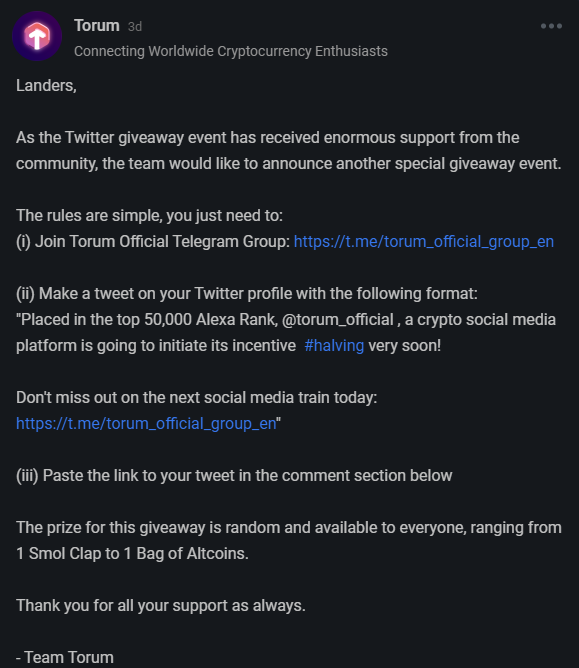 Link to the official contest post : https://www.torum.com/post/606edc432c45041a2d06bdb2
Let's promote TORUM on twitter and earn some #XTM at the same time yooo!
---
Wallet Upgrades
Everyone wants to have a smooth experience when using any platforms and team TORUM knows that so they went ahead and changed the Wallet UI for a much more organized and smoother user experience.
Users can now easily switch between "Dashboard", "Missions" and Gifts as well as take a look at everything XTM-related with just a few clicks at the brand-new wallet UI.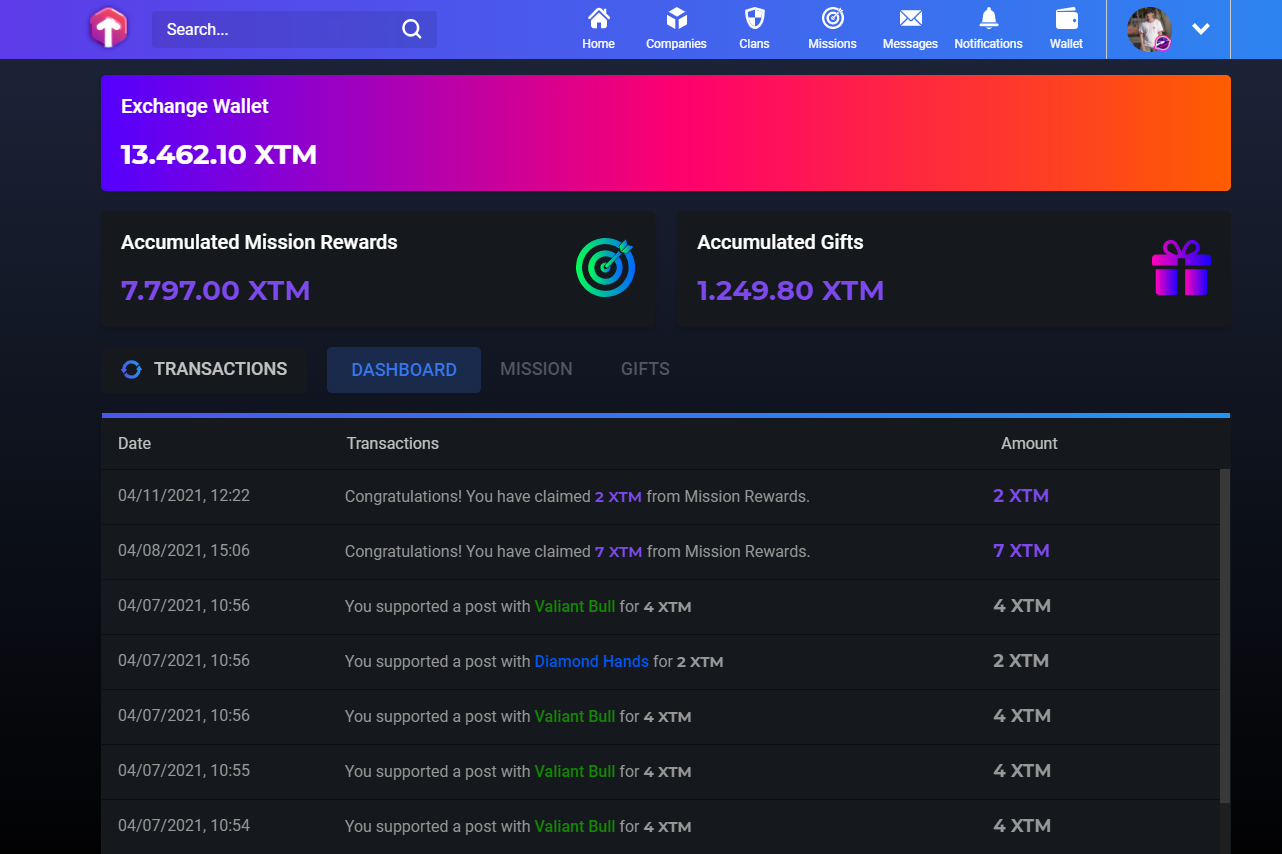 At this point, I want to give a big shout out to Alwinc who is the UX/UI designed on TORUM Team.
Epic work as always dude!
---
TORUM's Future Plans
In my opinion, the future is looking more than bright for TORUM.
Mobile app is battle-tested by the community as we speak (apply for mob. app testing here), the upcoming #NFT Marketplace will be available soon and TORUM Finance is already on the works.
TORUM is not your casual crypto-based blogging platform like Publish0x, Uptrend etc. Instead, TORUM's goal is to built an entire ecosystem powered by #XTM Token.
You can read more about the future plans of TORUM and #XTM Tokenomics/Utility at the TORUM Whitepaper
Don't miss Torum's recent announcement on Bitcoin.com
Still not on TORUM?
Sign up through my invitation link and we both earn 75 #XTM when you verify your account

---
Thank you all for your support
As a full-time online hustler, supporting my content allows me to keep doing what I love.
Much love to everyone and always have fun.
@Knowhow92
Earn Crypto For Your Content (Affiliate Links)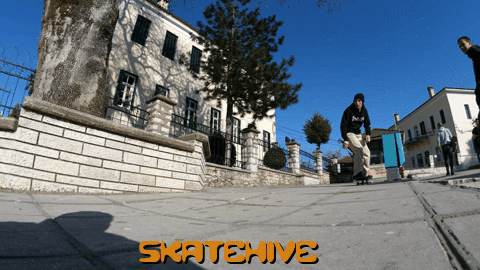 Find me Here
🏡 Hive: https://www.peakd.com/@knowhow92
🏡 Torum : https://www.torum.com/u/knowhow92
📹 Youtube : https://www.youtube.com/channel/UCJTNnvAHca8jcxaBpWn-bzA
📱 Twitter : https://twitter.com/theocharis_ch
☀️ Lbry : https://lbry.tv/@knowhow92:d
📷 Instagram : https://www.instagram.com/haris_housos/
☕️ Ko-fi : https://ko-fi.com/knowhow92