Introduction
Blockchain is a decentralized general ledger. It is a computer network that has an identical copy of the database and changes its status (records) to a common agreement based on pure mathematics. All this means that there is no need for any central server or any entity we trust (e.g. central bank, notaries, banks, Paypal, etc.). The blockchain is the technological basis for all cryptocurrencies, whether Bitcoin, Ethereum, Hyperledger, etc.
An important part of the blockchain is the smart contracts, a piece of code that is stored in the blockchain network (in each participant's database). It basically defines the conditions to which all parties using the contract agreement. Therefore, if the required conditions are met, certain actions are executed. Because the smart contract is stored on all computers on the network, everyone must run it and get the same result. This way users can be sure that the result is correct.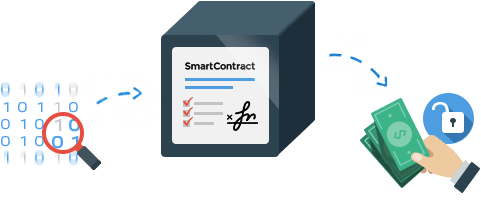 Blockchain and Smart Contracts open many doors to new decentralized businesses and eliminates the need for expensive third parties. Many new companies are now working on this technology, and large companies are testing it in closed networks to collaborate directly with each other without the need for intermediaries.
For that reason, there is a lot of projects that are starting to use this new technology. However, not all of them are worth it. We have to read well what each project is dedicated to, what is its whitepaper, its qualified advisors, etc. As I said, blockchain technology has gained popularity due to the hype about cryptocurrencies which has shaken many startups to launch their own cryptocurrencies even without convincing fundamentals. This trend has emerged because new entrants have been more agile in adopting emerging technologies compared to incumbents who are hampered by legacy systems. However, this competitiveness and this advantage enjoyed by the new players may be short-lived, as no economies of scale are taken into account.
People want to trust each other more, because the feeling of mistrust is exhausting and potentially costly in terms of money and time. But what if I told you that a global rating platform is being developed for every human and every business on our planet that will create mutual benefits for all users? Sapien is the first platform that assumes that there is no trust between human beings. It could therefore be the key to making the new open relationships transparent.
Video presentation
Definition
In more detail, Sapien (https://sapienwallet.com) is a decentralized light wallet offering fully trusted ratings and reviews from post-transaction data that is looking to bridge the gap of distrust between humans. It is the first platform that assumes that there is no trust between human beings. In this way, it aims to create that trust through a simple and effective solution: start rating and reviewing people after a transaction is concluded. 
Objectives
Sapien's goal is to bring people together and create a digital society based on trust, supported by Sapien's overall qualification. The main idea is to create a user-friendly light wallet application to do it, promoting it for mass use so that cryptocurrencies can be spent in day to day use.
How it works
The platform is integrated in a multimodal way with a central module - the human qualification - as a tool to identify the qualification of the human capital of the people. This technology will also help people become a better version of themselves.
With Sapien Wallet, users will evolve together towards a digitally reliable society, receiving quality of life benefits as well as financial motivation.
The Sapiens payment infrastructure is based on the basis of the fun and easy way to send, spend and receive trust money and crypto money, and track all non-cash payments in one place, and split them or share them with other sapiens.
The most important features of the platform are the following:
 Decentralized: All crypto, transaction data, and user data is stored on a decentralized network to prevent tampering/anonymity.
 No KYC: Sapien doesn't require our customers to submit any documents or personal information to become a part of the Sapien network.
 Post-transaction rating: It will be collected only after a transaction has concluded, offering the most trustworthy and verifiable data.
 User-friendly: Sapien is specifically designed for mass use and tirelessly to make it incredibly easy and simple for anyone to use.
Benefits
The data collected by Sapien is revealing and provides valuable information about individuals.
Your private data will only be shown if they have been requested by someone else and you approve the request.
Once the transaction is completed, the people you meet are rated on their merits and let others know who they are dealing with.
The classification data is stored in the Sapien block chain and is therefore immutable and cannot be manipulated by a third party.
Bounty program
The project gives the opportunity to earn SAS tokens performing some social media tasks and doing simple steps from the bounty program explained into the following Bitcointalk Thread here (BTT_Thread_SAS), where you can access the link in order to see what are the conditions to become an early Sapien Cash contributor and start acquiring tokens.
For more information about the project, you can visit and read their WhitePaper available here (Download Whitepaper ). You can also stay tuned in their official Telegram Channel (sapien_bounty). I hope you liked the post and soon I'll send you new ones.
Token details
Token: SAS
Platform: Ethereum
Type: ERC20
Price in ICO: 1 SAS = 0.065 EUR
Tokens for sale: 1,000,000
Roadmap
1    June 2019
    Beginning of the Sapien project
2     July 2019
  Team recruitment and setup
3     August 2019
  Start of Sapien Whitepaper writing
4     September 2019
  Official partnership with Jax.Network begins
5     December 2019
  Finalization of the Sapien Whitepaper
  Development of Sapien MVP begins
6     March 2020
  Sapien MVP release
7     April 2020
  Equity Token Offering launch
8     August 2020
  Sapien product launch
 Team
Social Media Links
Website: https://sapienwallet.com
Facebook: SapienWallet
Twitter: RatingHuman
Medium: @sapien.wallet
--------------------------------------------------------------------------------------------------------------------------------------------------
Author Details
Email: adria.parcerisas.albes@gmail.com
Bitcointalk username: adriaparcerisas
Bitcointalk profile link: https://bitcointalk.org/index.php?action=profile;u=1870482
Ethereum wallet: 0x3e10d9Cb6a5af372C00563aA19FEE3122A5C0Cd4