Introduction
Blockchain is a decentralized general ledger. It is a computer network that has an identical copy of the database and changes its status (records) to a common agreement based on pure mathematics. All this means that there is no need for any central server or any entity we trust (e.g. central bank, notaries, banks, Paypal, etc.). The blockchain is the technological basis for all cryptocurrencies, whether Bitcoin, Ethereum, Hyperledger, etc.
An important part of the blockchain is the smart contracts, a piece of code that is stored in the blockchain network (in each participant's database). It basically defines the conditions to which all parties using the contract agreement. Therefore, if the required conditions are met, certain actions are executed. Because the smart contract is stored on all computers on the network, everyone must run it and get the same result. This way users can be sure that the result is correct.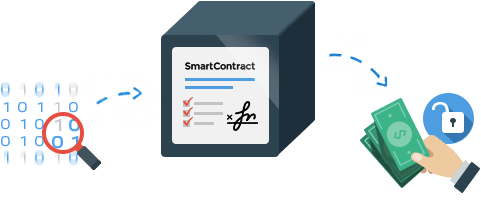 Blockchain and Smart Contracts open many doors to new decentralized businesses and eliminates the need for expensive third parties. Many new companies are now working on this technology, and large companies are testing it in closed networks to collaborate directly with each other without the need for intermediaries.
For that reason, there is a lot of projects that are starting to use this new technology. However, not all of them are worth it. We have to read well what each project is dedicated to, what is its whitepaper, its qualified advisors, etc. As I said, blockchain technology has gained popularity due to the hype about cryptocurrencies which has shaken many startups to launch their own cryptocurrencies even without convincing fundamentals. This trend has emerged because new entrants have been more agile in adopting emerging technologies compared to incumbents who are hampered by legacy systems. However, this competitiveness and this advantage enjoyed by the new players may be short-lived, as no economies of scale are taken into account.
Moving to the topic, the project I'm going to present you is PayAccept (https://www.payaccept.net/), a single unified platform for crypto and fiat assets.
Video presentation
Definition
In more detail, PayAccept is a holistic blockchain platform that offers users a simple, unified banking and encryption experience. The application takes care of the technical side so that the user can concentrate on his assets. PayAccept aims to modernize the way world citizens interact with blockchain technology and traditional finance by bringing digital portfolio management to the masses.
How it works
PayAccept provides a holistic blockchain platform ending the complexities of buying, selling and using assets held through multiple accounts. The PayAccept network allows clients to freely exchange assets without worrying about the denomination. The payer and the receiver of any transaction can choose the asset of their choice, so clients can pay at Bitcoin to a friend who requests Euros. In addition, PayAccept uses the latest digital portfolio management standards, giving an intuitive design, powerful and fast features, and maximum security of the funds.
The main three standards of the platform are: the PayToken, the PayCard and the Pay of Sale.
PayToken:
PAY is Payaccept's native reward symbol. Payaccept commits 25% of fees earned on transactions to rewards. Referrals and Cash Points are paid at PAY purchased in the market as well.
PayCard:
PayCard is the new generation of payment cards, giving the power to spend users' crypto currency in real life.
 Instant reloads --> Recharge your balance without conversion fees* and spend. Driven by our competitive exchange rates. *Network charges and miners' fees may apply
 Flexibility --> Designed for people who want to live life in cryptography. View your balance, request a new PIN and recharge instantly all within the PayAccept application.
 Improved Security --> It includes an EMV chip and options to block your card and control your expenses.
 All over the world --> Ready to be used in millions of places around the world. Pay by credit card, PIN or simply withdraw money from any compatible ATM.
Payment on Sale (PoS): 
The platform accepts payments in crypto-dollars from all over the world, from Bitcoin to altcoins, gaining new customers and avoiding the cost of high fees and chargebacks.
Features
The most important features of the platform are the following:
Link Banks: Connect up to 3 banks and their accounts
Automatic: Up-to-date transactions and balances
Spending: Smart ways to look at your recent spending
Insights: See your daily average and monthly in & out
Fast: Open directly to spending information
Notifications: Get notifications with incoming and outgoing transactions.
Dark Mode: Automatically adjusts with brightness
Cold storage: We store your cryptocurrencies in a secure 'offline' way
Private key: You are in control and own the key to your wallet
Bounty program
The project gives the opportunity to earn PAY tokens performing some social media tasks and doing simple steps from the bounty program explained into the following Bitcointalk Thread here (https://bitcointalk.org/index.php?topic=5255787.0), where you can access the link in order to see what are the conditions to become an early PayAccept contributor and start acquiring tokens.
For more information about the project, you can visit and watch their promotional video available here (https://youtu.be/8WWnYi2o0no). You can also stay tuned in their official Telegram Channel (payaccept). I hope you liked the post and soon I'll send you new ones.
Token details
Token: PAY
Platform: Ethereum
Type: ERC20
Price in ICO: 1000 PAY = 1 ETH
Roadmap
April 14th, 2020: Registered Office in the Netherlands
April 20th, 2020: Launch PAY (ERC20) Token


Social Media Links
Website: https://www.payaccept.net/
Telegram: payaccept
Bitcointalk Bounty Thread: BTT_PayAccept


--------------------------------------------------------------------------------------------------------------------------------------------------
Author Details
Email: adria.parcerisas.albes@gmail.com
Bitcointalk username: adriaparcerisas
Bitcointalk profile link: https://bitcointalk.org/index.php?action=profile;u=1870482
Ethereum wallet: 0x3e10d9Cb6a5af372C00563aA19FEE3122A5C0Cd4