Introduction
Blockchain is a decentralized general ledger. It is a computer network that has an identical copy of the database and changes its status (records) to a common agreement based on pure mathematics. All this means that there is no need for any central server or any entity we trust (e.g. central bank, notaries, banks, Paypal, etc.). The blockchain is the technological basis for all cryptocurrencies, whether Bitcoin, Ethereum, Hyperledger, etc.
An important part of the blockchain is the smart contracts, a piece of code that is stored in the blockchain network (in each participant's database). It basically defines the conditions to which all parties using the contract agreement. Therefore, if the required conditions are met, certain actions are executed. Because the smart contract is stored on all computers on the network, everyone must run it and get the same result. This way users can be sure that the result is correct.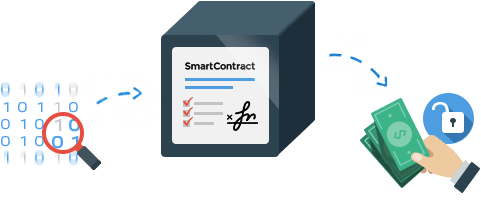 Blockchain and Smart Contracts open many doors to new decentralized businesses and eliminates the need for expensive third parties. Many new companies are now working on this technology, and large companies are testing it in closed networks to collaborate directly with each other without the need for intermediaries.
For that reason, there is a lot of projects that are starting to use this new technology. However, not all of them are worth it. We have to read well what each project is dedicated to, what is its whitepaper, its qualified advisors, etc. As I said, blockchain technology has gained popularity due to the hype about cryptocurrencies which has shaken many startups to launch their own cryptocurrencies even without convincing fundamentals. This trend has emerged because new entrants have been more agile in adopting emerging technologies compared to incumbents who are hampered by legacy systems. However, this competitiveness and this advantage enjoyed by the new players may be short-lived, as no economies of scale are taken into account.
Moving to the topic, the project I'm going to present you is Ispolink (https://ispolink.com/), the first automated job board platform leveraging Artificial Intelligence and Blockchain technology.
Video presentation by CryptoLogy
Definition
In more detail, Ispolink is a global automated matchmaking job board platform that leverages Blockchain and Artificial Intelligence technology to address one of the most fundamental challenges that exist nowadays: sourcing top talents.
Goals
Ispolink's main objective is to disrupt the recruitment industry, as well as transform the obsolete and cumbersome recruitment processes by taking advantage of disruptive technologies, combined with a distinctive and innovative approach to attract the best talent.
The main idea is that companies operating in the field of the block chain and information technology should take their places. To make this happen, Ispolink provides them with tools to manage the entire recruitment process internally in an efficient manner, eliminating the need for third parties such as recruitment agencies and personnel, so that they can find loyal and dedicated employees, while ensuring high employee satisfaction and alignment with the company's value, work environment and career prospects.
How it works
Ispolink's business model consists of two main sources of revenue: a subscription-based model for businesses, along with premium features at an affordable price. Because Ispolink is results-oriented, employees are charged a flat rate only on successful hires.

Most significantly, this system would allow companies to take advantage of all the tools on the platform, including matching and sourcing technology.
The most important features of the platform are the following:
Machine Learning
To match the best candidate for your business
Built-in Crypto Payments
Users can pay all services with an built-in crypto payment system
Verified Education
To verify the authenticity of degrees on the Blockchain
Instant Feedback
Instant Feedback to applicants which means no more waiting, no more stress and no poor experience
Employer Branding
Get acquainted with company's values, brand, culture and accomplishments
Automated CV Screening
Ispolink saves user's valuable resources by automating the screening process
Bounty program
The project gives the opportunity to earn ISP tokens performing some social media tasks and doing simple steps from the bounty program explained into the following Bitcointalk Thread here (https://bitcointalk.org/index.php?topic=5230935.0), where you can access the link in order to see what are the conditions to become an early Ispolink contributor and start acquiring tokens.
For more information about the project, you can visit and read their WhitePaper available here (Ispolink_WP). You can also stay tuned in their official Telegram Channel (https://t.me/ispolink). I hope you liked the post and soon I'll send you new ones.
Token details
Token: ISP
Platform: Ethereum
Type: ERC20
Price in ICO: 1 ISP = 0.001 USD
The Ispolink token is a standard native ERC20 utility token issued in the Ethereum block chain, designed as a means of payment in the Ispolink ecosystem that allows the purchase of services within the platform as subscription packages for companies and leading job seekers.
There are other methods of payment (such as credit card). Anyway, the users of the platform who choose the Ispolink token as a payment method will have a discount in the price of the acquired service. The Ispolink token will also encourage and reward active and committed users when certain conditions are met.
Team
Roadmap
1   Q3 2019
Idea and concept inception
2   Q4 2019
Team Formation, Laying technical Foundations, Launching Official Website
3   Q1 2020
Official website redesign, Official Release of the Whitepaper, Commencing Marketing Activities
4   Q2 2020
Developing Alpha version of the platform, Private Sale, Strategic Partnerships
5   Q3 2020
Development of Internal Beta version, IEO
6   Q4 2020
Public Beta testing, Extensive Marketing and PR
7   Q1 2021
Official Platform Launch, Clients Onboarding
8   Q2 2021
Platform refinements, introduction of additional features
9   Q3 2021
Integration with other job platforms/ Applicant tracking systems
10   Q4 2021
Fiat Gateway
Social Media Links
Whitepaper:  https://ispolink.com/assets/Ispolink_Whitepaper_v1.pdf
Website: https://ispolink.com/  
Telegram: https://t.me/ispolink
Your BitcoinTalk profile link: https://bitcointalk.org/index.php?action=profile;u=1870482
--------------------------------------------------------------------------------------------------------------------------------------------------
Author Details
Email: adria.parcerisas.albes@gmail.com
Bitcointalk username: adriaparcerisas
Bitcointalk profile link: https://bitcointalk.org/index.php?action=profile;u=1870482
Ethereum wallet: 0x3e10d9Cb6a5af372C00563aA19FEE3122A5C0Cd4