Introduction
Blockchain is a decentralized general ledger. It is a computer network that has an identical copy of the database and changes its status (records) to a common agreement based on pure mathematics. All this means that there is no need for any central server or any entity we trust (e.g. central bank, notaries, banks, Paypal, etc.). The blockchain is the technological basis for all cryptocurrencies, whether Bitcoin, Ethereum, Hyperledger, etc.
An important part of the blockchain is the smart contracts, a piece of code that is stored in the blockchain network (in each participant's database). It basically defines the conditions to which all parties using the contract agreement. Therefore, if the required conditions are met, certain actions are executed. Because the smart contract is stored on all computers on the network, everyone must run it and get the same result. This way users can be sure that the result is correct.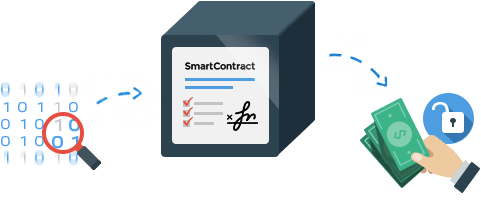 Blockchain and Smart Contracts open many doors to new decentralized businesses and eliminates the need for expensive third parties. Many new companies are now working on this technology, and large companies are testing it in closed networks to collaborate directly with each other without the need for intermediaries. Besides, it opens many doors in the research field and facilitates the investigation of Covid-19.
Moving to the topic, the project I'm going to present you is Covir (https://covir.fr/en/), the exclusive partner of Octopusrobots for the funding of robotic desinfection systems based on teams blockchain.
Video presentation
Definition
In more detail, Covir.io is a project designed to put working the OCTOPUS BIOSAFETY robot, which wA created to decontaminate equipment and large buildings such as food storage facilities and food processing plants, airport terminals, shopping malls and any other public buildings.
How it works
OCTOPUS BIOSAFETY is a fully autonomous and smart modular robot that recharges itself. Its unique atomization module delivers biocides in aerosolized form while getting away from temperature gradients and air flow issues that may negatively impact disinfection operation. It continuously maps indoor conditions and alert operators in case of anomalies detected to establish the better outcomes. Furthermore, it can be operated 24/7. The two major applications are the building disinfection and the distribution of other liquid solutions.
The most important features of the platform are the following:
VERSATILITY: The OCTOPUS robots are all equipped with a common multipurpose base. INTELLIGENCE: The guidance technology is inspired of autonomous vehicles. PERFORMANCE: The biosecurity robots outperform all competing solutions consisting of fixed installations. COMMUNICATION & TRACEABILITY: A Wifi interface provides real-time monitoring of the various operating parameters. AUTONOMY: The robots move by themselves and are powered by a long-lasting battery. SECURITY: The robots guarantee a maximum level of performance and safety.
Bounty program
The project gives the opportunity to earn CVR tokens performing some social media tasks and doing simple steps from the bounty program explained into the following Bitcointalk Thread here (https://bitcointalk.org/index.php?topic=5249320.0), where you can access the link in order to see what are the conditions to become an early Covir contributor and start acquiring tokens.
For more information about the project, you can visit and read their WhitePaper available here (Covir_WP). You can also stay tuned in their official Telegram Channel (https://t.me/covirIO). I hope you liked the post and soon I'll send you new ones.
Token details
Token: CVR
Platform: TEZOS
Type: XTZ
Price in ICO: 10 CVR = 1 XTZ
Tokens for sale: 400,000,000
CVR tokens are distributed on the Covir platform. For all those disposing of a Tezos Wallet (XTZ) you will receive them directly on this one, once the address is registered and will be added to your Covir account.
CVR token holders will share 50% of the royalties invoiced by Octopus Robots, CVR may be used mainly for sale or purchase related to the disinfection activity. Octopus Robot is a listed company, whose project supervised by Covir, ensures the reliability, financial security and the radiant future of the CVR.
Roadmap
1987: Foundation of the company. It was named MCAI until April 2017. Initially, the company was specializing in developing and manufacturing metrology products for industrial applications.
2004: The company was taken over by Mr. Olivier Somville who brought a new dynamic and opened up new markets .
MCAI took every opportunities and moved into various sectors such as HealthCare by developing patented technologies in the area of High Level Disinfection (HLD) for surfaces.
2012: MCAI has decided to massively invest in the development of innovative robots and hired a team of specialists. Since then, the company is exclusively devoted to develop its range of Octopus robots.
2012-2014: In 2012, the Company moved into the HealthCare sector by developing patented technologies in the area of High Level Disinfection (HLD) for surfaces. It developed an innovative airborne disinfection system and sold it through a network of distributors worldwide. In 2014, we moved into robotics completely. The "Octopus program" came alive.
2016-2017: The company was awarded the INNOV'SPACE's Trophy for its Octopus Poultry Safe robot. Since June 2017 MCAI SAS becomes OCTOPUS ROBOTS SA.
2019-2020: Covir powered by www.octopusrobots.com for the financing of international licenses for robotic disinfection systems based on the Tezos blockchain.
Social Media Links
Website: https://covir.fr/en/home/
ANN Thread: CVR_ANN_Thread
Whitepaper: https://covir.fr/wp-content/uploads/2020/03/covir_v2-2.pdf
Facebook: CovirIO
Twitter: Covir_io
Youtube: OCTOPUSROBOTS
Linkedin: covir-io
Reddit: covir
--------------------------------------------------------------------------------------------------------------------------------------------------
Author Details
Email: adria.parcerisas.albes@gmail.com
Bitcointalk username: adriaparcerisas
Bitcointalk profile link: https://bitcointalk.org/index.php?action=profile;u=1870482
Ethereum wallet: 0x3e10d9Cb6a5af372C00563aA19FEE3122A5C0Cd4