Welcome to my Hebrew reading & language series.
Genesis 41:1-7
Our new chapter starts two years later with Pharaoh waking from a dream. He is very troubled by it. Well, it was actually two dreams and he must know the meaning of them.
The story is set a few years after Joseph interpreted the cupbearer's dream correctly but the wine man had forgotten about Joseph. Now, dreams are going to be the focus Pharaoh until he finds out what they mean.
After two years, will the cupbearer bring up the unpleasantness of his jail time to Pharaoh? Next week will tell us the answer.
Today's reading
English
After two whole years, Pharaoh dreamed that he was standing by the Nile, and behold, there came up out of the Nile seven cows attractive and plump, and they fed in the reed grass. And behold, seven other cows, ugly and thin, came up out of the Nile after them, and stood by the other cows on the bank of the Nile. And the ugly, thin cows ate up the seven attractive, plump cows. And Pharaoh awoke. And he fell asleep and dreamed a second time. And behold, seven ears of grain, plump and good, were growing on one stalk. And behold, after them sprouted seven ears, thin and blighted by the east wind. And the thin ears swallowed up the seven plump, full ears. And Pharaoh awoke, and behold, it was a dream.
---
Hebrew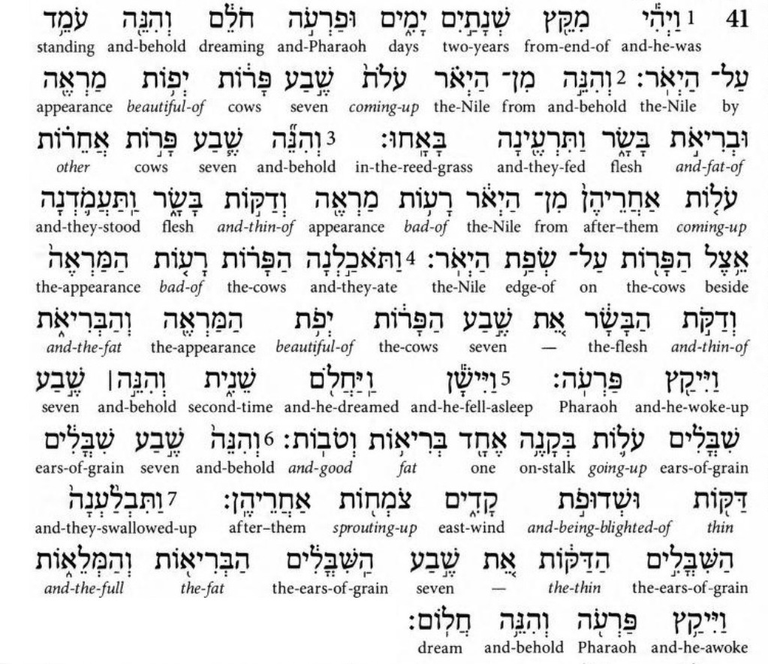 The story continues as Joseph is named...
next week
---
Info on each letter starting at the beginning
If you are just starting, my lessons are all here starting at Alef, adding vowels (the dots and lines) as we go. I explain the meaning of each letter and its numerical value. Just go to my blog and scroll to the bottom or click here
Get your Hebrew Bible now!
Click here to obtain the book we are using. It is a free download or browser usable.
Thanks for reading.
Shabbat Shalom