It was the continuation of the ongoing champions league group stage showdown. It has been an amazing champions league opener so far with lots pf exciting fixtures. PSG hosted Real Madrid for their first group stage fixture, a game that saw the serial Ligue 1 winners and French giants thump Real Madrid at home to move top of group A.
PSG have begun their Ligue 1 season strongly as usual, and are clear favourites to claim the Ligue 1 title again this season. The Ligue 1 and Domestic trophies have almost become a birthright for them, however, they have struggled to replicate their domestic success at the champions league stage. Even though they have found it difficult to do great things in the champions league like they have done domestically, they are not giving up in their quest to win the champions league and this season is yet another great opportunity for them to aim for the ultimate prize. They have begun their campaign with an emphatic 3-0 win over Real Madrid at home and are now top of group A.
Real Madrid have reinforced the squad this season with a number of world-class talents including their signing of Hazard from Chelsea. However, the team seem to not have gelled as they haven't gotten the performances and results they would have hoped for. Real Madrid under Zidane broke the champions league record by winning the competition 3 consecutive times and this season is another challenge for him to replicate the success he had in his first spell as the manager of Real Madrid. They will be highly disappointed to have lost their opening game, however, there is still a long way to go and along with PSG, they are the clear favourites to go through to the next round.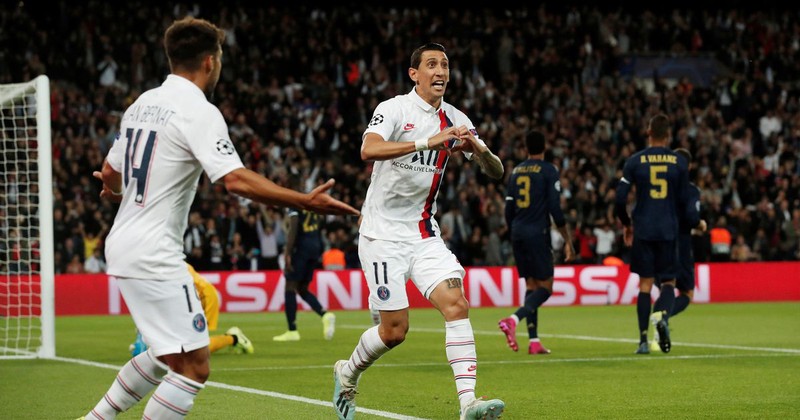 Image Source
Brief Post-Match Analyses
As always in a big game like this, it was an amazing atmosphere at the Parc des Princes with lots of fans all excited and buzzing for the battle.
PSG setup in their preferred 4-3-3 formation with a front 3 of Sarabia, Icadi and Di Maria, while Real Madrid setup in their usual 4-3-3 formation with a front 3 consisting of new signing Hazard, Benzema and Bale. Both teams began the game with a pretty good intensity, creating a couple of chances in the game. PSG took the lead early in the game before scoring two more to ensure that they begin their champions league quest with the crucial win and 3 points.
Di Maria scored the first goal for PSG in the 14th minute, putting the ball past the Real Madrid goalkeeper from a cutback pass.
Di Maria doubled the lead in the 33rd minute with a superb outside the box strike.
Meunier sealed the victory for PSG few minutes before full time, as PSG gets off their champions league campaign on a good start. This post can also be found on my scorum blog
What do you think of this match?
Header Image Source