There have been a lot of positives so far for Chelsea this season and according to some persons, the current Chelsea transfer ban issue could be a blessing in disguise. So far, the loan players and academy players who are part of the first team squad have been doing really well, especially academy loan players Mason Mount and Tammy Abraham who have shown that they are good enough and ready to play for Chelsea.
Mason Mount, a player who has been likened to Frank Lampard due to his similar playing style to the Chelsea legend turned Chelsea manager, his last 3 games in the premier league has been very good so far and is currently the joint highest goal scorer at the club along with Tammy Abraham who scored a wonderful brace in their last match against Norwich. Their last game against Norwich saw Mason Mount score a beautiful goal inside the box, a type of goal any player will be happy about. Similar to Frank Lampard, Mason Mount is very versatile when it comes to playing positions and has a really good eye for goal no matter where he plays on the pitch.
Frank Lampard ended his career as the highest goal-scoring midfielder in the premier league and one of the best in the world when it comes to playing in midfield and scoring lots of goals as a midfielder. Mason Mount is already showing great signs that he has all it takes to go into the same direction. He played under Frank Lampard's derby during his loan time at Derby, scoring quite a number of goals for them, but this season for Chelsea, he has already shown a lot of improvements not only in his play but also his mindset and maturity as a young player. Mason Mount possesses a lot of qualities that could see him become not only the next Frank Lampard for Chelsea in terms of goals and achievements but also do even greater things, as he still has a lot of time and qualities in his side.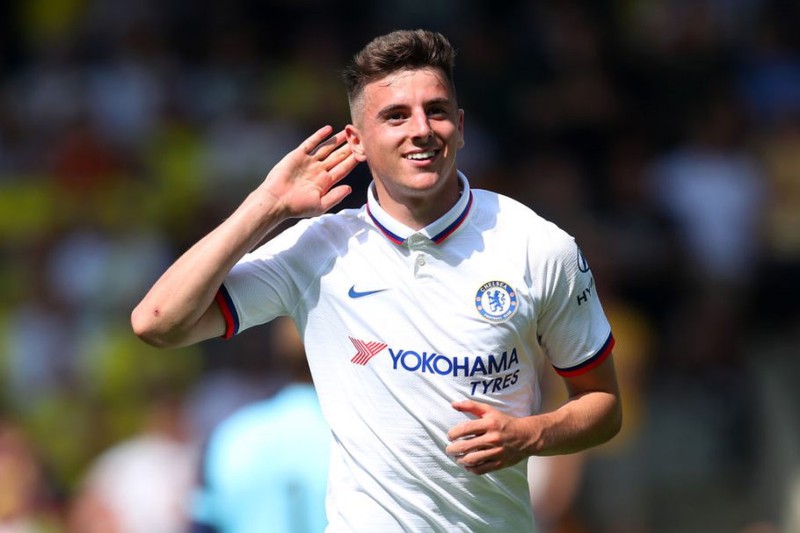 Image Source
Eye for goal
When it comes to having an eye for goal as a midfielder in this current Chelsea team, there are not many that are better than this kid. It is not a coincidence why he is the joint highest goal scorer for Chelsea along with Tammy Abraham the current number 9 for the team. His awareness in front of goal and his ability to find the back of the net makes him such a dangerous player in and around the box, just like the way Frank Lampard was as a player.
Work ethics
Mason Mount works really hard on the pitch in any position he plays at. The boss has already heaped praises to him and has said so many times how he likes how hard Mount works on the pitch. He is always willing to press and do a lot of running on the pitch, making him a very crucial player off the ball.
Versatility
Mason Mount is a versatile player and can adapt to different positions on the pitch. So far this season, he has played in various positions and has performed well in all the positions he has played in. Against Norwich, he played as one of the wingers due to Pedro's injury prior to kick-off and was excellent as always, scoring the crucial second goal for Chelsea.
Intelligence
Mason Mount is a very intelligent player by default, he is good at almost anything he does, might not be the best at certain elements of his game, but he is sure good enough at least. Like we have seen so far in all the games he has played in, he knows what to do in most situations.
More to his game...
There is more to his game than just being a midfielder. He has the qualities to adapt in various situations and also do various things on the pitch. As good as he is in the attacking phase, he is also good at putting in a shift when the team doesn't have the ball. He is not a defensive-minded player, but he has shown so far that he can do his defensive duties well and helps the team out during the defensive phase. This post can also be found on my scorum blog
What do you think of this player?