Liverpool, a club that is known to have a great history when it comes to football. They have gone from being one of the top teams in world football to becoming a team that could barely make it into the champions league and now back to one of the strongest teams in the world at the moment. The past few years have been transitional form and yet successful as they have made progress every single season ever since Klopp took charge as the club manager. Last season was massive for them, not only for their premier league title race which they came very close to winning but how successful they were in the champions league, becoming the best team in Europe just by claiming that prestigious trophy.
This season, everything seems to be heading to the right direction for Liverpool and they have continued from where they stopped last season in terms of the winning momentum and being hard to beat. Currently, the only team in the premier league yet to lose a game and flying high at the moment. Yesterday was a huge test for them and boy did they make a huge title race statement with their massive 3-1 victory against Man City to continue their unbeaten run.
Talking about Liverpool's massive 3-1 victory yesterday at home against Man City, let's briefly look at what happened in the game… it was a much-anticipated fixture as always when two title rivals clash. As usual, we were expecting an exciting and entertaining match between two great attacking teams. An entertaining match it was as both teams showed how good when it comes to attacking play as both teams played in their preferred 4-3-3 formations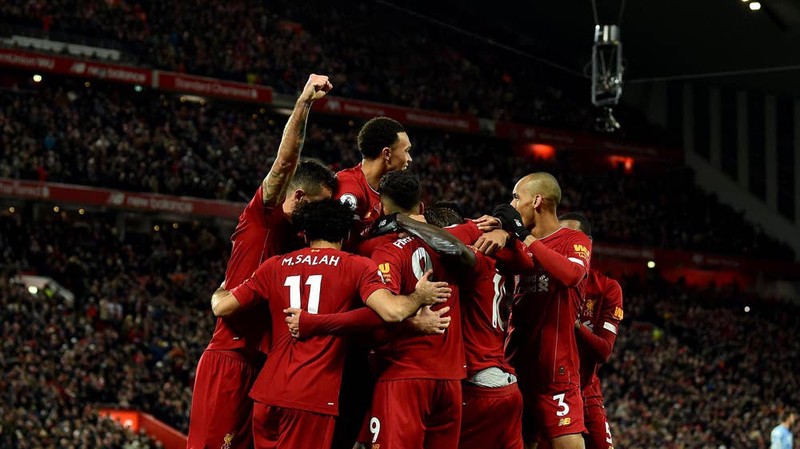 Image Source
Even though we were expecting a high scoring match, we didn't expect it to start very early in the game as Liverpool were already 2 nil up inside the opening 13 minutes of the game. Fabinho gave Liverpool the early lead just 5 minutes into the game with a superb and thunderous strike outside the box to give Bravo no chance of saving that. It didn't take too long for Salah to double the lead 8 minutes later with a beautifully timed run to head the ball past the City goalkeeper from a sweet cross from Robertson. 2 nil for Liverpool inside 13 minutes against Man City!... That's serious business right there… Liverpool controlled the majority of the first half. The second half began in a similar fashion, Man City forcing the attack and trying to get a goal back, however, it was Liverpool who scored another second half early goal to make it a huge mountain for Man City to climb. 3-0 for Liverpool. From that point, it was basically Man City dominating the game and throwing everything they had to change the dynamics of the match. Their efforts finally became fruitful as they got a goal back in the 78th minutes, Bernardo Silva scoring reducing the deficit to 3-1 for Man City. Things began to look different as Man City were creating chances and to score more, but Liverpool defended very well to ensure that the 3-1 lead wasn't altered. A great win for Klopp and his team as they continue their superb form this season.
From the look of things, it seems that no one can stop Liverpool at the moment, and looking ahead, it is quite difficult to imagine any of the current teams in the premier league that can actually inflict Liverpool with their first defeat since last season and with the way Liverpool are going at the moment, a lot of talking points have been raised whether this will be Liverpool's season to make history?...
For me, I think Liverpool has everything set for them to win the title this season. They are 9 points clear above Man City who is now in 4th position on the table. Like I said above, I find it difficult to imagine any team in the league currently that can stop Liverpool, so I think this could be Liverpool's season to make history. This is just an assumption as we all know how football is, like we saw last season, it only takes a few draws here and there to lose the number 1 spot. Nevertheless, Liverpool have shown this season that they mean serious business and will fight to win their first premier league title.
What do you think… Do you think this is Liverpool's season to make history?