It was the much-anticipated premier league fixture this weekend, a battle between two top teams but with different ambitions this season. Chelsea who came from a home loss in their champions league opening game hosted the current league leaders Liverpool who also lost their champions league opener but have been invincibles so far in the league, at the bridge for their first premier league meeting of the season. A game that saw Chelsea suffer another disappointing defeat at home.
Chelsea are still yet to win any game at home this season, and have now lost back to back games at home including their home loss against Valencia in the champions league. Their premier league home form have been pretty disappointing in terms of results as they have only managed 2 draws and 1 defeat so far. Even though Chelsea and their fans will be disappointed to have lost at home in this fixture, they will be proud to have been the better side for the second time against Liverpool as they had quite a few chances to have earned at least a point at home. Losing 2-1 against a team that hasn't lost for a long time in the league isn't something to be furious about. Chelsea will take a lot of positives from this game as they keep pushing through this transitional phase.
Liverpool have once again maintained their 100% success rate this season as they remain the only premier league team yet to drop a single point so far. They will be happy to have put up a solid performance to earn a win at the bridge even though they simply were lucky to capitalize on set piece opportunities to hurt Chelsea. It was a tricky fixture for them as they knew that they could drop points against a strong young Chelsea side, however, Klopp got their tactics right as it was very effective in the game especially in the first half where Liverpool looked really dangerous. A crucial 3 point for the Reds as they continue their quest to win their first premier league title.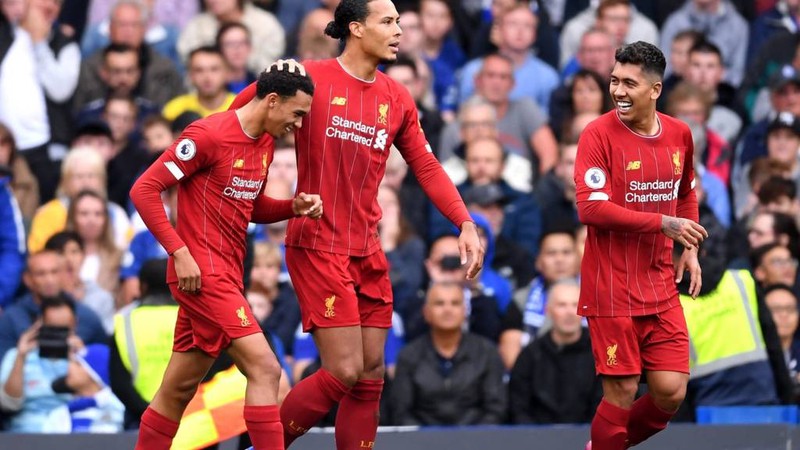 Image Source
Brief Post-Match Analyses
It was a fabulous atmosphere at the bridge with lots of fans all excited for the biggest game of premier league matchday 6.
Chelsea reverted back to a back 4 this time, a 4-3-3 formation with the in-form Tammy Abraham maintaining his spot as the number 9, while Liverpool utilized their usual 4-3-3 formation with front 3 of Mane, Firmino and Salah. The game began and Liverpool kicked off really strongly in the early parts of the first half and looked really dangerous when attacking. Chelsea slowly picked up the pace but it was Liverpool who capitalized on earned free kicks to score their crucial 2 goals in the first half. Chelsea began the second half as the stronger team, pushing for the first goal which eventually came late in the second half, but weren't able to find the crucial equalizer to at least salvage a point at home.
Alexander-Arnold scored the first goal for Liverpool on the 14th minute with an unstoppable freekick outside the box.
Roberto Firmino doubled the lead on the 30th minute, jumping highest to head in a free kick cross.
Ngolo Kante got a goal back for Chelsea in the 71st minute, but it wasn't enough to get something out of the game.
A solid win for Liverpool at the bridge as the maintain their 100% success rate so far this season and keep aiming to win their first premier league title. This post can also be found on my scorum blog
What do you think of this match?
Header Image Source