The much-awaited and much anticipated 2019/2020 premier league season is now upon us. Liverpool who were very close to winning their first premier league title locked horn against newly-promoted Norwich at Anfield, to kick off their first game of the season. A game that ended in an emphatic win for Liverpool as they continue where they left off last season.
Liverpool are still looking to win their first premier league title, coming very close to winning it last season and have already begun their quest to challenge for the title this season. They have kick-started their new season campaign with a great win and will be looking forward to doing better than what they achieved last season.
Norwich are one of the 3 teams who earned their promotion into the premier league this season and will be looking forward to staying put even though they have begun their campaign in a heavy defeat against the premier league runner ups and champions league winners.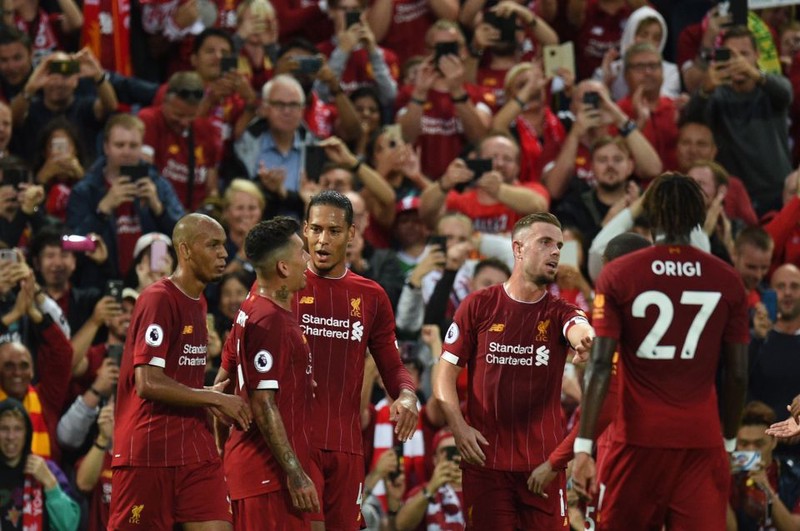 Image Source
Brief Post-Match Analyses
As usual, it was an amazing atmosphere at Anfield for the opening match action for the 2019/2020 premier league season, with fans all excited and ready for the game.
Liverpool setup in their usual 4-3-3 formation while Norwich on the other hand, setup in their usual 4-2-3-1 formation. The game began and in less than 7 minutes, the reds were already in front even though it was considered an own goal by the Norwich defender. Norwich had a couple of good moments in the game but weren't enough to take anything out of the game as Liverpool went on to get a comfortable win at home.
Grant Hanley put the ball in his own net just 7 minutes into the game, deflecting a low cross by Origi past his goalkeeper.
Mohamed Salah has begun the new season as the first goal scorer for Liverpool in the 19th minute, a very nice goal after the Egyptian had a quick exchange of passes in the Norwich box to place the ball home.
Virgil Van Dijk made it 3 in the 28th minute, converting a corner kick cross with a fine header to give the reds the cushion.
Divock Origi who was key to Liverpool's success last season got his name on the scoresheet 3 minutes before halftime, converting a pinpoint cross into the box with a very good header to find the back of the net.
Teemu Pukki scored the consolation for Norwich in the 64th minute, slotting home a defense splitting pass to ensure that Liverpool don't go with a clean sheet.
It was a great and entertaining opening game of the season from both teams, even though Liverpool takes all the highlights, Norwich will be happy with some of the performances as they had very good chances in the game which could have probably changed the scoreline. Liverpool continue from where they stopped last season as they keep on their quest to win their first premier league title. This post can also be found on my scorum blog
What do you think of this match?