It was the much-anticipated premier league matchday-3 clash between two teams who have shown to be the best in their first two games of the season so far. Liverpool who are currently unbeaten this season locked horn against Arsenal who have done well so far this season and are unbeaten as well. Both teams entered into this game with equal points on the table, however, Liverpool showed once again their prowess at home as they breeze past Arsenal to continue their 100% success rate this season.
Liverpool are already showing signs of great things to come from them this season and will be aiming to do better than last season. This was their first real test in the premier league this season against Arsenal and they once again showed why they are one of the second best team in the premier league. A perfect result for Liverpool as they maintain their spot in first position on the table.
Arsenal began their season in contrast to how they started last season, getting maximum points out of the two games played so far, showing signs of improvements from last season. Though they were slight underdogs in this fixture, they also had a great chance of getting the job done against Liverpool as we have seen in the past, however, it wasn't the result they would have wished for and will be very disappointed to lose in such fashion.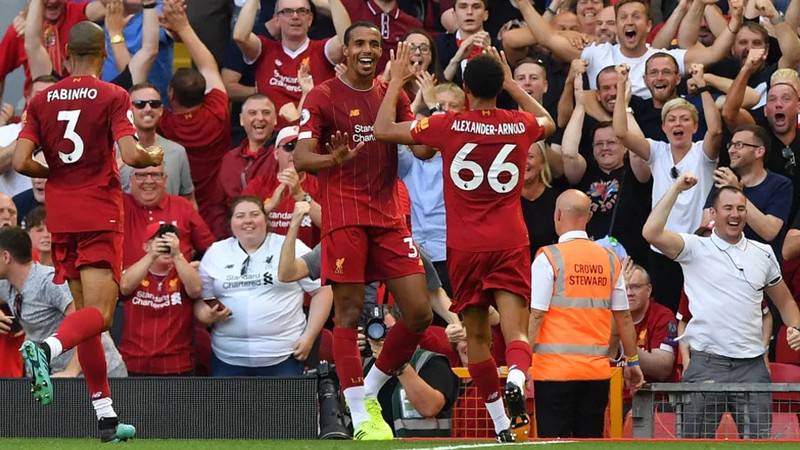 Image Source
Brief Post-Match Analyses
As usual, it was a fabulous and exciting atmosphere at Anfield, a much-anticipated fixture as the Liverpool fans were all chanting and buzzing for the battle to begin.
Liverpool setup in their usual 4-3-3 formation, while Arsenal setup in a 4-3-1-2 formation. The game began and Liverpool almost had a perfect start inside the first few minutes of the game with a missed chance. Liverpool kept their pressure and intensity and were clearly on top early in the first half and deserved to take the first half lead after having dominance in the first half. Arsenal had a glorious chance to go in front early in the game after a defensive error by Liverpool but weren't able to find the unguarded net. Arsenal had quite a couple of very good goal scoring chances but couldn't beat the Liverpool goalkeeper. The second half began in quite a similar fashion, Liverpool dominated the early parts of the second half and finally put the game to bed. Arsenal had to leave it late to get their consolation goal, as it ended 3-1 at Anfield.
Joel Matip scored the first goal of the match in the 41st minute, rising highest to head home from a corner kick cross.
Mohamed Salah doubled the lead just 4 minutes into the second half, converting from the penalty spot.
Mohamed Salah made it 3 with a beautiful individual finish in the 58th minute to give Liverpool the cushion.
Lucas Torreira came in as a sub to score the only goal for Arsenal in the 85th minute, a very nice finish inside the box to add his name to the scoresheet.
A great win for Liverpool as they continue their 100% success rate this season. For Arsenal, it is a disappointing result for them, however, we are still very early in the season and there's still a long way to go for all the teams. This post can also be found on my scorum blog
What do you think of this match?