It is yet another new day and while nothing much is happening in the football scenes, we all have to keep our hands crossed and hope for the best in the coming weeks. While we are still waiting for positive news concerning the whole coronavirus problems and the resumption of footballing actions, we still have to feed ourselves with some other football contents. As we all know, Chelsea have already made their first major signing for the summer last month, signing Ajax star man Hakim Ziyech, a player that caused them a lot of problems when they two sides met in the group stages of the champions league. The Chelsea fans have shown their excitements concerning the signing and can't wait for the player to put on a Chelsea shirt next season. While it is already obvious that a lot of the Chelsea fans are extremely happy about the signing, some are also very curious to know how he can fit into the side and what he can bring to this Chelsea team next season…
Ziyech, a player that is known all over Amsterdam and in Eredivisie as the "Wizard of Amsterdam" for his immense footballing talents and qualities and abilities to single-handedly influence the outcome of a game. Chelsea had a test of what he can do when they two teams met in the champions league this season, as Ziyech was mainly the reason Ajax were able to take the 4-1 lead against Chelsea before the epic 4-4 draw at the bridge, which later became a factor why Ajax were eliminated out of the champions league. Nevertheless, that is all history now as Ziyech will be joining the West London side this summer. So what can Ziyech bring to Chelsea next season?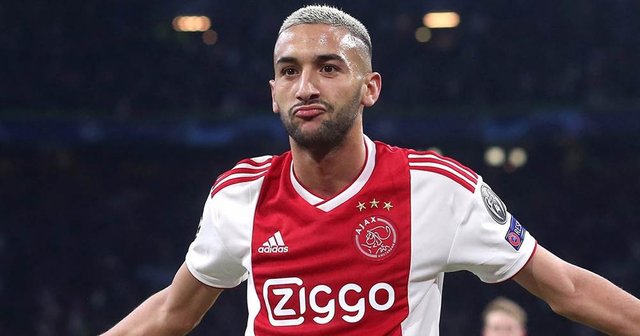 Image Source
For me, I think a whole lot, a whole whole lot and his qualities and talents cannot be questioned. He is the kind of player Chelsea have been missing ever since Hazard left the club for Real Madrid and since them, Chelsea haven't had any player who can single-handedly break down low block teams, or single-handedly win matches for them, like the way Hazard used to do for them during his time at the club. Ziyech is not only known for his exceptional creativity on the ball, but he is also a dead-ball specialist and his vision to split defences with killer passes is extraordinary, hence why he is heavily known as the Wizard of Amsterdam". Looking at his stats at Ajax for the past 3 seasons in a row, you can clearly see that there is an upward improvements each season, which means that he has been getting better and better each season. With the talents that he has as a player, it is obvious to expect him to be one of the key players for Chelsea next season, and people are already expecting him to be the engine room in the offensive phases, that is how good he is as a player. I will have to say that Chelsea has done a great business signing the player of his qualities for the amount that the signed him for, it is a remarkable business and he will improve the team by a whole lot.
What do you think Ziyech can bring to this Chelsea team next season?