As expected, there is nothing going on in football at the moment, however, transfer news and speculations still remains the source of news for the fans. According to sources, the release clause of the Borussia Dortmund wonder kid Haaland is around 63m, quite cheap for a player who is doing great things at Dortmund at the moment. As we already know from Dortmund's games this season, he is such an amazing player and a clinical finisher. Just 19 years of age and is already one of the top goals scorers in the Bundesliga.
It is no longer subject of discussion when it comes to Chelsea's striking situation as it has already been made clear that they need a clinical finisher in the team to convert the chances they are able to create. Like we have seen so far this season, they have created a lot of chances but have struggled to turn most of those chances into goals. At the start of the season, they had to rely on young Tammy Abraham to score all their goals, but as injury set in, he hasn't been the player he was earlier in the season. Giroud has been called upon to do the job, however, age isn't on his side to lead Chelsea where they want to be. Batshuayi is playing his part but isn't seen as good enough to lead Chelsea back to the top.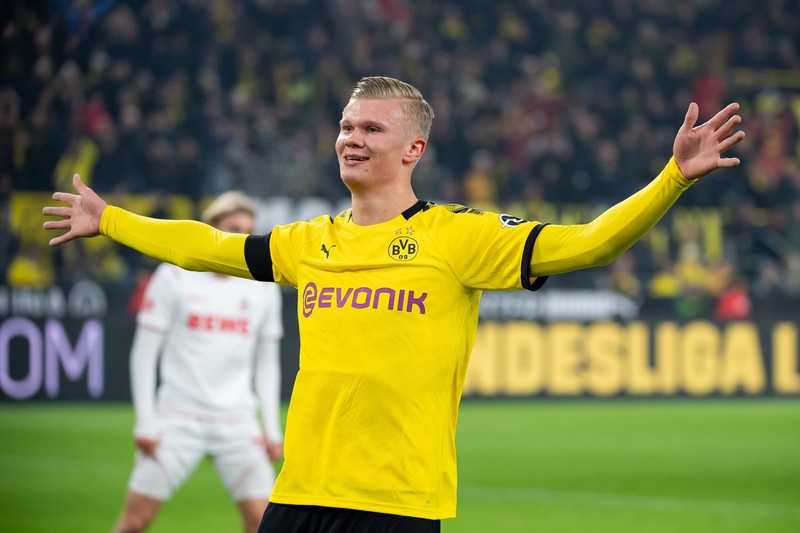 Image Source
The Chelsea lack of clinical finishers in the team like they used to have back in the days has become a thing of concern for Frank Lampard going forward hence why he desperately needs another top-quality striker in his team. A few names have already been linked to Chelsea so far, however, some of the names are realistic while some are most likely not going to happen at least for now. With the release clause of 19-year-old Haaland made known, this could be a viable option for Frank Lampard, as he is not only a fantastic finisher, he is also incredibly young, which means that he could become an asset for the club for so many years.
While it is possible to activate his release clause which is quite tempting, it is also clear that a lot of top clubs will be after the player as well, including rival Man United who are ready to splash the cash to bring him to Old Trafford. Nevertheless, let's see what happens in the coming weeks as we hope for things to return to normal very soon. This post can also be found on my scorum blog
What do you think? - Do you think he is a good option for Frank Lampard and Chelsea?