According to recent reports from a few sources, Chelsea are keeping their eyes on Achraf Hakimi, a Real Madrid player who is currently on loan at Dortmund. Achraf Hakimi is a player that has attracted a lot of attention of the top teams due to his tremendous qualities on the ball and is regarded as one of the best players at Dortmund. His speed, dribbling abilities, ability to create chances out of nothing for his teammates and also his goal-scoring abilities makes him a sort after player by a number of the top teams, including Chelsea who have shown interest in the player as well.
Achraf Hakimi plays primarily as a right-back, but due to his qualities, he can be deployed in the left-back position as he has done for Dortmund so many times. His attacking prowess also makes him a good option when it comes to playing as a winger as he has proven that he has the dribbling qualities and goal-scoring abilities to play further up the pitch.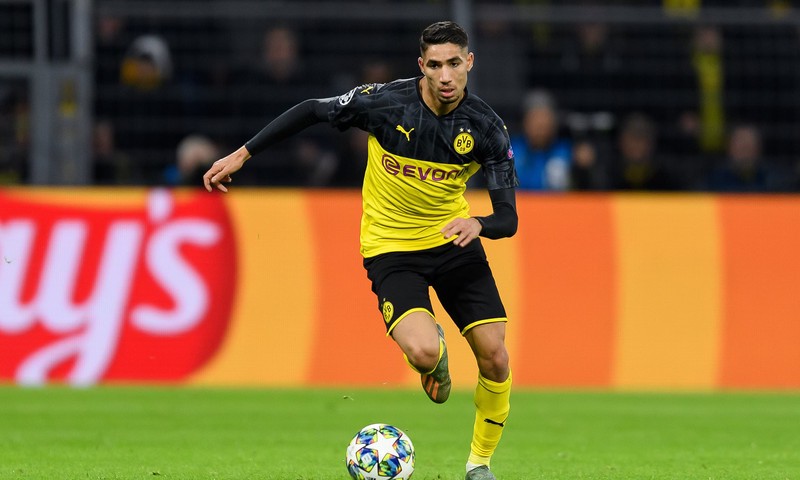 Image Source
As we all know, Frank Lampard is looking to bolster his team for next season. Like he has said several times, full-backs play an important role in the way he wants to play, that is why he is in to acquire a top-quality full-back that can occupy the left-back position as Reece James has made the right-back his. Another full-back who has been linked to Chelsea recently is Alex Telles, and according to sources, Telles is the most realistic target as the deal is close to getting done. However, we all know football, anything can happen when it comes to negotiations like we have seen so many times. That is why Chelsea are casting their net wide should in case they fail to land Telles away from Porto.
For me, both players are top quality full-backs, Telles who plays as a left-back with amazing dead ball abilities, while Hakimi is known for his ability to play on either as a right-back or a left-back, and also with amazing qualities on the ball. Both players can offer a lot to any team that likes to attack and keep possession, so for the Chelsea fans, any of the two players will be a great signing and will most likely improve the team a lot. However, while no concrete news has made it clear that Chelsea are in for Hakimi, Telles is the more realistic target and according to different sources, the deal could be completed soon. This post can also be found on my scorum blog
What do you think of this player? - Can Chelsea secure his services?