The much-anticipated champions league showdown is upon us. Coming up is the first of the many fixtures of this season's champions league campaign. Napoli will host Liverpool tomorrow for their first group stage clash at the Stadio San Paolo. An exciting fixture this is for the fans as both teams have a good chance of getting the crucial 3 points in tomorrow's champions league opener.
Napoli are in a good form at the moment, coming from a 2-0 home win against Sampdoria in the Serie A. They still have the memories of their group stage battle last season, of which they were a victim of eviction from their group and this fixture last season was one of the main reasons why they fell out of the group stage. With the memories still fresh in their minds, they will be looking to put up revenge against Liverpool and will be aiming to start by getting the win at home.
In terms of expected formation and tactics, Napoli will most likely setup in a 4-4-2 formation. They will be going into this game optimistic to get the win even though they are playing against the current champions. Their gameplan will be to stay very compact as possible without allowing the Liverpool front 3 any time and space on the ball to operate. Napoli are also very good at keeping the ball and are a very strong attacking team, they will be aiming to utilize their qualities in the attacking phase to hurt Liverpool.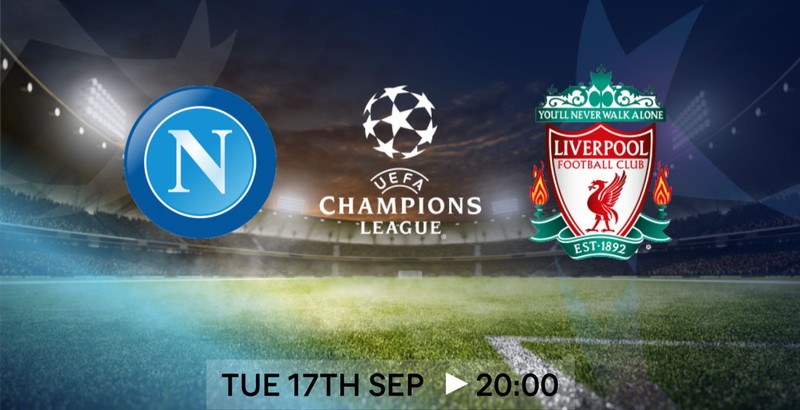 Image Source
Liverpool are in super form at the moment, their form in the premier league have been nothing short of amazing as they are the only team yet to drop a single point in the premier league. They are the current champions league trophy holders and they will be aiming to kick off their campaign with a win away from home. Not many teams have won the champions league back-2-back, and everyone knows how difficult it is to win it twice consecutively, however, Liverpool loves this competition and they will be aiming to join Real Madrid as the latest teams to win consecutive champions league trophies.
In terms of expected formation and tactics, Liverpool will most likely setup in their preferred 4-3-3 formation. With their current top form, should be expecting a really strong attacking display from them away at Napoli. Liverpool are known for their counter-pressing style and their high energy attacking and counter-attacking football, so tomorrow, they will be aiming to utilize their deadly front 3 and their style of play to cause Napoli a lot of problems. A draw tomorrow wouldn't be the worst result for either teams, but as the current champions, they will be aiming to start their champions league trophy defense with the crucial 3 points. This post can also be found on my scorum blog
What do you think will be the outcome of this fixture?