It was one of the greatest events of 2020. We're bringing it back this year, and we will continue to blow your minds with virtual connections, free stuff, party games, friendships and more. Get ready for DYGYCON 2021.
(Official #DYGYCON Proof-of-Attendance Badge)
The 1st DYGYCON event of 2021 is in March!
---
What is DYGYCON?
DYGYCON is a online conference dreamed up and hosted by your friends at Splinterlands, designed to facilitate connections in the real world. In our virtual Expo center (powered by Gamerjibe), guests are able to essentially be part of a video game. They can wander the expo, check out the sponsor booths and collect free NFT stuff from the DYGYCON SWAG Booth. They can grab a virtual drink from the virtual bar or chill out for some casual conversation on a virtual bean bag chair. They can roast virtual marshmallows over a fire, or they can go fishing in the patio pond. Of course, the more business minded can talk big-picture stuff in a stress free, casual environment that encourages guests to let their guards down. Arranging a meeting is as easy as stepping up to a private conversation table with a new friend. 
I'm just blowing off some steam, catching some fish...
The Expo has all the features of an online communication interface like Skype or Discord, but with the added fun of a real-life convention experience. It's a magical place where communities can come together, connections can be cultivated and friendships can grow. At Splinterlands, we understand that more connection is exactly what is needed to elevate the blockchain and NFT space to the next level. The bottom line: We need each other, and we can all benefit from each other.
The Last DYGYCON
The first DYGYCON was an incredibly memorable experience, attended by some of the most influential and innovative names in the industry. After the event, our guests didn't even want to leave, but instead gathered together in the main room for a sort of superpowered brainstorm meeting. Countless lasting and profitable connections were made, as anyone who attended the event can tell you.
Our guests had a blast bidding on live auctioned NFT items in the Auction House, and they filled their SWAG bags with free stuff from tons of sponsors and partners of the event. They didn't spend their time listening to CEO's droning on about this project or that company, but were free to wander the event and meet people. It was a beautiful thing, and DYGYCON is just getting started.
---
The Auction House
One of our favorite features of DYGYCON is the live Auction House! The Expo's Presentation Rooms are easily transformed into a unique live auction experience that reminds guests of the real thing! A live auctioneer presents items to be auctioned one by one, and they are sold to the highest bidder. Got some crypto gains burning a hole in those wallets? We can accept all the major cryptos for sales in the Auction House, with payment arranged immediately after the DYGYCON event and instant asset transfers.
Have a high-dollar NFT that you would like to list in the Auction House? We can facilitate that as well! DYGYCON will hold the item in escrow to ensure a smooth and secure asset transfer, so there's no need to worry. We will take a listing fee of 20% from the final sale price, which will be used only to fund the future of DYGYCON. This fee is highly competitive with any live auction fees anywhere in the world, and we can almost assure that your item will be sold for more than you would be able to fetch for doing it freelance. Support a project that you love like DYGYCON, and make some extra money selling your NFT stuff!
---
Sponsorship Opportunities
Sponsorships are the heartbeat of DYGYCON. Month-to-month booth holders will provide us with the funds to continue growing and to help us deliver untold value to our sponsors and guests. There are various booth sizes and levels of exposure, including branding rooms and booking speaking time on the main stage. Companies and projects on a budget can even brand one of our main stage room's conversation tables, which allows them an exclusive front-and-center meeting space throughout the event. It's kind of like having your own private office right in the action without being rude!
Anyone involved is welcome to provide free NFTs or prizes to get more exposure for their company or project, and our NFT SWAG Booth is a great way to get noticed by everyone who attends the event!
VIP sponsors (Partners) can have access to the space at various times throughout the month leading up to the event and the ability to schedule exclusive mini-events for their communities. This is a fantastic option for those companies that have some whales to schmooze to do so in a comfortable and low-pressure virtual environment.
Basically, we promise to gain the kind of exposure for your company or project that few other digital events can offer. If you're interested in being contacted about sponsorship opportunities (which are expected to sell quickly), please fill out THIS FORM.
Some of Our Past Sponsors
...and more!
We have big plans for the future of this one-of-a-kind event, hosted by the Splinterlands team. Carrie Allen, our Marketing Director, comes from a background of organizing and hosting IRL events and creating unique experiences for thousands of people, so DYGYCON is sure to blow you away. With any questions or suggestions, you can contact her at Carrie@Splinterlands.com. With the help of the hard-working and innovative event planners at Gamerjibe, each DYGYCON promises to be even more memorable than the last!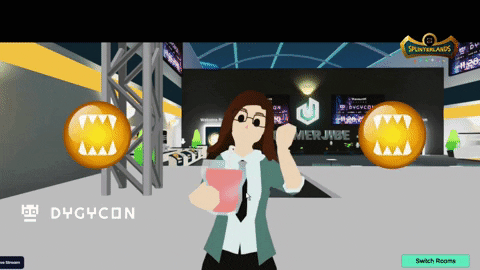 JOIN US!
We are currently accepting applications from anyone who would like to help with DYGYCON in 2021, including volunteers, auctioneers, salespeople, social influencers, crypto artists and more. It is possible that some of these positions will blossom into regular paid employment with DYGYCON in the future, but first we'd like to give you all a chance to show us what you can do! And we need your help to make this the go-to event for connections that we envision.
SALES TEAM - Initial Application
---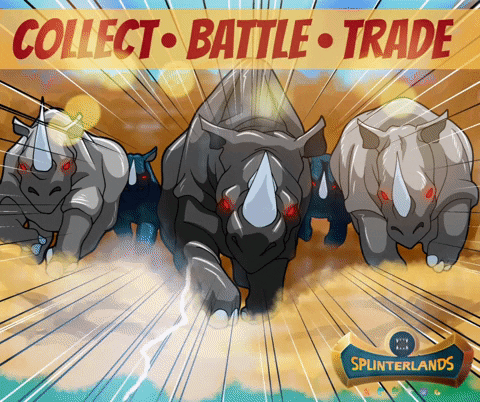 Play Splinterlands, a play-to-earn strategy TCG masterpiece!
We'll see you at the first #DYGYCON event of 2021!
Stay tuned for updates, and spread the word!