Hello you reader !
I'm here today to share with you some personal thoughts.
I'm often wondering what do I want to experiment in my future ?
Since the beginning of the pandemic, some things have changed in my life, from my studies to my hobbies. Now I have left the school (graduated) and am now trying to find a job, in Cinema so there are some difficulties.
During the first lockdown I was at my parents' house for that trimester and totally fell in love with gardening. It's just difficult now with my 2m² balcony in an apartment that I'll leave soon. More than that, the few plants I have now will probably not follow me when I'll Go to work in Togo in a few months. (don't forget to check my post 😉)
Here I'm questioning myself. How do I want my future to be ? What is my dreamed life ?
What is my ultimate Life goal ?

For a lot of people, probably when they do not really try to find one, their life goal is "Being rich" or "being famous" or both. As I'm working in an art discipline, being famous is probably needed to be rich, the reverse is also true.
And I will not lie to you, I would really love it. But, once again, this would just be a step to something else, being of famous would basically bring me to meet some actors I like and being richer will definitely make life easier.
Because I try to have the more ecological life possible without becoming a CRO magnon, too much wealth would not be genuinely useful for me, but my dream would need some.

I asked on noise.cash what are the biggest life goal of people.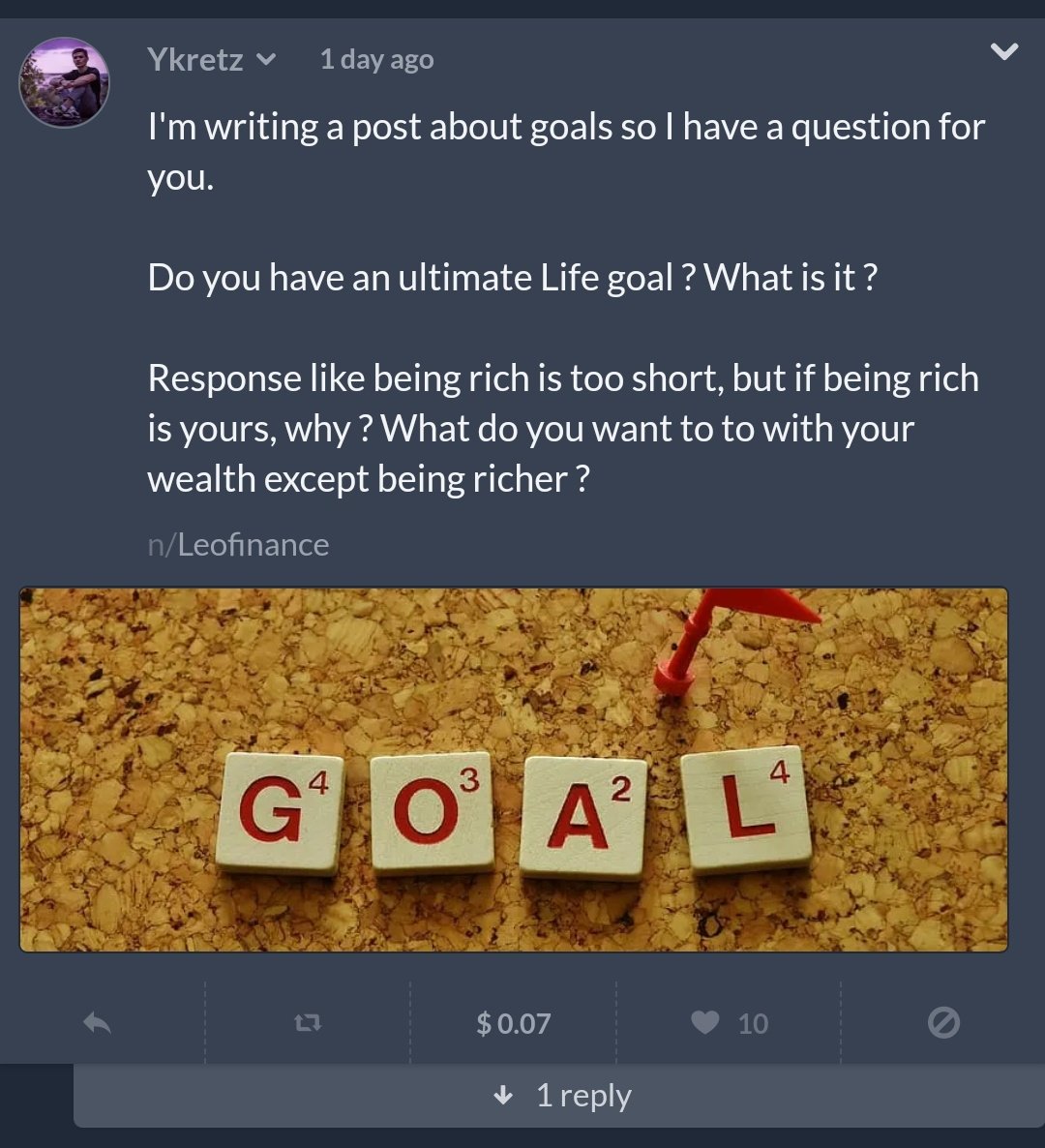 Unfortunately as you can see there is only one reply, but this one is pretty important.

@behiver said a big part of my own answer.
(Thanks again for your participation)
My dream is to be Independent. I want to have a house (my own, no rent), zero emission, with a low need of heating. When needed ut's with a heat pump. Enough plantations to eat during the whole year. I want to grow my food. I want to eat guacamole ? No problem, just take an avocado in the garden.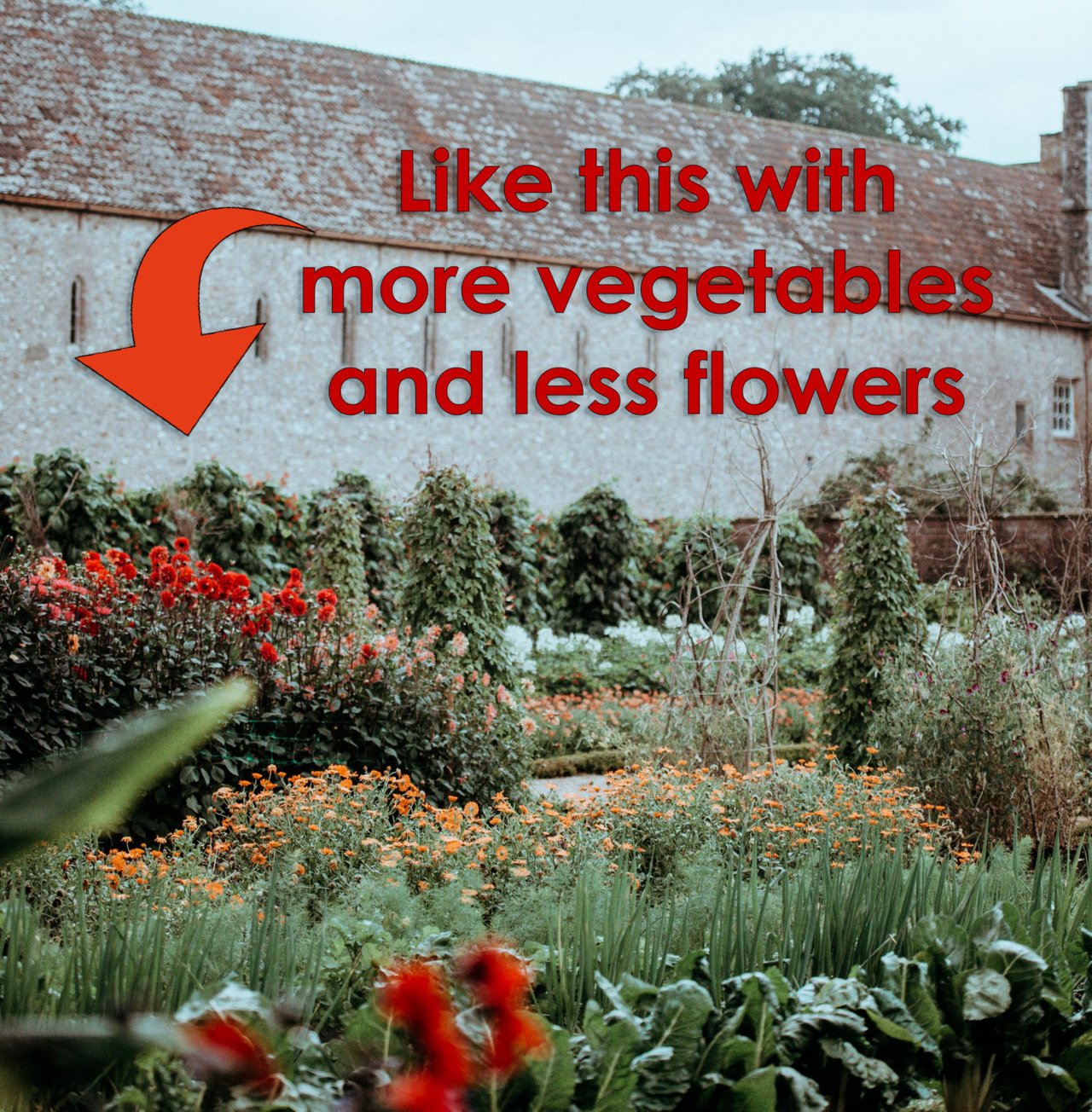 Source
If I want electricity, I'll do it myself, there are some water mills that are pretty effective and don't have such ecological impact as dams. Probably some solar panels and I know there is some research about producing energy with composting. Charging my dreamed Tesla Model C at home for free would be the best part.

If all of this is possible, maybe doing it big enough to make my neighbor enjoy it too ! If I can share some greens or unused electricity this is even better, to avoid waste and maybe even earn some money, but I would love to sell them at a low price (or giving to people in need).
Everything results in having fewer expenses and maybe even more income. From that moment, when saving just some money is enough to take a break of several weeks, it is really great and working only becomes to be for pleasure and not because you need.
Having a simpler life, less stress, less responsibilities. You can earn only $200 this month but you don't have to repay a loan, no need to buy food nor to pay to turn on your lights. Living from crypto would be way easier.
Now I have a question for you, what is your ultimate Life goal ?
Don't need to be as accurate as me but if you have an idea it's already wholesome ! I'd like to discover how do you want your life to be, what sould it look like to be better ?

You can join me on :
Noise.cash
The microbloging platform and get rewarded with BCH


Share your unused bandwidth and get paid for that with Honey gain