---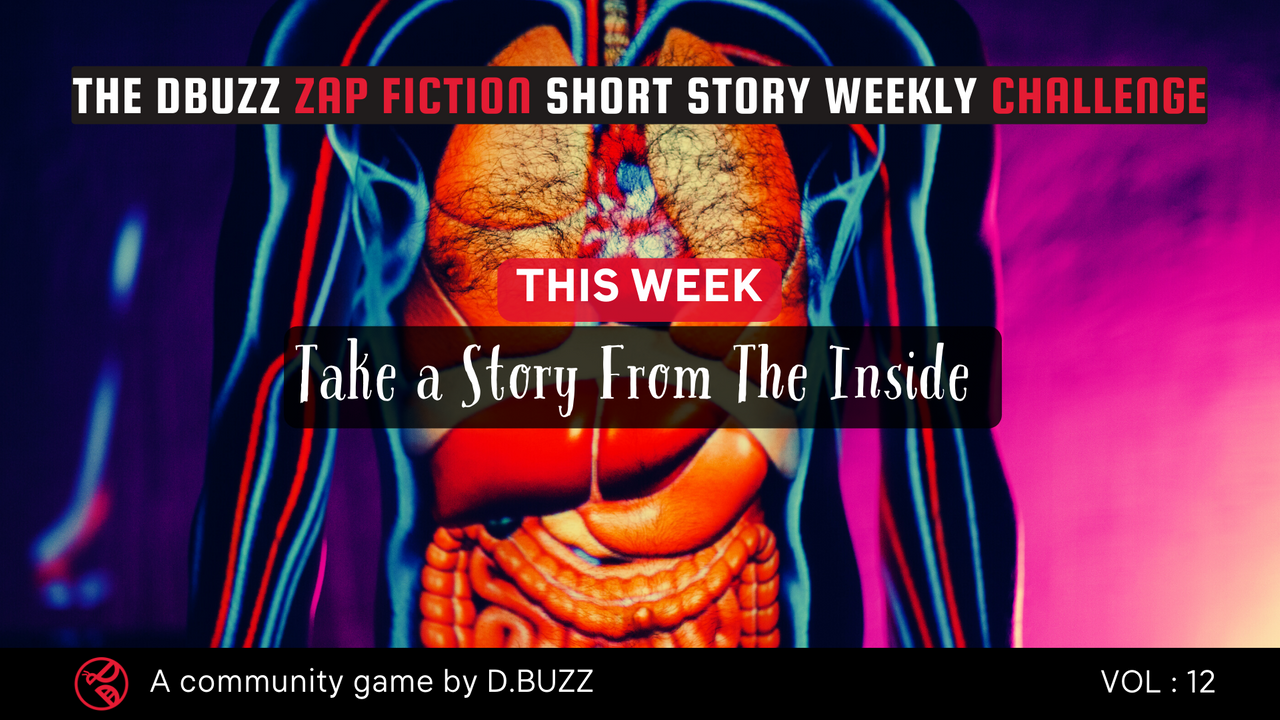 The DBuzz Zap fiction short story weekly challenge: Week 12
Greetings, zappers!
Fridays mark the day when we put on our creative hats and unleash our imaginative powers - just like Harry Potter casting a spell - to conjure up fantastic stories about strange and interesting topics. Why? Well, as authors, it's important to challenge ourselves, think outside the box, and have some fun being silly and wild. Today's prompt is no exception.
Our Zap fiction challenge for this week was inspired by the movie "Fight Club". If you haven't seen it, no worries! In one scene, the main character takes up residence in a house filled with writings left by the previous tenant. Each story in those writings is told from the unique perspective of one of the organs inside Jack, the protagonist. Hilarious, right?
So, for today's Zap fiction writing challenge, we want you to create a short story from the first-person perspective of an organ (of your choice) inside the body of another person. What organ will you be? What are you thinking or doing? What conflicts may arise in your organ-filled existence?
Yes, this challenge may seem a bit bizarre, but that's the whole point! We want to stretch your creative muscles, push you to think in different directions, and dive into the shoes - or rather, organs - of another being to explore the intriguing possibilities.
Unleash your creativity and let your imagination run wild! We can't wait to read what you come up with.
Last week, we posted the Zap fiction challenge of envisioning what would happen if your house became sentient and alive. The winner of that challenge was none other than the talented @alicia2022, whose unique take on the idea revolved around two sister trees living within the walls of the house. How intriguing! If you missed it, be sure to check out @alicia2022's captivating story below.
Thank you to all the writers out there for continuing to embrace and nurture your creativity. Keep those ideas flowing and let your words paint vibrant stories on the canvas of imagination!
Till next week, zappers!
---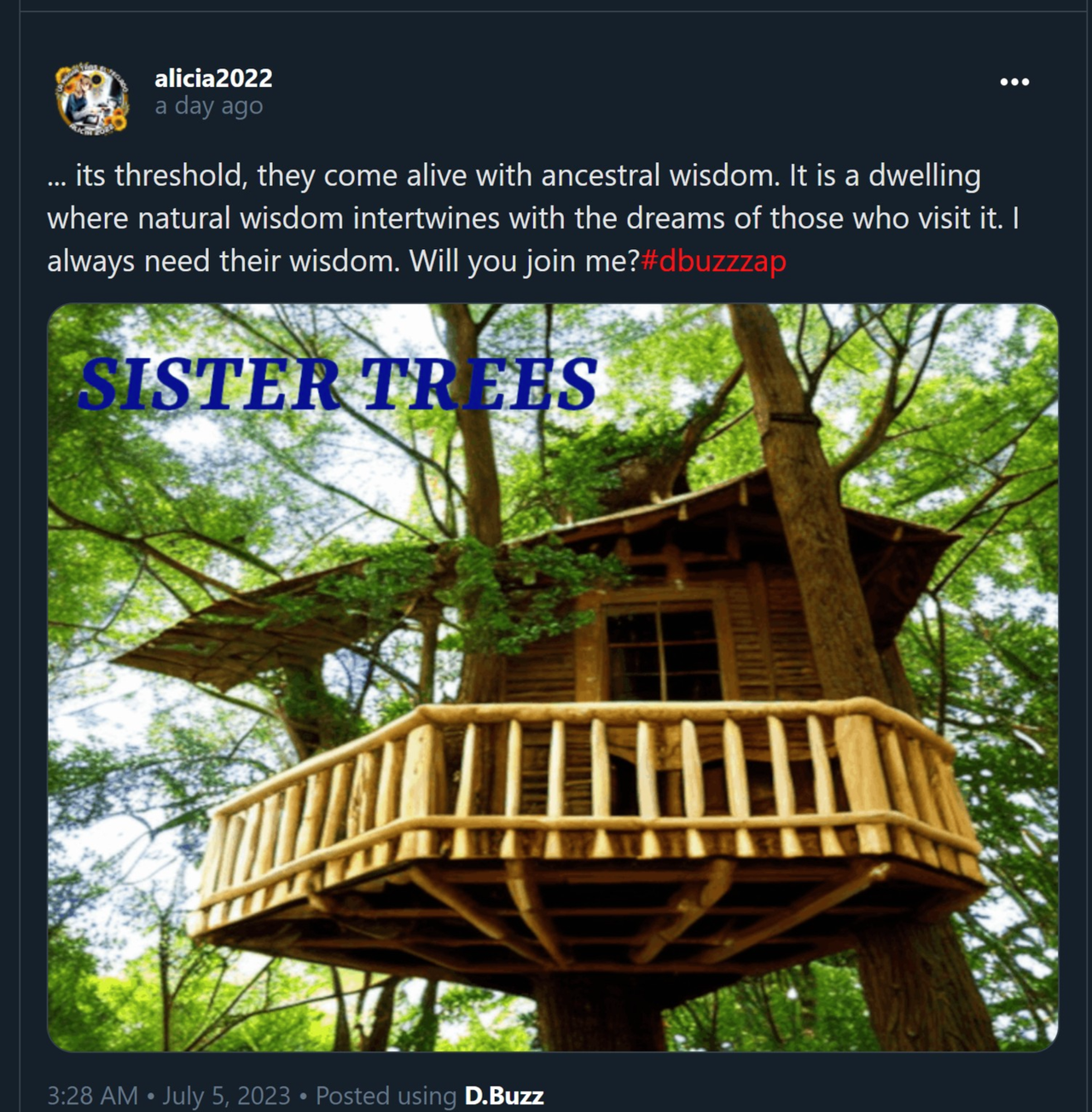 You can view their buzz here: https://d.buzz/@alicia2022/eynvyme9hxlyzv1zai175r
---
Objective of this game
This writing challenge will be no easy feat - the objective is to write a Zap fiction short story of something that is truly the embodiment of what's proposed. This means you'll need to go above and beyond the ordinary, and push the boundaries of creativity to craft the perfect story.
Whether it's an epic tale of the future or a gripping narrative full of twists and turns, you'll need to think beyond the usual conventions and stretch your imagination to the limits. With a little bit of patience and a lot of determination, you're sure to come out with a truly impressive work of fiction representing what's being suggested. So, unleash your talents and let your creativity fly high in the Zap fiction challenge on DBuzz!
---
Rules and conditions of victory
You must publish the post on DBuzz (a Hive frontend where you can log in with your posting key or Hive Keychain). Adding a photo or image is optional.
Always do your best to make the post in the most attractive way possible, as creativity will be valued!
Tag that post with #dbuzzzap.
Leave your DBuzz link in a comment below.
Lastly, try to interact with at least two users who are also participating in this challenge. It's a great way to connect and make new friends too!
You have 6 days to upload and share your entry.
Awarding
If you are selected as the winner, you will be added to next week's contest post as a 50% beneficiary! So whatever the paid-out reward of that post, you will get half of that sent to you.
---
REMEMBER
We don't want you to miss out on the chance to win this fantastic prize, so make sure you complete all the requirements for entry into our contest! We'll double-check that all conditions have been met so that the best entry can be rewarded. Don't let all your hard work go to waste – make sure you fulfill all the criteria for your post to be accepted as a valid entry. Good luck!
And most importantly...
This challenge isn't just about having fun - it's about connecting. So gather your friends and join us to see what exciting opportunities await!
---
Good luck, and have fun!
---
DBuzz is ...
A censorship-resistant short-form microblogging platform that empowers you to share your thoughts in 280 characters or fewer.
Censorship-resistant and built for the community with love.
Vote for @dbuzz as a Hive Witness.
---
Using HiveSigner: HiveSigner.com
---
Search for @dbuzz witness at peakd.com
---
Search for @dbuzz witness at Hive.blog
---
We strive to have a fun and neutral stance on topics. If you have any concerns with the content, please contact the @dbuzz team.
DBuzz online at:
Join us on Discord at https://discord.gg/BKg5Ptg9ss