False Alarm? Bitcoin Upsurge to $9,600 Is a Weak Futures-Driven Rally;
Ethereum is Close to Being Flipped on its Own Blockchain;
Buterin and Winklevosses Address Twitter Censorship Battle;
Justin Sun Says Only These People Question Him;
South Korea to Start Taxing Bitcoin Profits in 2021;
🗞 Daily Crypto Calendar, May, 30th 💰
Welcome to the Daily Crypto News: A complete Press Review, Coin Calendar and Trading Analysis. Enjoy!
The price of Bitcoin (BTC) rose to as high as $9,620 on May 28 ahead of the CME futures market's monthly close. Market data shows the rally of BTC — the biggest cryptocurrency by market capitalization — was primarily caused by the futures market. Historically, a futures-led rally leaves the top cryptocurrency vulnerable to a pullback.
Bitcoin rejected the $9,500 to $9,600 resistance range with strength, falling below $9,400 within a span of four hours. Analysts say the probability of a long squeeze is increasing as 74% of positions account for long contracts.
Bitcoin futures open interest rose while spot market volume fell
The most noticeable evidence that suggests the futures market was behind the uptrend of Bitcoin from $8,700 to $9,600 is the increase in the open interest of BTC contracts.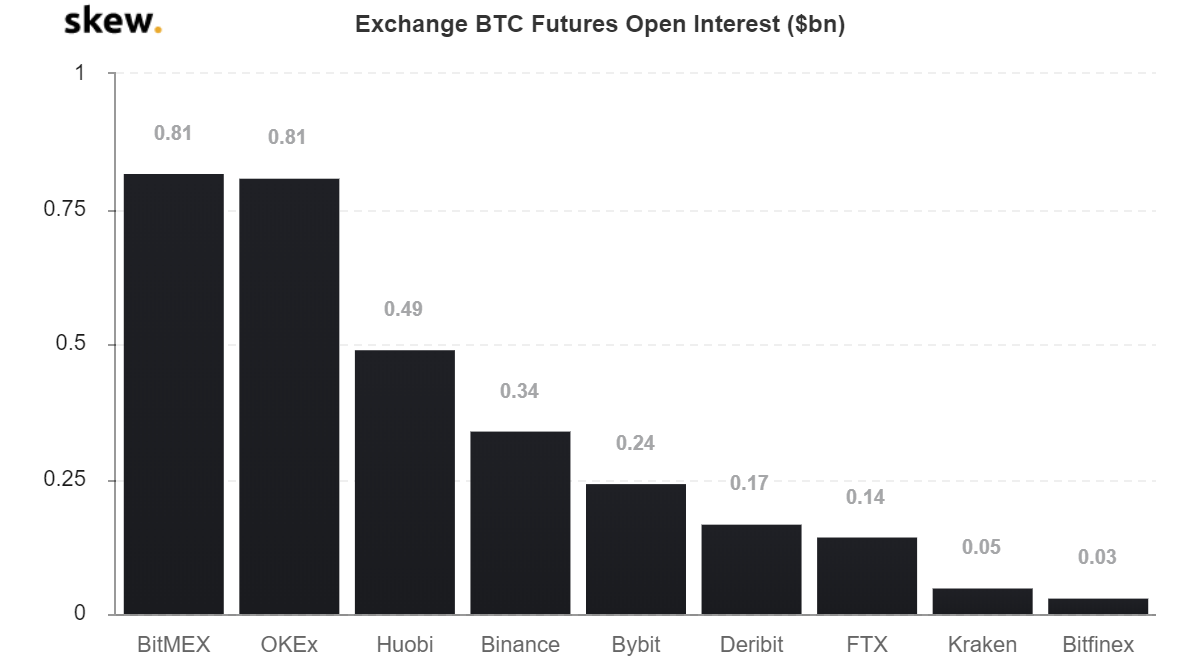 In the short-term, top traders consider $8,900 as a strong support level. On May 23 and 27, the $8,800–$8,900 price range acted as support, allowing Bitcoin to rally to above $9,600.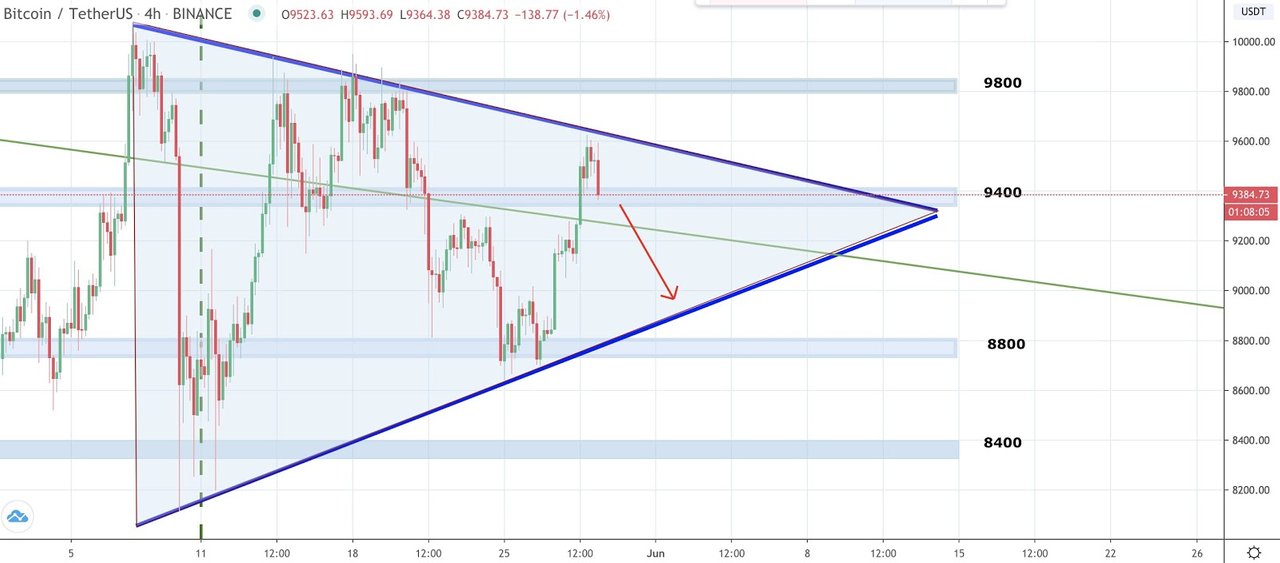 ERC20 tokens are taking over the Ethereum (ETH) network, potentially hurting the network's own coin ETH, according to an analyst. But all is not grim.
The ERC20 standard tokens are approaching 50% of the total value stored on Ethereum and "ETH is increasingly close to being flipped on its own blockchain," said Ryan Watkins, an analyst at crypto researcher Messari, in his recent Twitter thread. He explained that whether this happens or not "will likely depend on the growth of stablecoins vs growth in the value of ETH."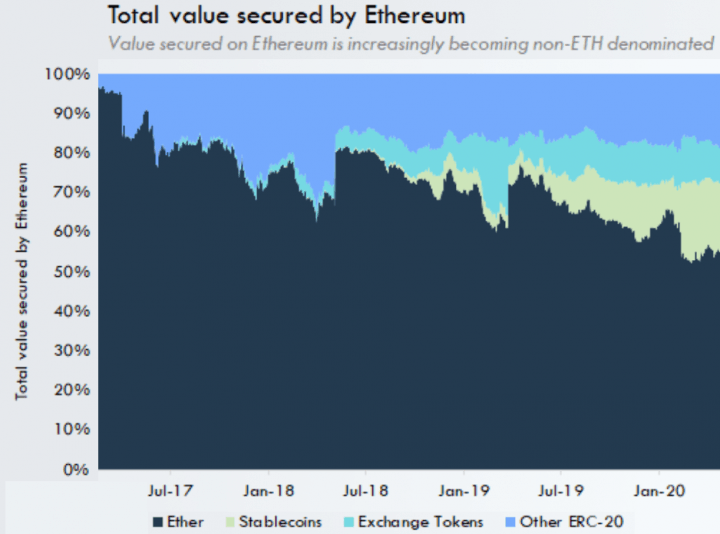 Watkins said that the last two years have seen "a complete transformation" of the manner in which value is stored and transferred on the Ethereum blockchain, but that assets being stored are just one side of this transformation in value on Ethereum. The other is the assets being used to move "significant" amounts of value. "Driven by the growth of stablecoins, Ethereum is on pace to settle more than USD 530 billion this year," said Watkins.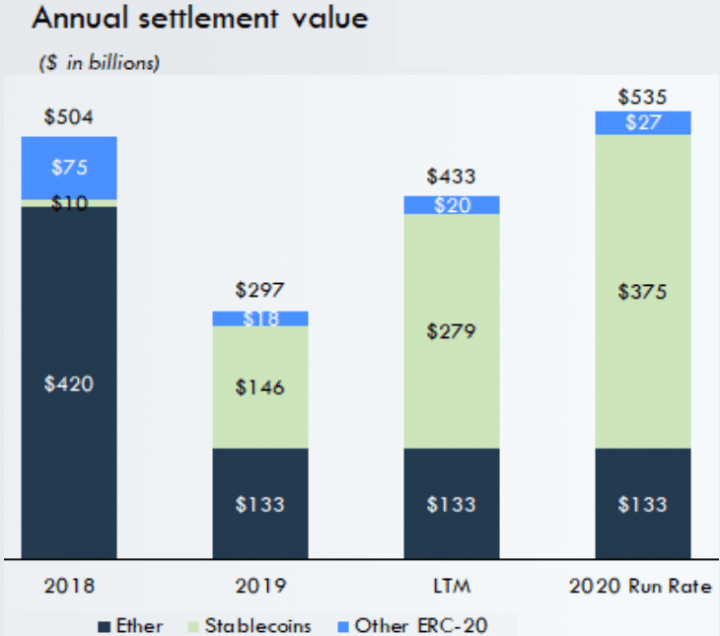 Ethereum creator, Vitalik Buterin, and Gemini exchange founders, Cameron and Tyler Winklevoss, expressed their opinions on recent efforts at social media censorship.
"I've talked before about the rise of corporations regulating governments but here we have Twitter soft-censoring the U.S. president on the grounds of incitement of violence," Buterin said in a May 29 tweet referencing recent Twitter posts from U.S. President Donald Trump.
"This is a major escalation and could be a new chapter in relations between corporations and states," Buterin added.
Tron founder and CEO Justin Sun now says that people who don't understand that he is "a true blockchain believer" are those questioning him.
"I'm a true believer of blockchain. It's once in a lifetime. It's only people who don't understand it who question me," Sun told Bloomberg in an interview "from a luxury office suite overlooking Hong Kong's Victoria Harbour."
The article goes on to point to a January report by the Binance-acquired analytics service DappReview, which called Tron "Las Vegas on the blockchain," stemming from the observation that the blockchain platform today "revolves around the largely unregulated field of crypto gambling."
As reported, DappReview's Q1 market report found that over 99% of the USD 7.9 billion total transaction volume was the work of Ethereum, Tron, and EOS, but that only Ethereum saw a year-over-year (YoY) growth. The total transaction volume of Tron dapps during 2020 Q1 was USD 415 million, down 74%.
South Korea will start taxing profits from bitcoin (BTC) and other cryptocurrencies next year, according to local media reports.
The taxation will also apply to bitcoin mining operations and income from initial coin offerings, should it be approved by Parliament.
"We are reviewing capital gains tax or other income tax on profits gained by domestic and foreign investors in the transfer of virtual assets," an official from the Ministry of Strategy and Finance was quoted as saying.
🗞 Daily Crypto News, May, 30th💰

"Launch of testnet 2.0 White Dwarf has been announced: 30/05/2020."
We will be releasing our private to public interchain technology, BTP, next week including a PoC demo.
Get $XGM : $GRIMM by 1:1 ratio after hard fork at block height 430,000 (around May, 30).
"Please withdraw your 999 token before 30th May 2020."
"May Hash Out will be released on May 30!"
Last Updates


➡️ Publish0x
➡️ UpTrennd
➡️ Minds
➡️ Hive
➡️ Twitter
➡️ Facebook
➡️ Be paid daily to browse with Brave Internet Browser