Market Wrap: Traders 'Buy the Dip' as Bitcoin Hovers at $9,000
Bitcoin Futures, Options, and Open Interest: Crypto Derivatives Break Records After the Halving
Huobi, OKEx and Upbit Join Top 10 in Messari's 'Real Volume' Revamp
Bitcoin Use on Darknet Markets Jumps 65% in First Quarter
Chinese Government Advisers Propose Regional Stablecoin for 4 Asian Countries
🗞 Daily Crypto Calendar, May, 22nd 💰
Welcome to the Daily Crypto News: A complete Press Review, Coin Calendar and Trading Analysis. Enjoy!
Bitcoin fell for a second day, extending a downdraft triggered by Wednesday's revelation that a member of the cryptocurrency community from the blockchain's earliest days in 2009 had moved a long-dormant cache of coins.
As of 20:30 UTC (4:30 p.m. ET), bitcoin (BTC) was trading at $9,044, a loss of 5.6% over 24 hours.
Bitcoin remains well below its 10-day and 50-day technical indicator moving averages — a signal of bearish sentiment.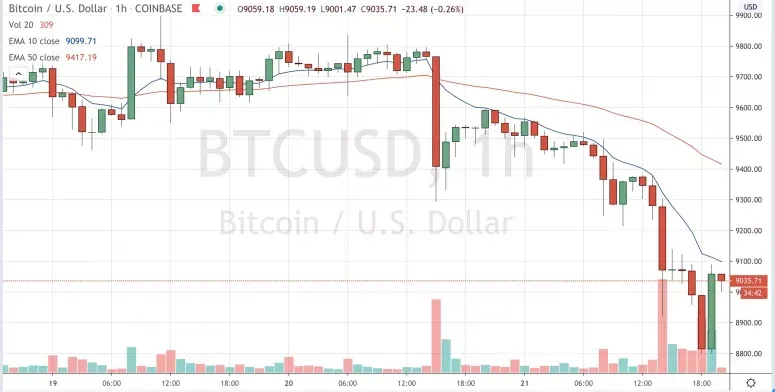 While the market appears to have turned bearish, Rupert Douglas, head of institutional sales at asset management firm Koine, said he planned to "'buy the dip" — a popular phrase for accumulating an asset when prices drop in the belief that they'll soon start going up again.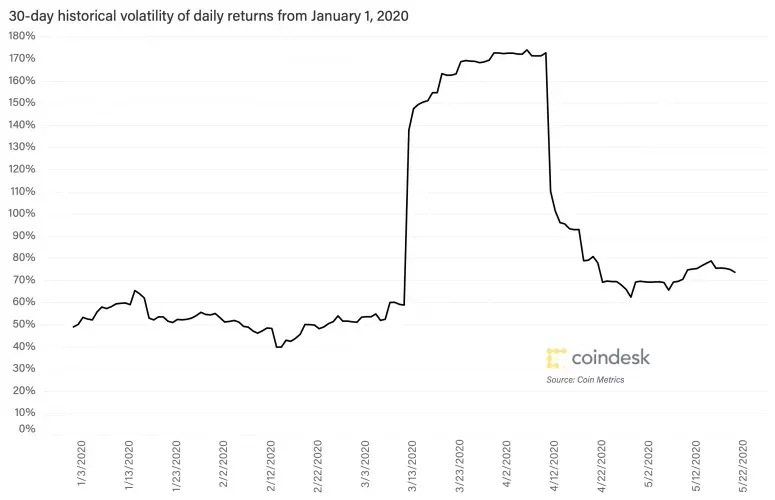 At 14:00 UTC (10 a.m. ET) the world's oldest cryptocurrency began experiencing high selling volume on exchanges including Coinbase, dropping bitcoin below $9,000 for the first time since May 13.
The price drop could take a toll on the profitability of bitcoin miners, already hurting from a revenue cut following last week's rewards halving. The miners have had to rely more on transaction fees to maintain revenue.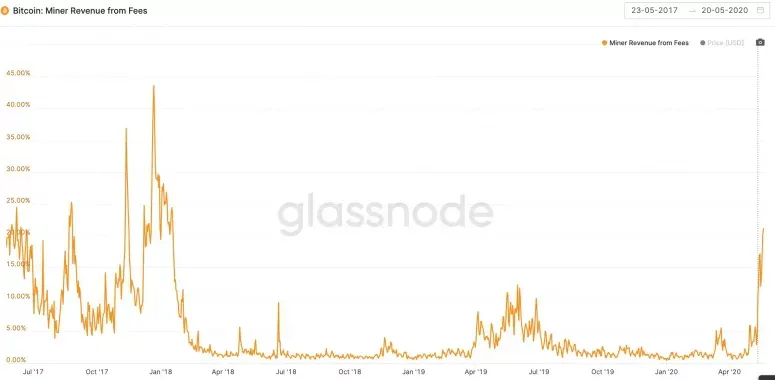 Since the market rout on March 12, otherwise known as 'Black Thursday,' bitcoin futures and options contracts have seen significant demand. On May 14, CME Group saw the total number of outstanding derivatives contracts (open interest) touch a high of $142 million. Four days later, CME broke records again. Data from the researchers at Skew.com detailed that CME's regulated bitcoin options open interest is up 10x this month.
Deribit's Massive Options Volumes and CME Group's Regulated Bitcoin Derivatives Markets Touch New Highs
Ever since the halving on May 11, there's been a lot of action when it comes to bitcoin-based derivatives products. The research and analysis team from Skew.com publishes daily information about CME's bitcoin futures and options, products from Bakkt, and a slew of other exchanges that offer crypto derivatives.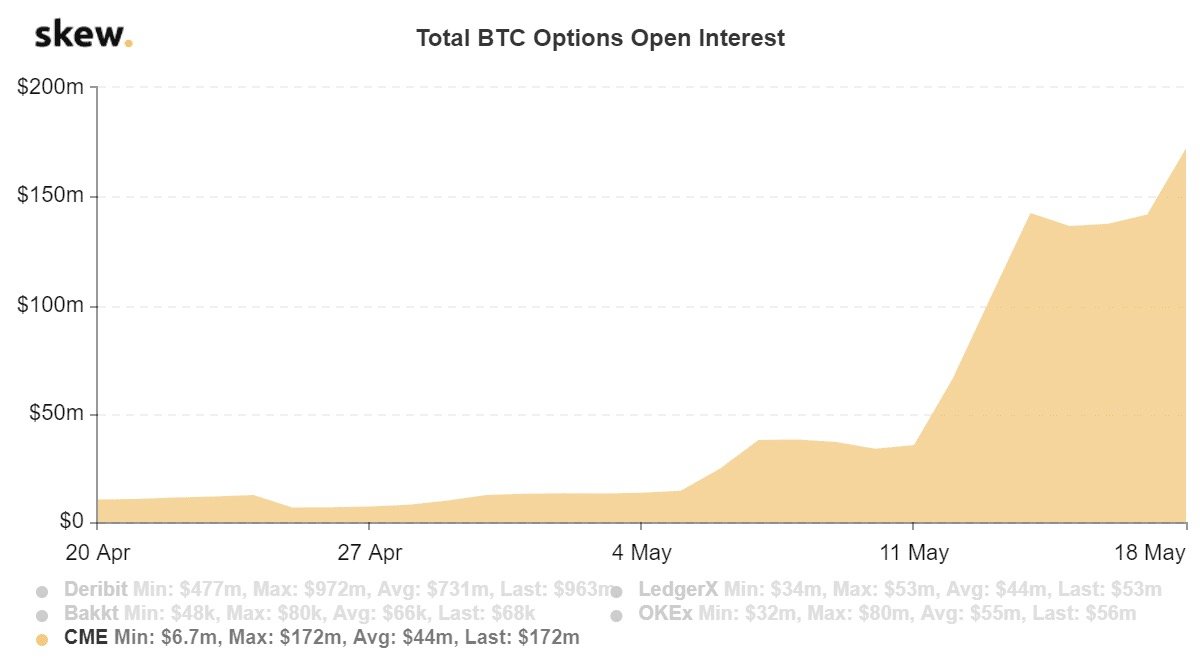 On May 8, CME Group published a blog post about the bitcoin halving and discussed its derivatives products as well. "The emergence of a futures and options market has created a new ecosystem for bitcoin markets, which faces its first supply cut since 2016," CME Group's Payal Lakhani wrote at the time. The May 14, open interest breakout for CME Group's bitcoin options was the first time it has ever crossed $100 million, Skew noted.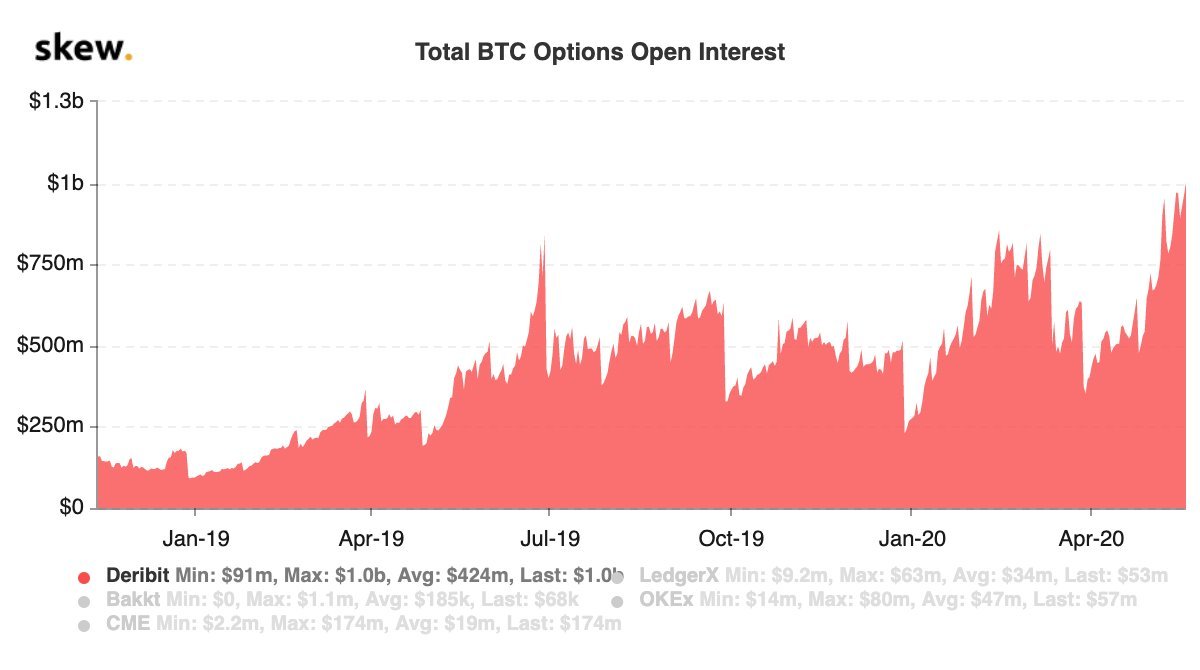 Crypto data and research platform Messari has added 10 new exchanges to its "real volume" metric as part of a revamp of the methodology.
The ranking is an attempt to rank exchanges without including any wash trading — which came about following the landmark Bitwise report that suggested 95% of volume was fake. The report identified ten exchanges with legitimate volume: Binance, Bitfinex, Bitflyer, Bitstamp, Bittrex, Coinbase Pro, Gemini, itBit, Kraken, and Poloniex.
This week's methodology change has propelled Huobi, OKEx, Liquid, Bithumb and UPBit into the top 10 by volume. Binance continues to sit on top — which may lend additional credibility to CoinMarketCap's recent controversial decision to rank exchanges by web traffic, which also placed Binance at No.1.
Bitcoin transactions on darknet markets jumped 65% in value during the first quarter, according to research by a blockchain analytics firm. The amount of bitcoin sent from darknet entities to mixers also grew rapidly as exchanges with verification requirements became less popular among darknet users.
Growing Bitcoin Use on Darknet Markets
Crystal Blockchain's analytics team published on Tuesday an analysis of the use of bitcoin on darknet markets. The researchers analyzed darknet interactions with exchanges and "other entities" throughout Q1 2020. The data obtained were then compared to historical darknet activity from the past three years. Other entities include "payment processors, gambling services, illegal services, miners, marketplaces, online wallets, ransom extortioners, scams, stolen coins, and/or others," the team clarified. Crystal Blockchain is a crypto analytics platform developed by the Bitfury Group.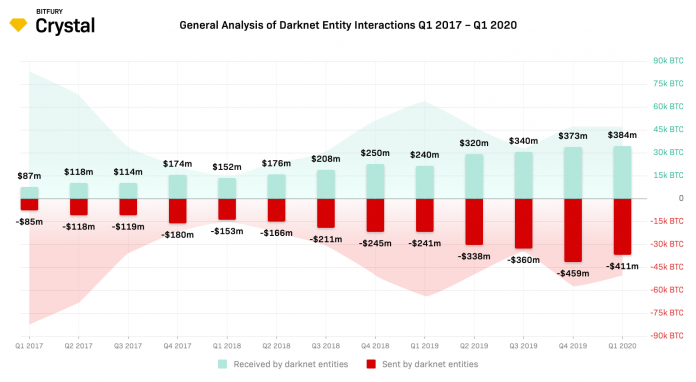 Top Chinese political advisers have proposed a regional digital currency that would be backed by four major Asian currencies including the Japanese yen, Korean won, Hong Kong dollar and the yuan.
The proposal unveiled Thursday describes the currency as a "stablecoin," a term for cryptocurrencies designed to hold their value and backed by a reserve currency, although it does not explicitly mention crypto or blockchains.
The People's Bank of China (PBOC) would lead the proposed effort. The basket of underlying collateral would follow the special drawing rights (SDR) model of the International Monetary Fund (IMF), where each country's currency is assigned a different weight based on its economy.
🗞 Daily Crypto News, May, 22nd💰

"Zilon 2.0 will be released on 22 May, with enhanced capabilities to withdraw #fiat...and more!"
"Pool-X will launch $ROOBEE staking products at 20:00:00 on May 22, 2020 (UTC+8)."
Last Updates


➡️ UpTrennd
➡️ Publish0x
➡️ Hive
➡️ Twitter
➡️ Facebook
➡️ Be paid daily to browse with Brave Internet Browser