Bitcoin's Impending Golden Cross May Bolster Bulls: Analysts
From Buenos Aires to Beirut - Covid-19 Excuse Restricts Millions of Citizens from Withdrawing Their Own Money
Developers of Ethereum Privacy Tool Tornado Cash Smash Their Keys
Square Dollar Cost Averaging Lets Users Repeat Buy Bitcoin in Cash App
🗞 Daily Crypto Calendar, May, 19th 💰
Bitcoin Trading Update
Welcome to the Daily Crypto News: A complete Press Review, Coin Calendar and Trading Analysis. Enjoy!
A widely tracked bitcoin price indicator is about to turn bullish – potentially accelerating the recent uptrend of the top cryptocurrency by market value.
The 50-day moving average (MA) of bitcoin's price looks set to cross above the 200-day MA within two to three days. The resulting "golden crossover," a long-term bull market indicator, would be the first since Feb. 18 and only the seventh in bitcoin's lifetime, as per CoinDesk's Bitcoin Price Index.
"The golden crossover will catch the attention of classical trend followers," said Su Zhu, CEO of Three Arrows Capital.
Trend-following traders do not predict or forecast specific levels, but simply join the trend (bullish or bearish), when they feel that a strong directional bias has been established. They often employ moving average crossover strategies to decide whether a trend is developing. This is because averages, which are based on past data, crowd out the noise created by intraday fluctuations and paint a better picture of the broader trend.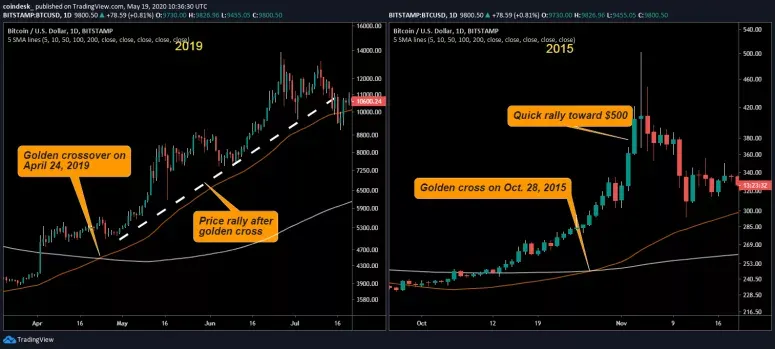 The coronavirus and the government-induced lockdowns have wreaked havoc on the global economy and millions of people can't access their own money. Reports from financial stricken areas like Venezuela, Argentina, and Lebanon show that citizens are being stopped from accessing their own hard-earned savings. The news shows the great importance of censorship-resistant money and how society should gravitate toward ideas like bitcoin as soon as possible.
Covid-19 Withdrawal Restrictions Worldwide Impede Citizens from Taking Out Their Own Funds
The coronavirus outbreak was rough, but not nearly as horrendous as the over-reactive measures taken by global lawmakers and today's so-called 'scientific experts.' After two and a half months have gone by, it is now quite clear to many people that the response to the pandemic was uncalled for and the lockdowns were the worst mistake humanity has made in over 100 years. Despite the fact that numerous scholarly studies and papers show that the virus wasn't that bad and had a survival rate of over 99%, governments continue to enforce draconian measures across the globe.
Ethereum's premier coin mixing service is now permissionless.
Tornado Cash, a privacy tool for obfuscating the history of Ether (ETH) transactions, completed a cryptographic process known as a trusted setup ceremony on May 10 followed by a contract update on Monday to create perpetually self-executing code.
"With a record 1,114 contributions this was by far the largest Trusted Setup Ceremony to date," Tornado Cash wrote in a May 13 blog post. "By comparison, all other trusted setup ceremonies had less than 200 participants."
The ceremony, relying on a cryptographic method known as multi-party computation (MPC), makes Tornado Cash "completely trustless and unstoppable," co-founder Roman Storm said in an interview with CoinDesk.
Square shielding BTC buyers from "market swings"
Square already includes a Bitcoin wallet and has rolled out the feature, properly known as Auto Invest, to its stock purchases as well.
*"You don't need perfect timing if you're thinking long-term," the company's website explains about the new feature. *
Auto Invest lets you set it and forget it by dollar-cost averaging, which is an investing term for regularly buying small amounts over time. By spreading purchases out, you can minimize the impact of market swings.

New BTC flows to Square
Dollar-cost averaging is a conspicuous move towards turning Cash App users — regular investors as opposed to large volume or even technically-minded ones — into Bitcoin-minded savers.
A little bit more than a week ago; @hodlcommunity organised this contest HODL 1st Contest ! More than 40 USD in prizes 🎁.
The question was the following: "Tell us about your first encounter Crypto and what were you first thoughts about it?
This contest had a great turnout with more than 197 total comments and 36 different Hivers shared their personal story.
As many participants mentioned, it would be nice and interesting to share these different stories in a post, so here we are !
Click here to discover their stories
🗞 Daily Crypto News, May, 19th💰
"Platform Version 2 is almost ready for launch! Improved functionality, new indicators, NWC holding options, member ranks..."
"We're excited to announce @Gomics1 is going to be listed on Bione Exchange Rocket May 19, 2020 @ 10:00 (UTC+8)! "
MXC lists USDT and BTC pairs. Trading begins at 20:00 (UTC+8).
The block reward of the #MatrixAINetwork will be reduced by 25% at block height #3,000,000. This is estimated to happen in the middle of May...
"Join us on Wednesday, May 20th for our next Community Town Hall featuring Hedera co-founders, @ManceHarmon, and @leemonbaird."
Here is the chart of my last analysis :
Here is the current chart :
Nice bounce on the BTC today to go again in the direction of the 10k$ resistance line. We are now doing a little pause before the next move and we should go test again the 10k$ resistance line. Will it be the good time to break it or will we be rejected again. keep an eye on that move because a break should make a nice and powerfull UP move !
Last Updates
➡️ UpTrennd
➡️ Publish0x
➡️ Hive
➡️ Twitter
➡️ Facebook
➡️ Be paid daily to browse with Brave Internet Browser