Welcome to the Daily Crypto News: A complete News Review, Coin Calendar and Analysis. Enjoy!
Bitcoin's latest over-10% price rise – which came after Elon Musk added "Bitcoin" to his Twitter bio – has forced out a ton of selling pressure from the derivatives market.
The sharp rise to a 10-day high of $38,020 sparked $387 million worth of short liquidations on major exchanges including Binance, Bitfinex, BitMEX, ByBit, Deribit, FTX, HuobiDM and OKEx.
The crypto market leader is trading at $37,390 at press time, representing a more than 15% gain from the low of $32,000 seen during the European morning session.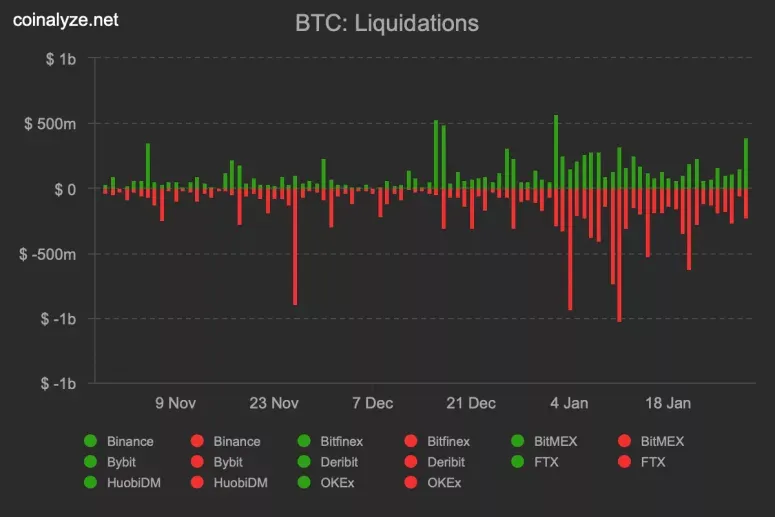 Google searches for "bitcoin," a barometer of widespread interest, surged following Musk's cryptic endorsement of bitcoin. It remains to be seen if increased interest translates into more buying and stronger price gains.
"I assume the U.S. session will try to follow in lock-step of digesting the news," Vishal Shah, an options trader and founder of derivatives exchange Alpha5, told CoinDesk. "Typically speaking, such things would be met with more muted response. But given the backdrop, I think it could be ripe for a follow-through."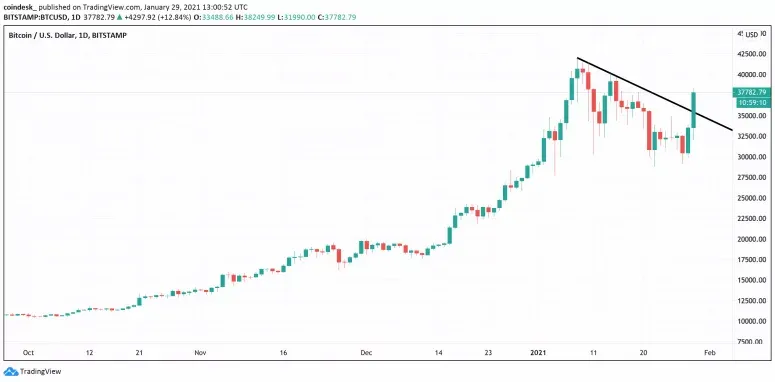 Dogecoin (DOGE) is up 80% in a day and trading volume has spiked more than 800% as the altcoin sees a publicity surge with a familiar source.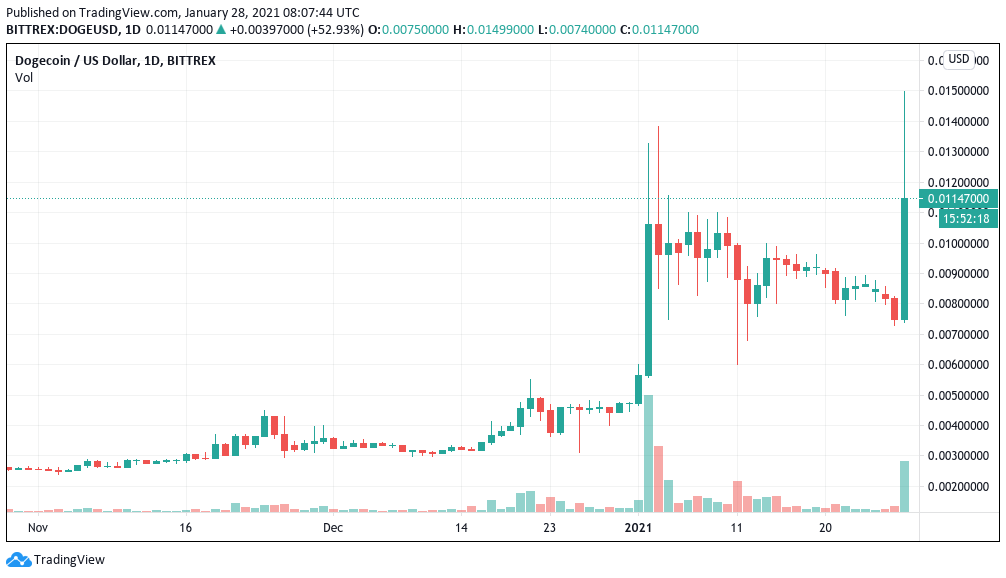 The gains accompanied a similar surge in interest on social media, with Twitter activity up by more than 300%. The source, it appears, is the same Reddit group that sparked a dramatic but highly controversial bull run in the stock price of U.S. consumer electronics firm GameStop.
A parody Twitter account posing as the moderator for r/Wallstreetbets queried:
"Has Doge ever been to a dollar?"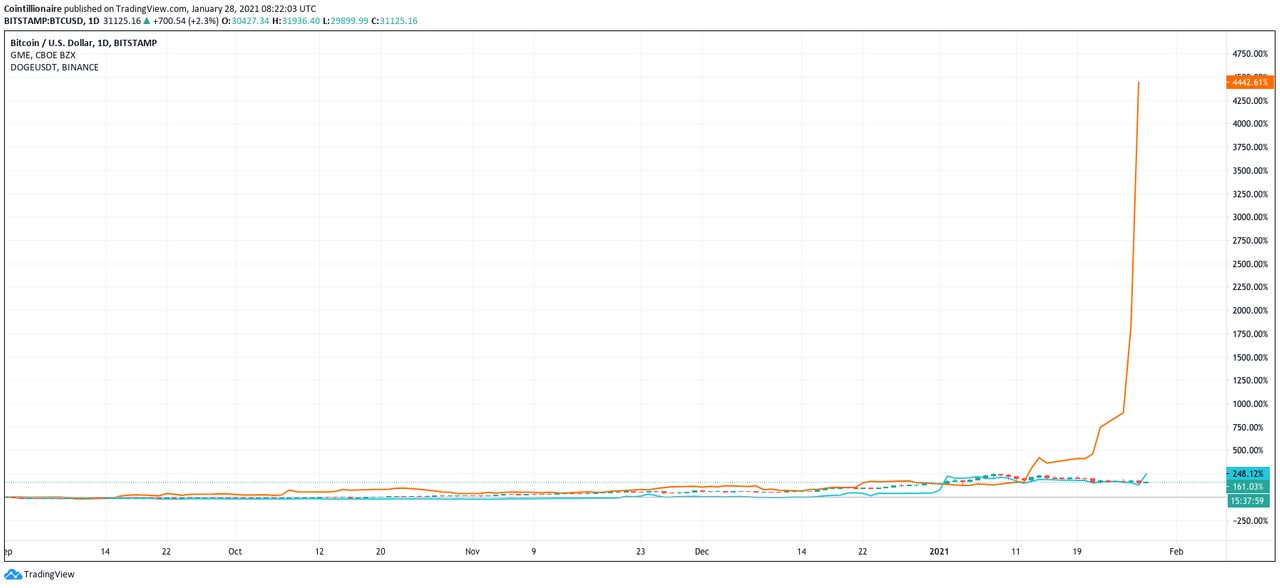 During the second half of 2020, we saw a growing interest in cryptocurrencies from institutional investors and big capital. However, all the attention of the whales, as well as all the attention of the public, was fixed on Bitcoin (BTC). Today, we will look at why Ether (ETH) is a more attractive asset and why this cryptocurrency should become the "first cryptocurrency" for every investor.
Let's start with the numbers: ETH's growth since its March 2020 low after the coronavirus-induced market crash has been 1,200%, whereas BTC has only grown around 700%. ETH's growth since its March 2020 low after the coronavirus-induced market crash has been 1,200%, whereas BTC has only grown around 700%. Of course, against the backdrop of record highs for Bitcoin, whose price reached $ 40,000, the rise of Ether to $1,400 does not seem so impressive. Moreover, the market capitalization of ETH is five times less than the volume of the BTC market. But what is more important for an investor: nice numbers and records of an asset from a portfolio or high income?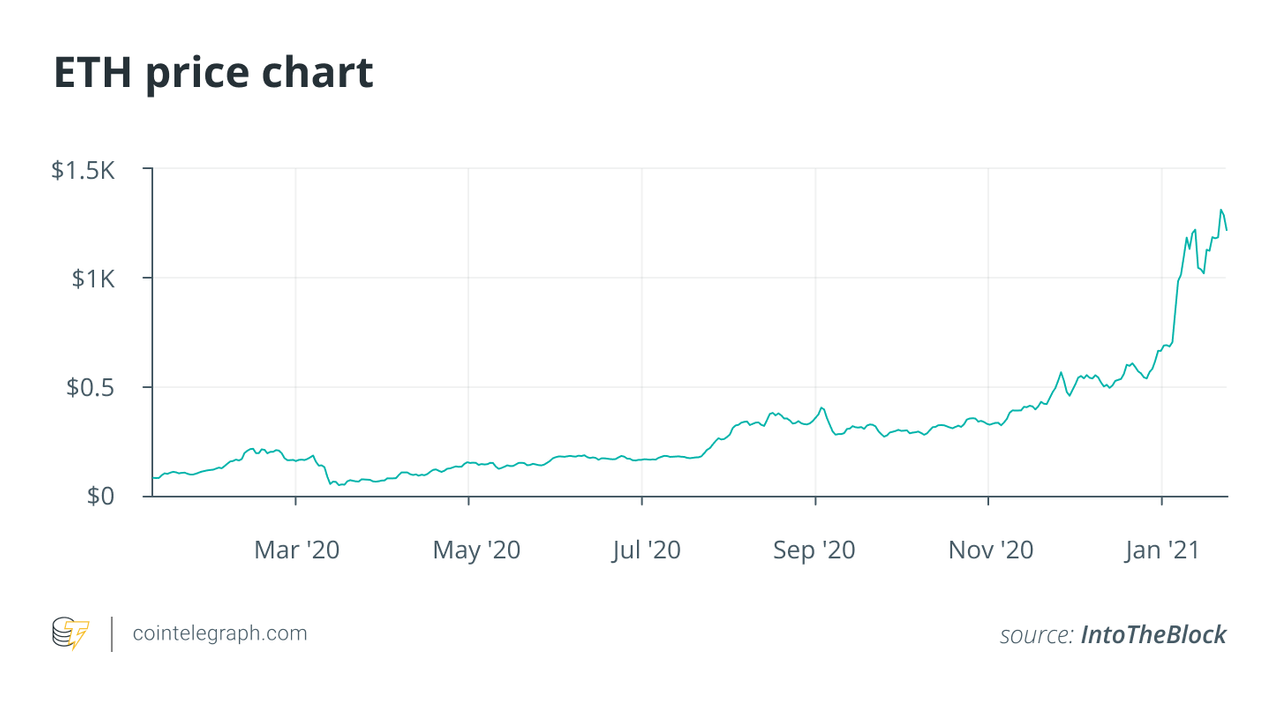 Demand among developers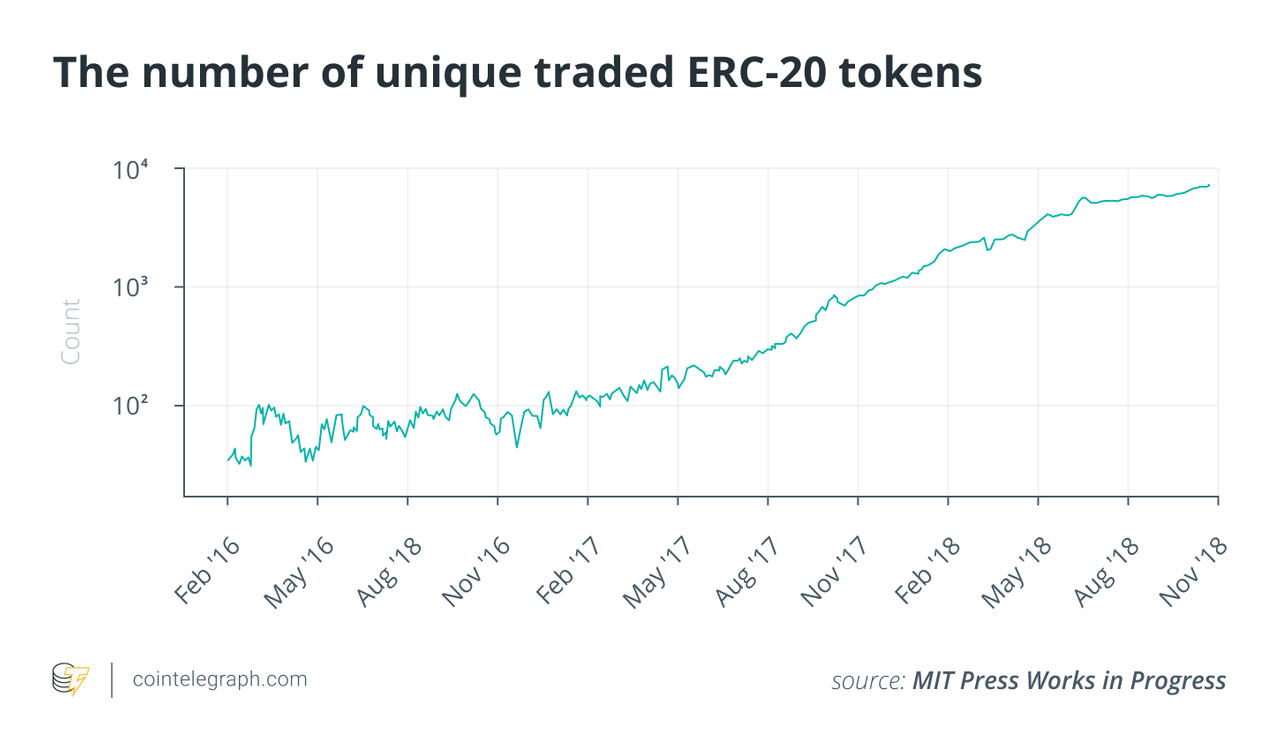 Growing transaction volume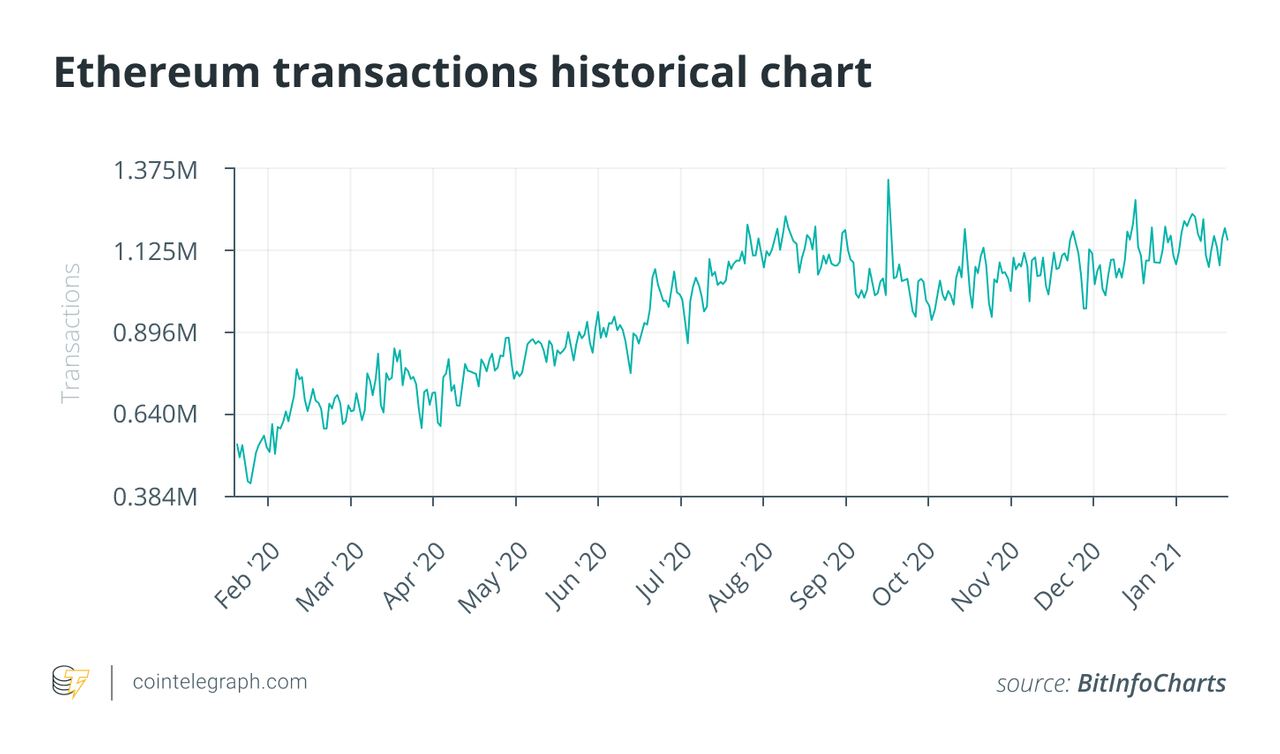 Development of the DeFi sector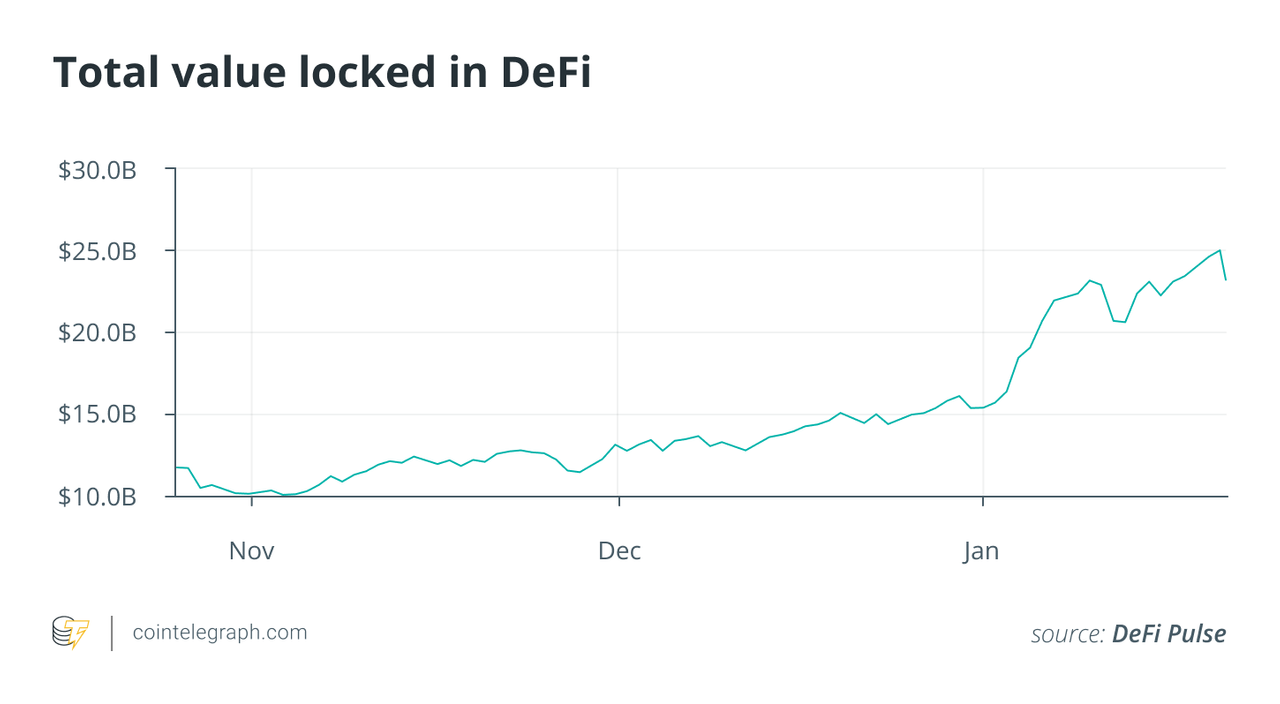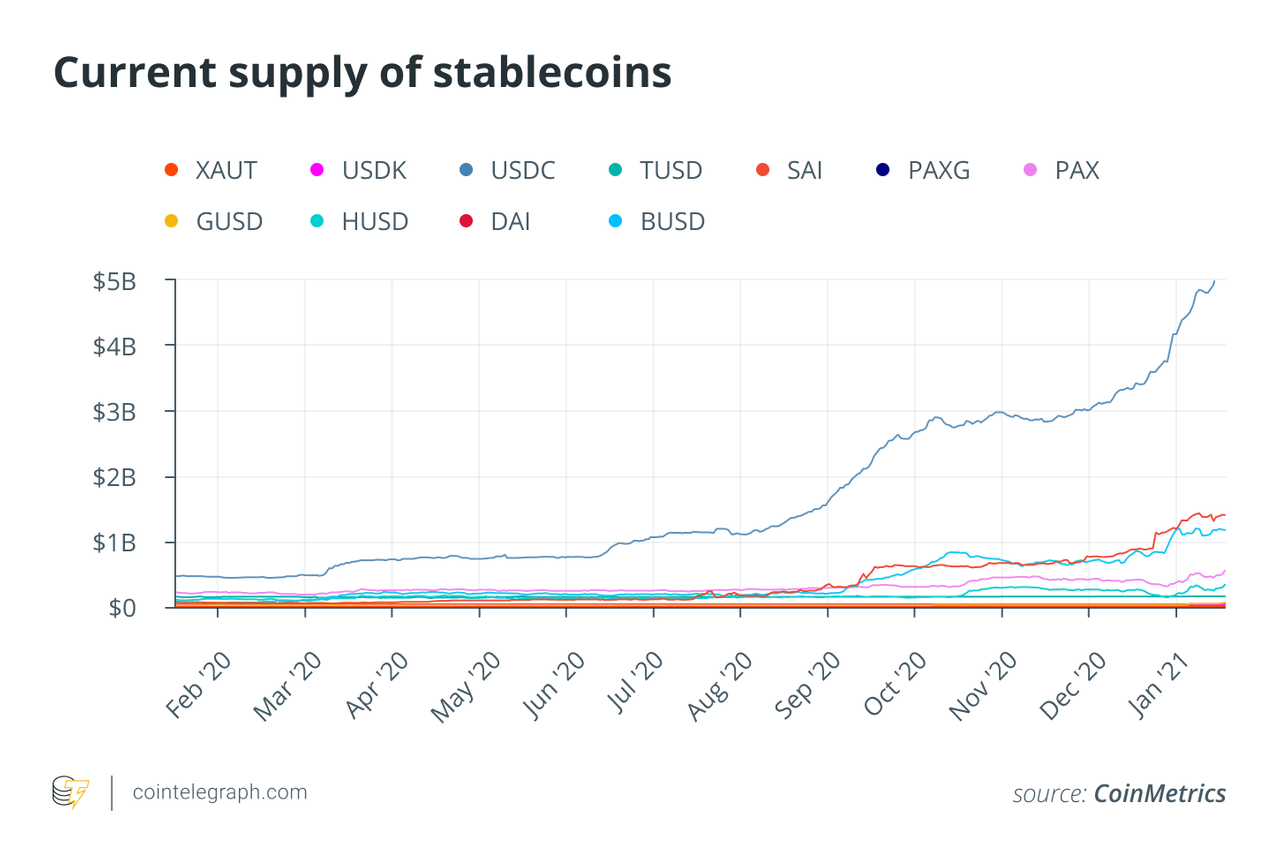 Popular mobile trading platform Robinhood has limited its users cryptocurrency trading abilities, per a Friday report from CNBC.
Citing "extraordinary market conditions," Robinhood said in a statement that "we've temporarily turned off Instant buying power for crypto."
Traders can "still use settled funds to buy crypto," however, the spokesperson noted.
Bitcoin soared nearly 20% in the past 24 hours, per market data from Messari, in part caused by social media attention after Telsa CEO Elon Musk changed is previously blank Twitter bio to a simple "bitcoin."
🗞 Daily Crypto Calendar, January, 29th💰
FastSwap (FAST), Toshify.finance (YFT)
FastSwap v1.5 will launch this Friday 29 January. It will bring Liquidity, Pools, Staking & UI/UX update.
Aavegotchi (GHST), Matic Network (MATIC)
"All of these liquidity incentives kick off on January 29th and will last for two weeks."
"Learn more about Endowl at Filecoin Launchpad Demo Day. Tune in on January 29th..."
"Chainlink will be hosting an AMA with NULS with guest Mario Blacutt, NULS western regional director and NerveNetwork founder."
Wabi masternodes rewards distribution.
"Next big step, v5 SHIELD protocol enforcement on Jan.29th!"
➡️ Youtube
➡️ Twitter
➡️ Hive
➡️ Publish0x
➡️ UpTrennd
➡️ Read.cash
➡️ LBRY
➡️ Spotify
➡️ Be paid daily to browse with Brave Internet Browser
➡️ A secure and easy wallet to use: Atomic Wallet
➡️ Invest and Trade on Binance and get a % of fees back
➡️ Check out my video on Unstoppable Domains and get 10$ off a 40$ domain purchase
➡️ Get 25$ free by ordering a free Visa Card on Crypto.com using this link or using this code qs4ha45pvh