Welcome to the Daily Crypto News: A complete News Review, Coin Calendar and Analysis. Enjoy!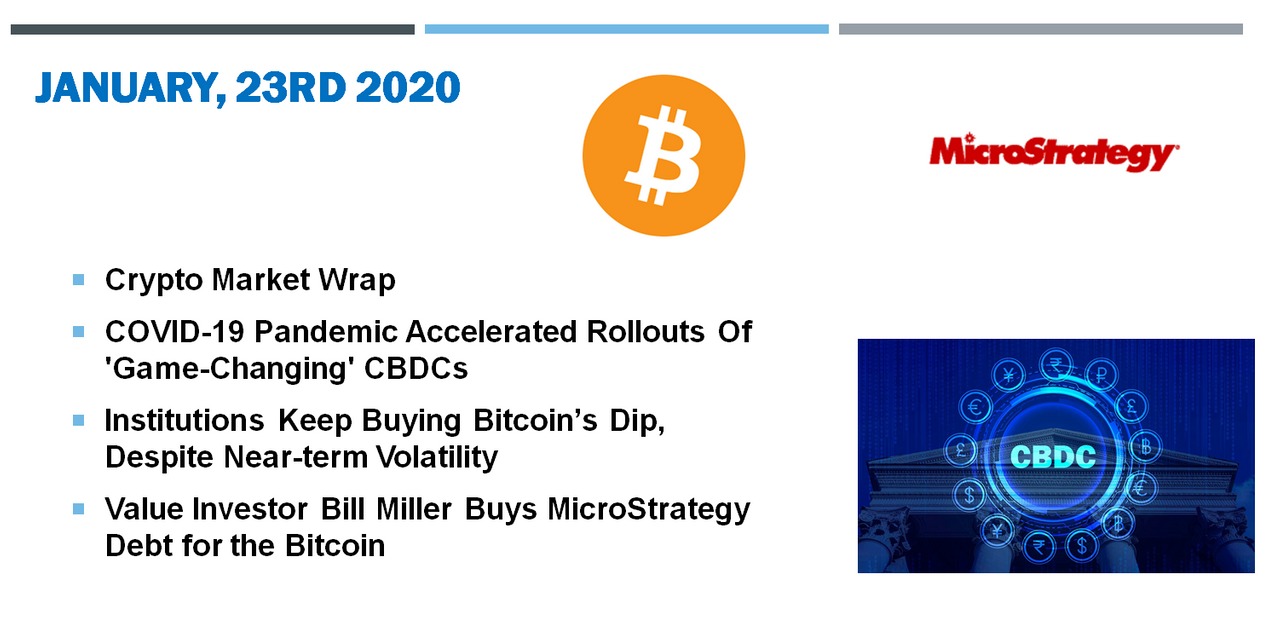 Crypto markets have reversed course across the board and are flashing green Friday. Bitcoin crossed over $32,000 and ether is rallying hard in 2021 so far.
Bitcoin (BTC) trading around $33,608 as of 21:00 UTC (4 p.m. ET). Gaining 5.3% over the previous 24 hours.
Bitcoin's 24-hour range: $28,845-$33,873 (CoinDesk 20)
BTC above the 10-hour and the 50-hour moving averages on the hourly chart, a bullish signal for market technicians.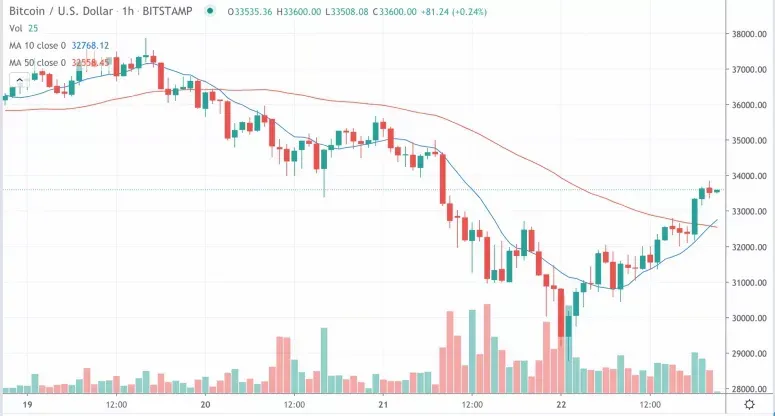 Guy Hirsch, U.S. managing director for multi-asset brokerage eToro, says one support level, where traders scoop up bitcoin to push the price back up, seems to have taken hold, leading to the reversal Friday. "There appears to be strong support around $30,000, as prices have rebounded to trade north of $32,000," Hirsch told CoinDesk. This consolidation is likely the result of smart money continuing to buy bitcoin at a perceived discount.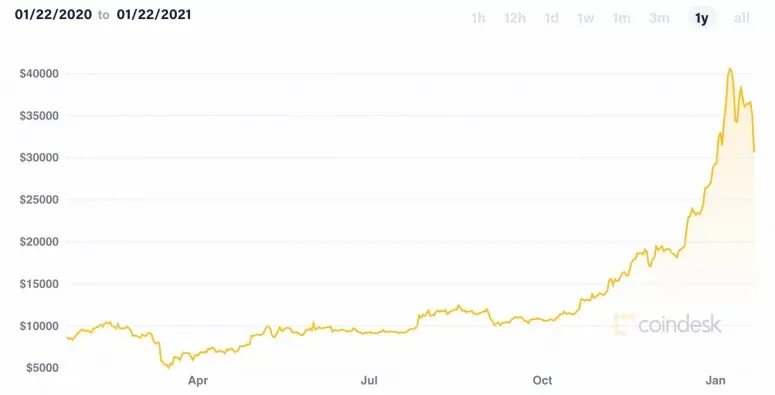 In the derivatives market, bitcoin funding rates for swaps continue heading towards zero, particularly on venue FTX, which currently has the lowest rate, at 0.0318%. This signals leveraged demand to go long is dissipating.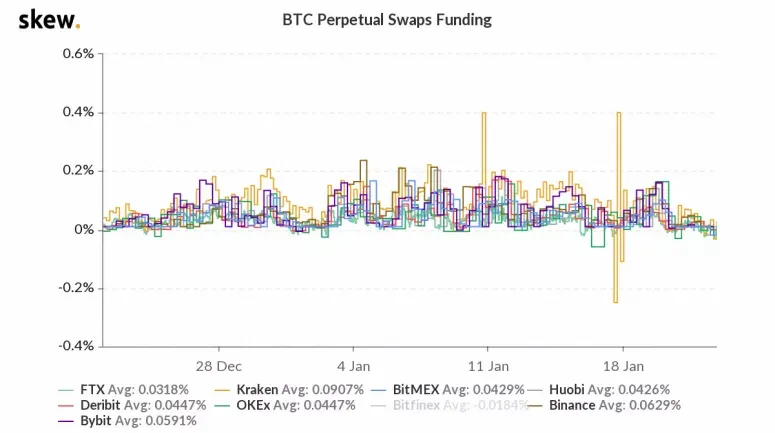 Ether blowing out bitcoin in 2021
While bitcoin has gained more than 15% thus far in 2021, ether is doing much better, up over 70% over the same time frame. "Ether appears to have finally broken its recent lockstep correlation with bitcoin, as evidenced by its more rapid recovery after a sell-off, which also appears to have been fueled by profit taking after the second-largest crypto asset hit an all-time high earlier this week," noted eToro's Guy Hirsch.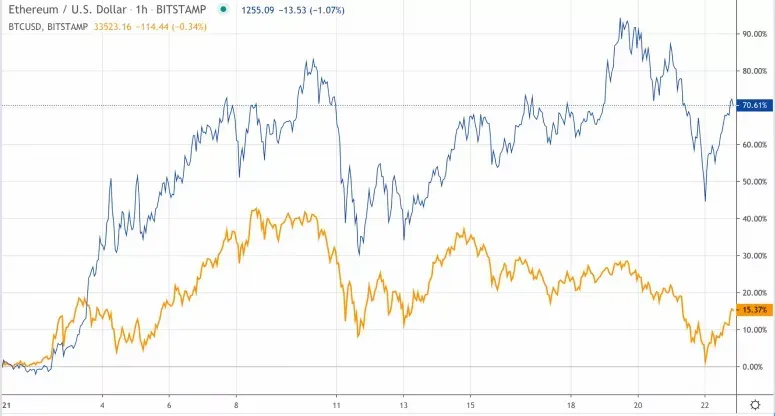 Hastened by the pandemic, central bank digital currency (CBDC) initiatives will roll out in the next couple of years, becoming a "game-changer," industry insiders told Cryptonews.com.
It's the COVID-19 pandemic which we have to thank for "greatly accelerat[ing] the push for digital currencies to replace traditional cash and cross border transaction systems," said Brian Gallagher, Head of Business Development at blockchain platform Partisia Blockchain. Besides the Chinese-state sponsored digital yuan, we've also seen discussions of a digital euro, digital dollar, digital yen, digital ruble, as well as a Saudi and UAE state-sponsored cryptocurrency for cross border trade between the two countries.
"These types of systems will roll out within the next 1-2 years. Before the pandemic, that timeline may have been closer to 3-5 years," Gallagher said.
The first version of CBDCs may start seeing the light this year, according to Philippe Bekhazi, CEO of stablecoin platform Stablehouse. He said that "government-led CBDC initiatives will begin to materialize as we get further into 2021."
Bitcoin's price has been on a roller coaster this week, erasing almost all of its 2021's gains on Thursday. Yet, according to on-chain data, institutions have continued their purchases of bitcoin despite the volatility and near-term bearish market sentiment.
Data from on-chain data site Glassnode shows the number of addresses with 1,000 or more bitcoin (often called "whales") continued to increase this week while bitcoin's price dropped, dipping below $30,000 on Thursday. The count of such addresses dropped in late December and has spiked again since the beginning of 2021.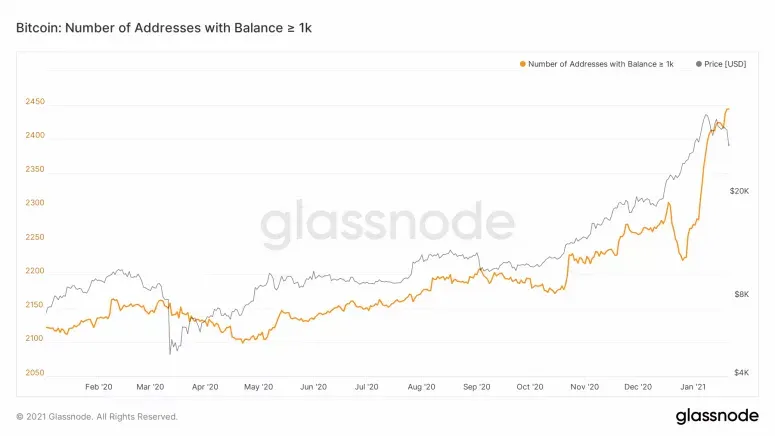 As well, the number of the total bitcoin transactions on the network remains high, according to data from South-Korea based blockchain analytics firm CryptoQuant. However, the ratio of bitcoin transfers involving all exchanges to all bitcoins transfers network-wide has not gone up, indicating that most transactions were done through over-the-counter (OTC) deals, a preferred approach by institutional investors.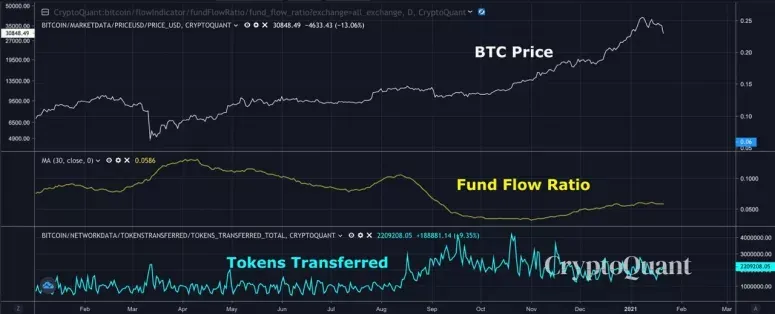 One example of a large buyer during a dip occurred early Friday, when MicroStrategy announced that it bought 314 more bitcoin for $10 million during the latest market sell-off.
Bill Miller is value investor who likes Bitcoin.
MicroStrategy is a business that sold securitized debt to finance larger Bitcoin purchases.
In an investor letter, Miller explained why his fund bought the MicroStrategy bonds.
Bill Miller, a value investor whose estimated net worth is close to $1 billion, sees plenty of value in Bitcoin—and, by extension, the publicly traded company that owns more than $2.3 billion of it.
In an investor letter dated January 21, he explained Miller Value Funds' recent purchase of MicroStrategy's 0.75% convertible bond. It's all about the Bitcoin.
🗞 Daily Crypto Calendar, January, 23rd💰
"WE INVITE YOU TO WATCH THE VIDEO INTERVIEW WITH NASDAQ ANCHOR and @Bitboy_Crypto ON SATURDAY 6 PM EST BLOOMBERG TV."
"Mission: Understand the [world] of Ergo and the new era for Ergo 2021 | When? January 23 | 2pm UTC / 9am EST"
"Next week we will announce the official Mainnet date. The day we announce will countdown 15 days to Mainnet!"
For the implementation of StakeCube V3 we will have a 4 hour maintenance scheduled for January 23rd.
NWC will be listed on Uniswap. Stay tuned to our official channels for the link to the trading pair.
➡️ Youtube
➡️ Twitter
➡️ Hive
➡️ Publish0x
➡️ UpTrennd
➡️ Read.cash
➡️ LBRY
➡️ Spotify
➡️ Be paid daily to browse with Brave Internet Browser
➡️ A secure and easy wallet to use: Atomic Wallet
➡️ Invest and Trade on Binance and get a % of fees back
➡️ Check out my video on Unstoppable Domains and get 10$ off a 40$ domain purchase
➡️ Get 25$ free by ordering a free Visa Card on Crypto.com using this link or using this code qs4ha45pvh