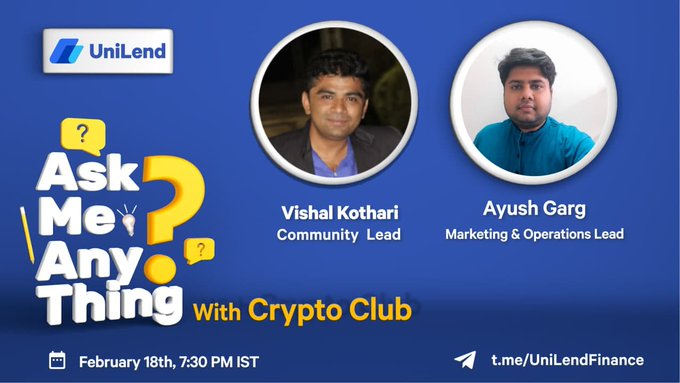 Hi Folks!
UniLend participated in an AMA on the Crypto Club channel (https://t.me/cryp_toclub) on February 18. Vishal Kothari, UniLend's community lead and Ayush Garg, UniLend's marketing ops lead, participated in this session. Here is the recap of this event.
Segment 1: Introduction and basic questions
CryptoClub:
Welcome!
Ayush Garg:
Hey! Great to be here with Crypto Club Community!
Vishal Kothari:
Hey!
CryptoClub:
Let move to our first segment. Introduction. Are you ready?
Vishal Kothari:
Yes for sure. Hello everyone, glad to see so many of our great community members in the audience. Before we continue, I'll also give a brief intro for myself. I am Vishal Kothari Community Lead at UniLend Finance, I started my career in Computer Education, back in 1998. I worked for various IT related businesses and finally realised Cryptocurrency was the path I was most passionate about. Obviously, like everyone else, I started studying and researching crypto heavily. I was fortunate to get into crypto back in 2014. I then became an ambassador in 2019 for several key crypto projects which ultimately led me to joining up with the UniLend team officially.
Ayush Garg:
I am Ayush Garg, a Computer Science graduate with experience working at companies like Uber and Box8 (Indian startup with 700cr valuation)
Have been part of Crypto space since early 2017. I have also worked with Startup Oasis - Initiated by IIM Ahmedabad and Rajasthan Gov. Last year, around august we started working on UniLend. I have been part of UniLend's team since launch and now leading fronts in Marketing and Operations. You can check our website to know more about the team: https://unilend.finance/
CryptoClub:
Q1. Can you please give us a brief overview of UniLend?
Vishal Kothari:
UniLend is a permission-less decentralized protocol that combines spot trading services and money markets with lending and services through smart contracts. Recently we opened our Alpha, Initium V1, to our entire community for testing. We're making excellent headway on our roadmap and we're preparing to launch our Beta this month! In regards to your question, UniLend is a comprehensive DeFi protocol with the mission to unlock the true potential of decentralized finance. Essentially, UniLend Finance will offer every DeFi capability imaginable for any ERC20 asset, including the $30B+ of assets which are currently excluded from DeFi. In addition to an intuitive UI, UniLend will also have a robust governance model powered by UFT (UniLend Fiance Token), and this is just the beginning.
CryptoClub:
Q2. Congratulations on the launch of your protocol's Alpha release! We have heard about this new Big Thing coming out soon! Can you tell us more about the product development?
Ayush Garg:
Haha.. We have this new thing planned for the cryptosphere but I am afraid can't reveal much of details about it.
Vishal Kothari:
I must tell everyone should have an eye on @UniLendAnnouncement for keep track of big thing coming to the UniLend.
Ayush Garg:
But sure this is something our Dev's being working very hard over past few weeks and when it will be out UniLend will take a leap to be among top Defi projects 🤟
CryptoClub:
DEFI is the new future of crypto.
Ayush Garg:
To answer your second question, our product development is going smooth as per our roadmap. As Vishal bhai stated above, we have beta planned by end of Feb or early March. Also we are planning to release on Mainnet by q1 2021. So this is very exciting stuff and if anyone want to keep up with all the developments, would recommend checking our GITHUB where we push the finished code frequently. https://github.com/UniLend
CryptoClub:
Q3. This all sounds so exciting! One question about security - how can users be sure they are safe while using such a new protocol?
Vishal Kothari:
Great question. I would say we are much more secure than other money market protocols. For instance, current protocols are dependent on other DEXs like Uniswap etc. for liquidations (which is a major concern for adding illiquidity & more volatile assets).  Nobody has any sort of control on these DEXs, whereas in the case of UniLend, we are deriving the lending/borrowing capacity of assets based on the liquidity available on our trading platform. Hence, we are not dependent on any other protocol for liquidation & everything is handled within the UniLend ecosystem. The problem we are solving is quite large and it requires a complete ecosystem to be built for catering to such a problem. Progress on this front is going strong. Maximum security is a key priority of UniLend Finance, we are picking up where key DeFi protocols like Uniswap left off and continuing the development of the decentralized finance revolution. Also like our roadmap suggests, during Q1 of 2021, we will have proper audits in place from a variety of the best industry players to make sure our protocol is safe for users.
CryptoClub:
well derived. Q4. You brought up the roadmap and it got me thinking about the future of your protocol again. What else do users have to look forward to further down the road in 2021?
Ayush Garg:
Above we stated that Q1 has many exciting roadmap milestones on the horizon, including our Beta release this month and Mainnet release coming in Q1 itself. Additionally, Fusion Farming should also go live during the first quarter. This is an innovative feature which will allow UniLend liquidity providers to attain two different tokens at once by providing liquidity. Imagine this is just Q1 of 2021. In the future, UniLend will implement community governance, the UniLend Ecosystem Fund, launch onto multiple chains, layer 2 implementation for a superior user experience, and even metatransactions.  We'll also bootstrap new projects in the UniLend ecosystem with full DeFi functionality right from their token launch. Empowering brand new tokens with comprehensive DeFi functionality is a concept completely new to the crypto space, and something which is extremely valuable to new tokens looking to establish a user base and solid use cases for their token.  Therefore, we anticipate that listing on UniLend (in addition to traditional platforms such as Uniswap) will be standard procedure for new token launches. In fact, we recently launched a poll on Twitter regarding this, and the crypto community echoed our sentiment strongly. These are all things that we can confidently say we can fulfil based on the dates shown via our roadmap, though there are many other items we keep working on/researching in the background. You can see the full roadmap outlining our plans up until Q3 of 2021 here: https://unilend.medium.com/presenting-unilends-roadmap-gearing-up-for-alpha-launch-in-december-2020-89ff10805bcd
CryptoClub:
moving to next. Q5. You stated you're picking up from where Uniswap left off? What does it mean exactly for someone who is completely new to UniLend?
Vishal Kothari:
Yes, to clarify, we have the utmost respect for Uniswap and the other leading protocols for being trailblazers in the DeFi space. That said, we believe that our comprehensive DeFi functionality and permissionless listing model will facilitate the evolution of DeFi and bring the next wave of users into the DeFi space. Our community has requested further clarification on UniLend's strengths as a DeFi protocol, which is why we launched our DeFi Dissected article series. The goal with the series is to show the cryptosphere why we will be a major contender, with more to offer than our competitors. UniLend is a unique protocol that is capable of truly revolutionizing DeFi. I would encourage everyone to follow us on our UniLend Medium (https://unilend.medium.com/) to stay up to date on our collaborations and to take a look at the DeFi Dissected article series for themselves. Two of the most recent articles within this series were for comparing UniLend with Aave and Uniswap, here are the links to get you started: Comparison with Comparison with Uniswap
CryptoClub:
attractive. Q6. Recently we've noticed UniLend is becoming the new future home to many up-and-coming hot DeFi tokens. What's creating all the buzz and why do these projects want to work with UniLend Finance?
Vishal Kothari:
We see many other projects already realizing what we're doing is different. We believe these projects see our vision and know that our lending and borrowing platform will more than just compete, but dominate the DeFi status quo protocols. We believe that DeFi users will flock to our protocol. Mainly because we'll have all the functionality that the top DeFi protocols have and more. Also UniLend will maintain our status by continuing to innovate and strategically partnering to join protocol strengths. We have great synergies with projects like Injective for instance. Not only are we working on collaborating in the future but we'll have their token INJ listed for trading, lending and borrowing. This is all easily done with our permissionless listing capabilities. In addition, we're already preparing to list Mirror finances mAsset tokens which mimic real world synthetic stocks, such as the FAANG stocks. Furthermore, we're also preparing for Base protocols Rebase tokens, Phantom's synthetic commodities and Union's collateral optimization token UNN. It's inevitable that our platform will be sought after to find the next "big project" before other protocols list these new projects. We are building our protocol to have a trust factor to protect against fake tokens yet still allow for early listings. All in all, we are creating a safe haven and technological hub for the greatest projects and everyday DeFi users. UniLend Finance is the key to unlocking the true potential of decentralized finance.
Segment 2: Twitter questions
Q1. As a permissionless protocol anybody with an Ethereum wallet can use UniLend, how secure are user's funds while connecting their wallet to Unilend's platform? What permission is given to do it?
Vishal Kothari:
Our smart contract is audited by Certik which is one of the best auditors in the space around and our mainnet smart contract will also be audited for sure by the best in the industry so there is no worries about security for sure. Also you can see in our roadmap that we would love to encourage tech persons to take part in our bug bounties so we dont let any chance to be unsafe for our users to use our platform.
Q2. There are more than 6000 tokens listed on coinmarketcap. However, most platforms currently only support less than 30 assets, so How can UniLend bridge that gap by incorporating aspects of decentralization?
Ayush Garg:
This is exactly what we have been stating and it is our core idea. There are more than 6k tokens, we believe a lot of them have very good value proposition and a community which supports them. Lets take top 100 coins for example, they have a huge HODLer base, but they are not eligible for lending, borrowing and other financial products. We are solving this issue once for all. Being permissionless we are removing the discrimination and barrier for all the tokens like UniSwap did with its DeX. UniLend is well placed as we are decentralised, permissionless and open source.  
Q3. What wallets can currently support your tokens? Are there plans to add up extra features in your ecosystem in the nearest future? What plans do you have on your roadmap for 2021, in the short term and long term?
Vishal Kothari:
1. Most of wallets supporting ERC20 tokens is supporting our $UFT token as well.
2. Yes we are planning to add more features for sure but cant reveal but yes you guys can have an eye at @UniLendAnnouncement for the upcoming news and announcements
3. You can see our Roadmap here : https://unilend.medium.com/presenting-unilends-roadmap-gearing-up-for-alpha-launch-in-december-2020-89ff10805bcd
Q4. What are the 3 core reasons we should use #unilend products? What is the role of the Vietnamese community for #unilend? How is #unilend plan in Vietnam market?
Ayush Garg:
There are more than 3 reasons which we boast on about our product 1. Permissionless listing
2. Integrated DeX
3. UniLend Ecosystem
4. Decentralised Governance
5. Build on most widely used Blockchain Ethereum
6. Robust Infrastructure
7. Industry Leaders as partners
Vishal Kothari:
We are trying to keep all the regional communities to be part of the UniLend progress and besides that we know that ease of communication is must while we all are delivering remotely. so here is our 🇻🇳 Vietnam community https://t.me/UniLend_Vietnam where the Vietnam people can interact and we also have 🇮🇩 Indonesia community https://t.me/UniLend_Indonesia
Apart from these we are planning to make more regional community for users to interact with ease of communication.
Ayush Garg:
I believe anyone who has spent sometime around in crypto industry and actively used Defi products, these are cores that imbibe trust into the project and we are not leaving anything out of these.
Q5. You said that #Unilend picking up from where Uniswap took the Defi revolution. What the essence of this words?
Ayush Garg:
So Uniswap is the pioneer in Defi and shaped the space how we know it. And this is the first time a utility is added to crypto which is so widely adopted that it revolutionised the whole ecosystem. UniLend wants to take this one step further as on our permissionless platform, anyone with liquidity can list their tokens for lending and borrowing, isn't it amazing? The Current TVL of the market is around $40B, where only a handful of tokens can be used for Lending, borrowing, and other Defi services. We are going to unlock this potential of other tokens which have created value and have strong community backing. Adding them we can take this TVL to cross $100 B in the coming months. Our CEO and CoFounder, Chandresh Aharwar discussed more on this here:    
Segment 3: Live questions
Q1. As you know Covid-19 has a large impact in the crypto Market, So How can your company maintain its project and also the team that are working hard during this pandemic?
Vishal Kothari:
See we have started in August 2020 and at that time the Covid Pandemic was there you know but we all in team are working remotely but with full commitment to deliver the best to our users and our community. Also you can check what was our full journey through our announcement channel @UniLendAnnouncement.
Q2. Are you planning to Burn / Buyback Unilend Tokens to increase their value and What is your Utility Token in the ecosystem?
Ayush Garg:
We have no such plans. The utility of $UFT tokens will in the governance of the platform and when our products are live users will be able to pay fee and other transaction with $UFT with discounts. Also we have UniLend Ecosystem products planned where $UFT will drive major utility.
Q3. Can you explain the Tokenomics of the UniLend, how it is Distributed ? How many tokens Will be minted and how many of those will be held by the team and for what purposes ? Also how experienced is the team behind the token?
Ayush Garg:
We have explained about our tokenomics here
https://medium.com/@UniLend/announcing-the-unilend-uft-public-sale-interest-form-is-now-live-17e0cc6d7ad7
Q4. How does UniLend intend to remove the discrimination and barrier for all the tokens like UniSwap did with its DEX?
Ayush Garg:
Two things. Permissionless listing and Decentralised Governance!
Q5. I am interested in your project and would like to invest in it but I need to know a thing . What would your team's top priorities to fullfill in the year 2021 and how far has the team achieved this?
Ayush Garg:
We commenced our funding with public sale in October 2020. You can get $UFT tokens on various DeXs including Uniswap, sushiswap etc and CEX like Bithumb global, MXC etc.
Q6. What we know now is that there are many DeFi tokens, how to respond as a #UniLend Finance platform to respond to financial and security issues from fraudulent DeFi tokens?
Ayush Garg:
The security of funds of our users and projects who are providing liquidity is the utmost priority for us. We are taking significant measures to prevent any calamity. To begin with, we will do a guarded launch with only trusted projects initially till the platform is stable. Also our smart will be reviewed by industry experts and certified with trusted names. And lastly, in case of liquidation, we will not have to be interacting with any other DeX as we will have that built-in, which itself reduces the exposure.
Q7. While you build your project, do you take into account community feedbacks and demands and try to implement them?
Ayush Garg:
Of course, we have a community of about 16k members and they are the every supporters. We contently interact with our community and take their feedback into account.
Not only this, we have various rewards for active participants
1. Pride of UniLend Rewards | $ 50
2. Shield of Excellence | $100
3. Bug Bounties - To be announced We have also opened our Alpha for early access and got more than 31k responses.
Q8. Which one of these aspects important for you?
A-Increasing Token Price&Value
B-Empowering Platform Development
C-Building Community Trust
D-Expanding Partnership Globally
Vishal Kothari: Every aspect you stated is important to us for sure. Community having good trust on us and we are building a great UniLend Partnership Ecosystem with some of reputed in the crypto space and our tech team is building a great protocol that will be very user friendly for the users of UniLend. These things will lead us t o great price discovery.
Q9. Does the price of the token matter to you from an operational perspective, if the token price is $1 or $100?
Ayush Garg:
We already have reserved tokens for our operations and marketing and development, shared the tokenomics above. So the price won't affect much of our functioning.
Q10. Many projects rug pulled and exit scam recently. Why should investors trust your project not to do the same?
Vishal Kothari:
This is a very good question. With recent hacks, this is a major concern with a lot of projects. We are working on solution for this particular scenario where we are immune to such events. Apart from all the standard security protocols we will be following, there will be some additional checks and balances like slippage tolerance , which we will reveal with our product launch. So to answer your question, this wont be a feasible scenario for UniLend's platform.
Q11. You guys said UFT tokens can be used to make loans on the Unilend platform, so what are the requirements for borrowing?
Vishal Kothari:
No UFT will be used to make loans, to take a loan you can submit any token as collateral which is paired with the token you want to borrow. There has to be liquidity pool for the pair, for eg ETH/USDT. You can take ETH loan by submitting USDT as collateral and vice versa. $UFT is the token which you can hold to earn commissions, lower fees and governance to state a few use cases.
CryptoClub:
You really answered questions with so much detail and preciseness. ANY LAST WORDS FROM YOU
Ayush Garg:
Thanks for hosting us, it was a great pleasure interacting with your community and answering their questions. I hope we have been able to answer major ones in the time we got.
Vishal Kothari:
Great community !!! Love the energy. Thanks for hosting us.