Time for another update on my journey to save Hive and GBP with the #saturdaysaverclub and other projects i'm building up.
Saturday Savers Club (SSC)
Progress continues on track for both currencies i've committed to putting into savings. Whilst the ultimate target for both is to hit 667.95 after a year, I'll be tracking the smaller targets as they are reached. I've set a target of 10 HBD, which will remain for the duration of my savings effort, and when reached 5 HBD will be moved to HBD Savings.
Listnerds (LN)
This is the platform that got me involved with the Hive communities, and learning to earn by creating content. Listnerds is actually a mailer platform, utilizing blockchain technology to reward content creators, and readers of their mails, all from within the platform - no mails are sent to external mailboxes. Thus it makes sense to include my progress on the platform in this update. There are 2 tokens available to be earned on the platform - Listnerds and CTP - both of which I am staking at present. I'm also staking CTP on Hive itself with a target of reaching 100, which brings with it the opportunity to use the recently introduced tipping feature of the token.
Additional Listnerds token are awarded when mails reach verified status (i.e achieving of 20 or more) as can be seen here with 3 of my recent mails. Mails are rewarded 7 days after being posted.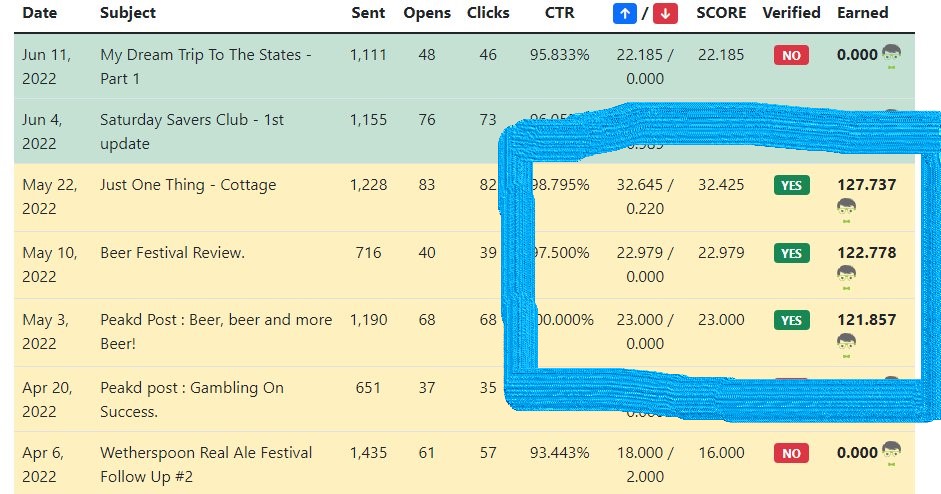 Find out more about Listnerds HERE
I Am Alive Staking Challenge
This challenge is pretty self explanatory. Participants are rewarded for staking Alive tokens during the course of a week. I've been participating for three weeks, and have managed to bag a portion of the rewards each week so far. Additional stakes can be earned from using the communities tags. Find out more HERE
Stakecube
Of course, not all my efforts in earning crypto, and indeed even fiat currencies, are all made through Hive. Stakecube is one such platform I'm involved with currently.
This platform allows me to earn passively on a number of PoS coins. The opportunity to earn interest on four of the best known coins is also available at a rate 7.572% p.a. or 0.02% daily.
BTC - Minimum Balance Required 0.0005000
LTC - Minimum Balance Required 0.0500000
DOGE - Minimum Balance Required 1000.00000000
DASH - Minimum Balance Required 0.0500000
Current balances can be seen below

Find out more about Stakecube HERE
So there we have a few updates covering the last week, and the plan is to have weekly updates from here on.
Have a great weekend!