Another week in crypto is over and it's time for another Play2Earn report. All things considered, I've had a pretty decent week with nothing special standing out but solid growth all across the place. Besides doing my usual crypto hustle, I've also started to focus on onboarding players to the games I play, especially Splinterlands and eXode. I'll have a bit more on the topic in the part on each individual game, but from a general point of view, I feel like bringing more players to these games is the most important thing to do right now. Crypto gaming is still in its infancy and a couple of new players still can have a huge impact. If I want these games to succeed, it's up to me as much as everybody else to help grow the ecosystem.
First things first, though. Here's a look at my current holdings:
Once more, I'm pretty happy with these numbers. Hive, CTP and SPT are completely organic growth, with SPT only being delegation rewards. The growth is getting pretty impressive here and I love how the gains are increasing a bit every week. Right before the snapshot for CUB, I've bought another stack of LEO. I won't get into DeFi myself, but I know many others will and right now, I feel like LEO is my best shot for life changing growth in terms of token value. It only takes one of LeoFinance's project to go viral and the whole ecosystem will follow. I'll probably have a full article on this during the weekend, but basically if either CubFinance or Project Blank take off big, we could very well see the biggest growth in value we've had on Hive so far.
Next, let's go over the different games I play:
I managed to return to the top 50 last season, earning myself 10 Untamed boosters in the process. I'm pretty happy with my progress in Splinterlands and I feel like I'm getting a little better with every passing season. I keep growing my collection slowly but steadily, having added another two cards this last week: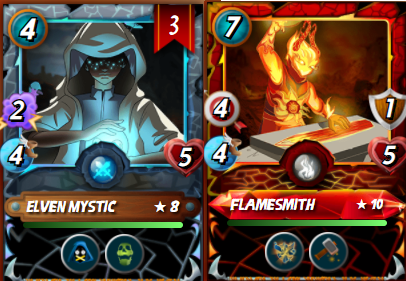 I wanted another counter to magic heavy decks and the Elven Mystic seemed like a perfect addition. It also helped that there was a max level version listed at only 50% of the asking price for single cards. I haven't played him as much as I had thought I would since I acquired the guy but as with most new cards, it takes a while to break the old habits and include new options.
The Flamesmith is another addition for high mana battles with Fire and I intend to use him especially for weak magic/no magic rulesets. I got a great deal on him as well, probably because he still had a 6 day cooldown. Didn't get to play him yet because of that, but looking forward to using him starting tomorrow.
I'm also doing really well on the referral rewards side of things. I've gotten additional credits from a total of 8 different players in the last 7 days - this really helps to build my collection step by step!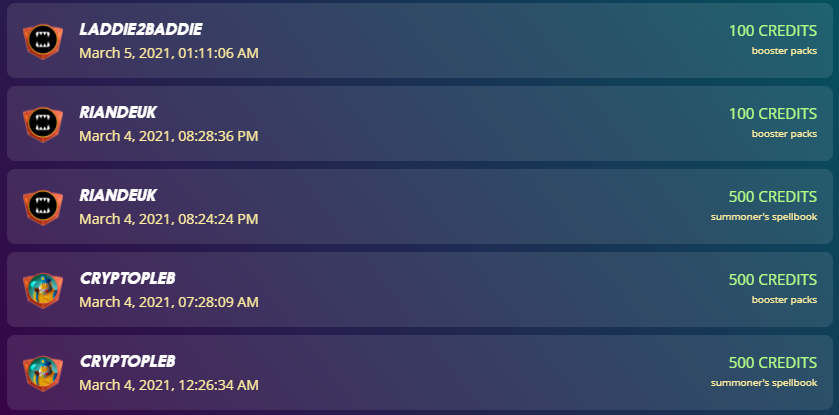 I've also started to bring some of my real life friends to the game with 2 of them joinging during the last week. I intend to do a separate article on that as well, but I have to admint that the new player experience probably needs some work and soon.
Basically, if they didn't have me at their side to talk them through everything and get them started, they probably would have quit playing pretty soon. On the other hand side, it only took two dozens of card delegations to bring one of my friends to Silver II in a single session. I have some ideas about what to do, but one would probably be to give new players access to more phantom cards. You could even make Novice into a 3 tier league on itself, providing new players with more phantom cards as they make it through each tier. The way it is now, playing in Novice/Bronze 3 is a rather frustrating experience.
eXode is the other game I've been onboarding new players to. There's more action in the Discord again and interest in the game has been slowly growing. We are pretty close to Colonization and we will definitely see a new playable version during March. I've been talking several people through everything, giving advise but also providing some cards along the way. Having access to weapons is a real game changer for Evacuation gameplay and I feel like it makes or breaks the experience for many new players. Especially if you only have the origin cards, there's almost nothing you can do against the hostiles. Equip all of your troopers with an Explanator and things are changing quickly...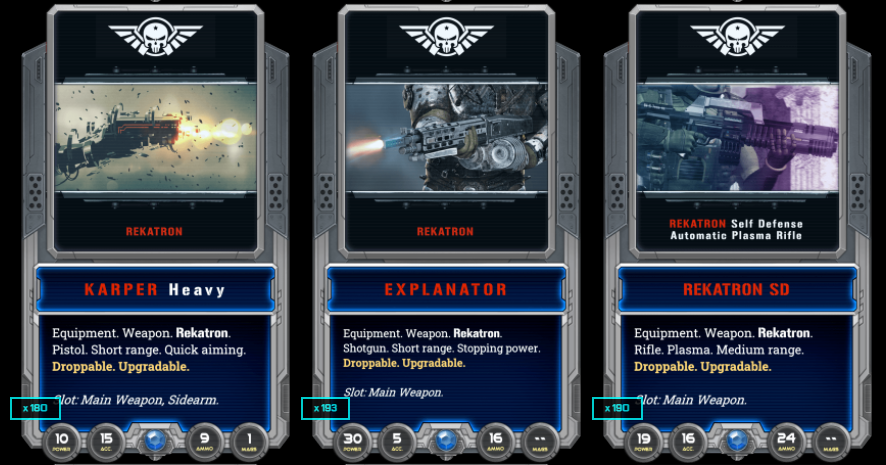 I'm sitting on huge stockpiles of rare weapons from my contracts, so if you join the game, just leave me a comment or contact me in Discord and I'll happily share some of the love with you.
In other news, I've finally found my Happy Twelve elite version of the Happy Five. This was the card I always wanted to get from the Tom Settlers Contracts and I feel like it's the single best card for colonization in the game as of now. I shouted at the screen a bit when I finally found it, took me 10 months of opening contracts to get one but I'm sure it'll be worth it once I establish my first colony!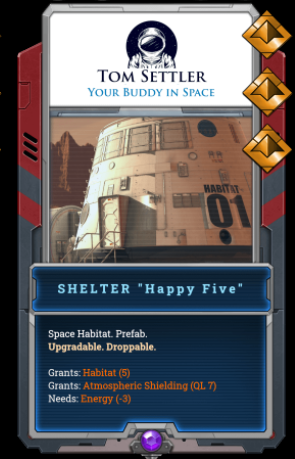 Things are moving fast for eXode right now and you can feel the anticipation in the Discord. It's going to be any day now...
I'm super happy with things have been going for Doctor Who last week. I've did a full article on the game and had already mentioned it in several Play2Earn reports before. This netted me a lot of referrals for the game, some of which also went ahead and bought booster packs. In total, I now was able to buy 16 packs from the referral rewards, netting me 80 cards for the game!

To be perfectly honest here, I'm not quite sure how much fun the game will be in the end. It's looking some what interesting and the little we know about the game itself seems sound. The huge driving factor to me is the franchise and the official backing by the BBC, though. This alone could help to bring the game to mainstream markets. If that happens, all Alpha collection cards should appreciate in value. And even if they don't, the 80 cards mentioned above equal 80$ in total - not too shabby if you keep in mind I didn't spend a single cent on all this but only paid in Pandalaks!
I don't have much to say on R-Planet other than I told you so!. The market is crashing and it will continue to do so. One of the most interesting projects of 2021 so far more or less destroyed by greed and awful decisions.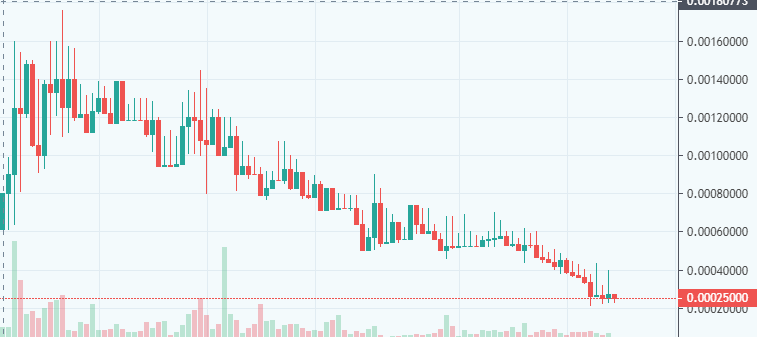 I've did a full article on Liotes yesterday so I'm not going to repeat myself here. If you haven't heard about the project yet, you might want to check the article I've linked above. It's another fun little project on Hive and I have high hopes for it. Their sale is starting pretty soon, so if you want to get on board, you might want to set some Hive aside for the launch!

Last but (hopefully) not least, Guild of Guardians made their official announcement during the week. It's going to be a mobile ARPG. While that certainly is not my genre, it's still looking pretty interesting and it might be another contender for bringing blockchain to the mainstream. If you are into that kind of game, you might want to pre-register.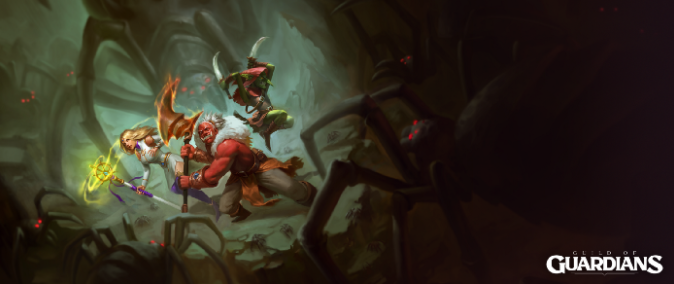 Conclusion
And that's all from me for today. Many interesting projects on the horizon, these next weeks are going to be really interesting! Thank you all for reading and see you next time.