This last week has been a very odd one for me. In the crypto world, there has been some great stuff happening to me. Especially the Splinterlands land presale lottery has been a huge success for me. At the same time, I'm super annoyed by my everyday job at the moment. Upper management is making decisions that are extremely hurtful for the whole company and I'm now faced with the decision to just go with the flow, shut up, and take my money or speak up, invest a lot of time and energy, with the potential outlook of being ignored anyways in the end. Ah well, this is the Play2Earn and not the AllButMeAreIdiots-Report, so let's leave that behind us and dive into my usual reporting instead.
We'll take a good look at my tokens first:
This week's focus obviously was on increasing my stake in CTP and so far, I'm right on track there. My target is to get to 10,000 CTP by the end of the week and to 20,000 CTP by the end of February. I've already said it last week, CTP might very well be the next LEO and I think it has huge potential to eventually go to a 1:1 ratio with Hive or even higher. Either way, I think the concept is fresh and somewhat unique and it's only a matter of time until we see substantial growth for the service. The market seems to agree with me, as the tokens value is going up steadily and getting my buy orders filled seems to get harder by the day.
The other winner of the week is Torum's XTM token with close to 30$ worth of tokens gained in the last week. Torum is seeing some amazing growth and a lot of new users are coming to the site. Some days, I'm finding 10 and more new followers. If you haven't joined yet, I have no doubt that this service is going to be huge eventually, don't be late!
Now let's take a look at the games I follow, I have quite a bit to mention today:
What an amazing week I've had in Splinterlands! First of all, this season is going so much smoother than the last ones for me. I've been playing daily and the new strategy to completely ignore the daily quest is paying off big for me. What that means is that I switch quests if it's Water (nobody likes water!) and keep any other quest. Instead of trying to complete the quest, though, I try to win every individual match with the best Splinter available to me. Getting the quests done takes a lot longer that way, but in return it has been a super relaxing ride for me. I've pushed to Champion I with 2 days left in the season and I'm currently sitting at #25 of the leaderboard.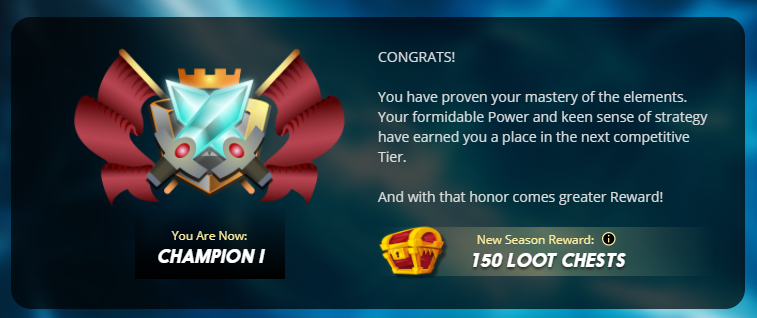 And then there has been the Splinterlands land presale lottery which I've already written an article about. Back there, I've estimated all my winnings to be worth about 1,000$. Well, turns out I was way off with that. Totems are valued a lot more than what I expected at first so the value gained from the lottery is way higher than what I thought at first. I was the first and thus far the only one to sell a legendary totem on Hive-Engine.

I've made 2,400 Hive or about 330$ with it. There's a lot of speculation whether I've sold too low and how the totems will be valuated eventually, but honestly, I'm pretty happy with the deal I got. I never expected to sell at that asking price. Fun enough, I have a second legendary totem which I'm holding for now. So no matter how the price goes, I'll probably be happy with it. Even the common totems trade at around ~12.5 Hive right now which is pretty sweet considering I have 264 of these. The value coming from that lottery is all kinds of amazing. Like I've already stated in my article, this aspect of the presale has certainly been undermarketed. Everything considered, I've payed 7,125$ for my region of land. With everything gained from the lottery, this goes down to maybe 5,000$ of value locked in the region - pretty decent!
A new entry to the list, this game is still very far in the future with a planned release into Open Beta in Q4 of 2021. From everything I've seen so far, though, I'm pretty exited about it. First of all, it's Doctor Who and while I can't stand the SJW charade it has turned into, it's still one of my all time favorite movie shows. Up until the eleventh Doctor, I've seen every single episode the BBC hasn't lost, I've been to the Doctor Who Experience in Cardiff, and besides Star Trek (which shares the SJW fate) this has been my most beloved SciFi universe of all time.

That's not all, though. The game is officially backed and licensed by the BBC and the gameplay seems to be really interesting. It will be a Magic the Gathering style back and forth, all with playing creatures, casting spells, or even changing the planet you are fighting on mid game. There's also a time travel component to it, with cards coming from your future (deck), fighting in the present, and going to your past (graveyard). The concept sounds really great and this just might turn out to be a really good game.
The game has an ingame currency much like the credits in Splinterlands. In Doctor Who, they are called Pandaks. 100 Pandaks are accepted as 1$ in their shop and you can earn 10 Pandaks by simply logging into their website each day. With the game still as far away as it is, this is a cool opportunity to already collect some booster packs for free. I'll follow up on this with a dedicated article in the coming days but needless to say, I'm pretty excited right now.
Climbing the ladder in Rising Star has proven to be a lot harder than what I expected, most players around my position are just as active as I am, so it's a constant fight for every single position. I've still managed to move up a rank and am now sitting at #36 of the leaderboard. As I had intended, this week was mostly focused on finally getting my Ego problem under control and I'm happy to report that I succeeded on that end. I've bought a lot of orchestral instruments. Most notably, I now have 45 Nykelharpas in my collection. This has considerably boosted the skill gain from my orchestral lessons.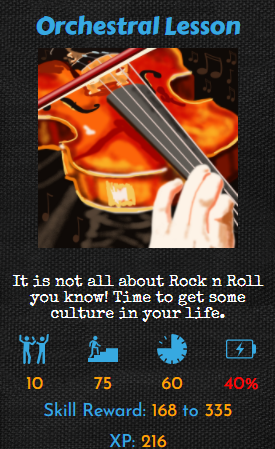 This in turn has allowed me to get my Ego to almost zero before drunks and should now allow me to focus more on building more fans again. This is something I probably should have done earlier as the big Ego probably cost me 5 digit numbers of Starbits already. Nevertheless, I'm on track now and this should allow me to operate close to 0% Ego as long as I keep doing 2-3 lessons each day.
I'll now resume to focus on climbing the ladder exclusively. To do so, I'll have to dig deeper into the math behind the leaderboard. It's not as simple as I had expected initially, there's a more complex formula involved:
Average IM, Average Total Cards, Average Unique Cards, Average Weekly Minutes are the mean average of 100 random accounts.
Total Cards Multiplier = Average IM / Average Total Cards
Unique Cards Multiplier = Average IM / Average Unique Cards
Weekly Minutes Multiplier = Average IM / Average Weekly Minutes
I'll try to get a better idea of what I should focus on with my Starbits. Once I'm confident in my numbers, I'll probably turn this into a dedicated article on the matter.
Alien Worlds is progressing well, although their Shining event didn't have the lasting effects I hoped it would have. While TLM spkied to 0.07 WAX per TLM, it has declined back down to around 0.05 Wax per TLM again. I still think the token is undervalued but we'll probably have to wait for a more direct TLM sink to come up. Hopefully, this will be achieved by the Thunderdome which will introduce the first PvP mode.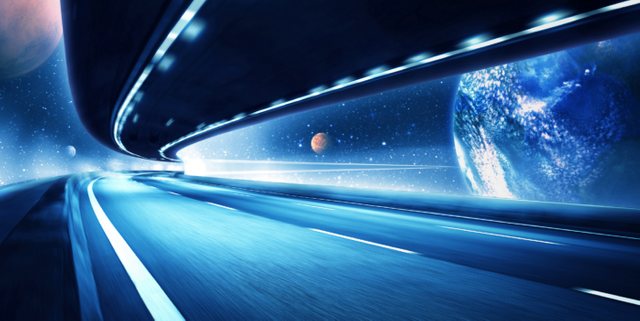 So for now, I'll simply keep accumulating TLM and stake all NFTs I find to R-Planet. Speaking of, I've accumulated a total of 12,600 Aether that way by now. Unfortunately, the R-Planet guys aren't exactly great at communication, so I don't have any new information on that matter. According to a tweet from mid January, they should be close to launching the first iteration of their own gameplay, but as of now, they didn't follow up on that.
Speaking of communication, there's a host of new information available from eXode. @elindos posted another great article last week. I'm not going to rephrase it and instead would advise you to give it a read yourself. The biggest news is that we are really close to another round of testing in the testroom. This time the tests will focus on the gameplay in between Evacuation and Colonization. We'll be able to scan for available planets and determine whether they are fit for Colonization or not. While we won't be allowed to colonize them yet, all planets we find during that test run will be saved to our account and will be available for Colonization later on. Pretty cool in my opinion, I really can't wait to get out there and fire up the scanners!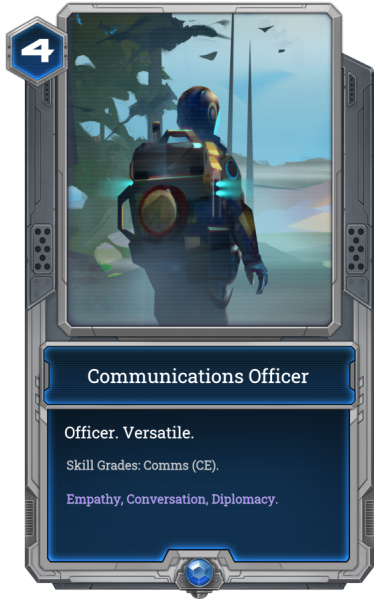 There's also more information available in the Discord and another post is expected to hit before next weekend so we should be pretty close to playing eXode again!
Conclusion
And that's all from me for today. There are some other minor bits here and there, right now I'm also testing some other games but nothing to report on, yet. I still might have some more dedicated gaming articles coming next week. Anyway, thank you all for reading and see you next time!