Ever since I learned how the new rental system in Splinterlands was going to work, I was pretty excited about it. As expected, things went through the roof pretty fast and with only 5 days into the new system, we already have 14,767 active rental contracts right now. As most users probably still have their old contracts in the old system running, that's a pretty amazing number. The fact that you now can rent cards directly through the Splinterlands client using DEC instead of Hive has made things super easy and affordable even for the newest of players.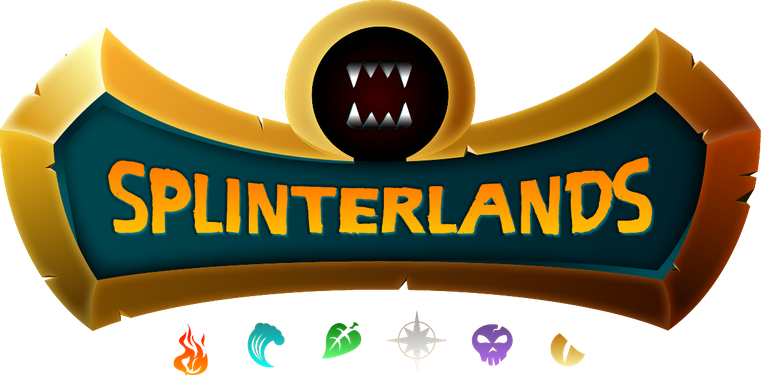 After monitoring things for some days, I started to wonder just how affordable climbing the leagues with rented cards only would be and so I started a little experiment. I've created a completely fresh account called @rentarakh and bought the spellbook. Other than that, no funds are going to the account from the outside and I'm not delegating any of my other accounts' cards to him. My goal was to see how far I could get and how much effort it would take. Without giving everything away right away, I think it's pretty crazy how far I was able to push in one go!
I started by playing some games with the starter deck only until I had gathered my first few DEC. After a few of these games and already making it to Bronze III, I was able to rent my first card. I looked at several options but decided to go for a Chain Golem first. Being a neutral tank, he's almost all you need to win any match with any summoner down in Bronze II and Bronze III and he also provided me with enough power rating for the next league.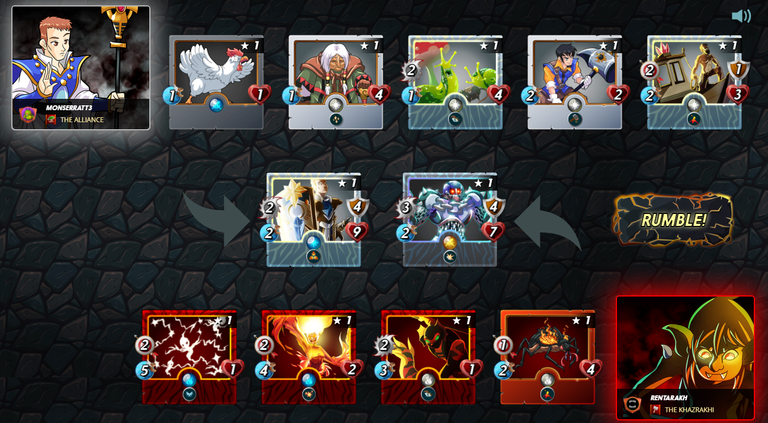 After some more wins, I tried to decide what Splinter I wanted to focus on and thanks to some super cheap offers in the dragon splinter, I decided to focus on that Splinter to get out of Bronze. I think the key to progressing fast out of the lowest levels is to just check what's available for cheap at that moment and roll with that. Basically anything will suffice to win against 90% of the decks in Bronze as long as you know what you are doing.
When I had the rating to move on to Silver III, I decided to get the additional power I needed through a mix of cards that I would actually play and some gold foil cards to just help boost my rating. I ended up with a level 4 Pyre, a level 2 Camila Sungazer and a level 2 Owster Rotwell. Not necessarily the strongest options available, but I decided to craft a fire blast deck and the required cards where readily available at very low prices.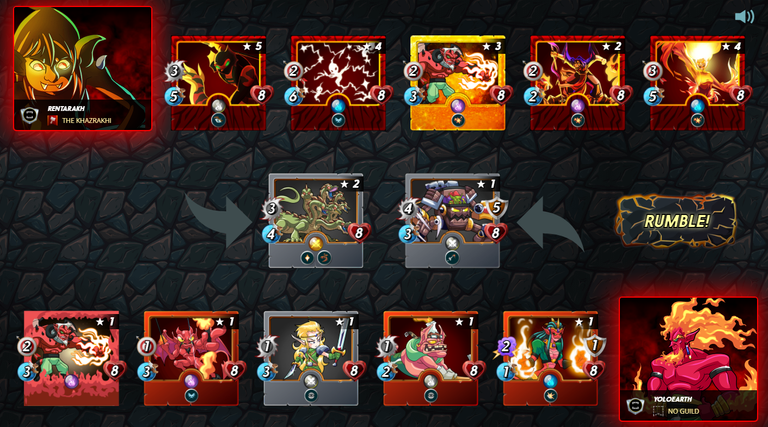 To my surprise, competition in Silver was almost non existent and I was able to brute force my way up to Silver I without loosing any matches. At Silver I finally, I did struggle a bit as I got matched with people competing for the leaderboard several times, but I nevertheless managed to push on. With 70 matches played and 54 of them being wins, I finally had the rating to move on to Gold III. Since I won't be around from Monday to Wednesday, I decided against getting more cards to push even further and instead just opted to get the cheapest gold foil legendary on the market to provide me with the collection power I needed.
To my surprise, the cheapest gold foil legendary at that point was only 36 DEC and I have to admit, I never expected those to be as cheap! Just think about it - renting enough gold foil legendaries to get the Champion League power level only costs 36 cent a day, that's pretty crazy!
I was really happy with where I had gotten but decided to play a match or two in Gold III, just to see how tough Gold League actually was. Surprisingly enough, it was not hard at all. It took me a mere 9 more games and renting another gold foil legendary to end up with this screen:

So in conclusion, I've managed to move from Novice to Gold II with 79 matches played of which I've won 62. Right now, I still have 314 DEC left which would be more than enough to keep going even further from where I am right now. I should have some more time available this evening so I'll try to push on to Diamond League from there. As I've mentioned before I then won't have much time until the end of the season. Next season, though, the adventures of rentarakh will certainly continue! I'm probably going to always rent the cards I need to do my daily quest for a day, finish the quest and just rent enough gold foil legendaries for the next league should I need them.
The new renting system in an incredibly powerful tool and I feel like we are only getting started here. I'm quite sure we'll see a lot more competition in the higher leagues pretty soon as people figure out just how affordable it is to rent the cards required to get there. In the long term, more and more people will use the rental system so prices are pretty likely going to increase over time. For now, though, anybody with a basic understanding of Splinterlands should be able to duplicate what I did here. You really don't need anything other than the Summoners Spellbook to advance really far in the game right now!
And that's all from me for today! Thank you all for reading and see you next time!