Rising Star, the game about a lowly busker on his way to stardom, keeps impressing me again and again. It all started out so simple - manage your energy, do some missions, earn Starbits and use them to buy cards or Booster Packs. But what I first found to be merely a small idle game keeps growing and evolving at a pace that I really did not expect. It's been roughly a month since my last post about the game and again, so much has been added to the game that I feel like it's time to take another look at the newly introduced mechanics and concepts.
I'll start with the one that amazed me the most so far - you can now actually make your own music within the game! In order to do so, you need to first assemble your own band by completing band auditions until you've unlocked all four band member slots. Once that is done, you can go ahead, assign a member to each slot and choose the instrument you want them to play.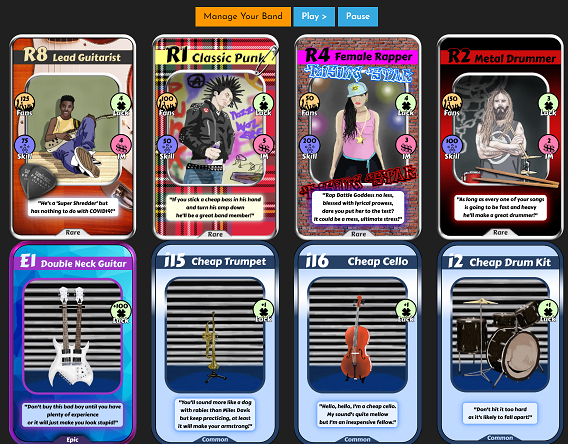 Once you are happy with your band, you can just hit the Play button and listen to the song you just created.
So for example the band above leads to this little tune here.
The way these songs are created is pretty clever. Every single instrument in Rising Star has its own soundtrack, played at the exact same tempo as all others. Some even have several stems reflecting the skill level of the musician playing them. This way you can mix and match every single instrument with all other ones available to you. The developer is currently adding new instruments and stems almost daily, allowing for thousands of different songs already.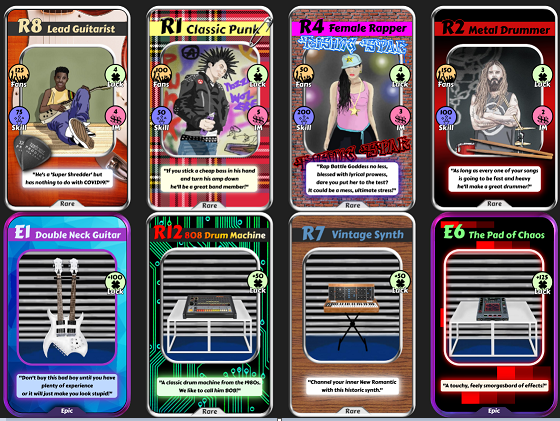 The different songs already possible are quite impressive. If I exchange my singing Metal Drummer for a Male Rapper and hand out some electronic music devices, I end up with a song from a completely different genre.
This feature can only get more interesting the more stems are added to the database. The developer confirmed that he's planning to add a way to have even more band members, so you could potentially start a complete Ska band or even have a full orchestra. The tracks you came up with can already be shared and we'll potentially see more social features built around the feature.
Another very interesting feature added to the game in recent weeks are the Special Missions. So far, you could only earn Starbits (the games ingame currency) by completing missions. If you complete missions from the Special Missions tab, you are rewarded in another Hive token.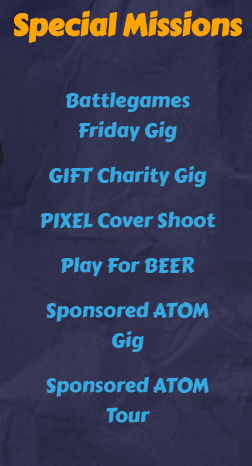 Right now you could earn Atom, Gift, Pixel, Beer and Battle tokens. The idea behind this is pretty cool and unique. Different token holders can use the Special Missions to promote their tokens and offer another way to earn them.
If this feature is done right and carefully built on, Rising Star could become the premier gamification hub for Hive tokens. I'm really looking forward to seeing more tokens added to the Special Missions.
Finally there's another new button in the mission selection, Mini Games: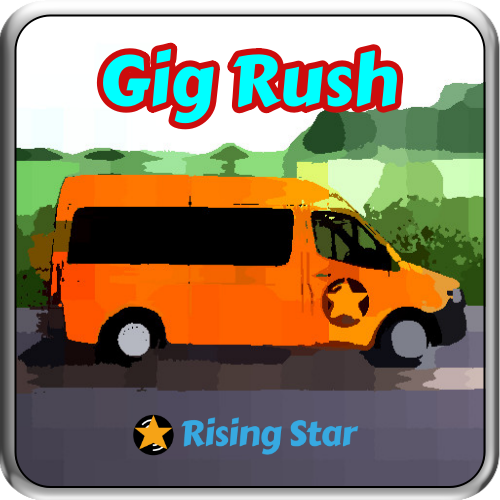 We don't have any information on what Gig Rush is going to be, but it seems the developer is still full of new ideas for the game.
All things considered, I really feel like Rising Star is growing stronger by the day, firmly establishing itself as one of Hives top gaming titles! If you want to try the game yourself, head over to https://www.risingstargame.com and start your journey. The game is completely free to play, you only need to have Hive Keychain installed in order to register.
That's all from me today, thank you all for reading and as always - feel free to tell me what you think about the game in the comments!