Hi StarCrazyies!
How's your battling going?
We've got an overstuffed newsletter for you today so get ready for:
PvP Launch AMA Recap (video)
PvP Coming Features (video)
PvP Rewards
*Important* New process for fusing / synthesis cards (for enhance security and privacy)
A surprise for you...
It finally happened! PvP is live and players are jumping in for rewards and glory. (did we mention rewards?)
Get your popcorn ready. We have some good video watching all lined up for you.
If you missed the live launch AMA you can catch it right here.
Rey and Kyle give tips on battling and the special NFTs that buff your Starz. And Rey bids us a fond farewell. All the best to Rey on his next chapter!
What's next for PvP?
And here's a treat. The StarCrazy dev team has a preview of coming battle functions. You are not going to want to miss this.
StarCrazy PvP Battles Season 1 (YouTube)
PvP Rewards Explained
We know you've been eager to learn about the PvP rewards system and that day finally arrived. You can see from our graphic below that we have rewards for a range of players.
This is not a winner-take-all system. All players who battle will earn some GFT and Attribute Ores. The Ores let you to upgrade your Starz or your Planet. There are 5 attribute ores in StarCrazy. And as we've mentioned in earlier blogs and emails, you'll still be able to have your Starz earn from mining - even when they are battling.
We know being in two places at once may violate certain laws of physics but it's the StarCrazy universe and that's how we think physics should work here!
So briefly, here's how it works in Season 1 (Season 1 is one month long)
PvP Season 1 Rewards🌟
Total Rewards Pool: 5,300 GFT
There will be 2 types of rewards:
'Ranking Rewards' & 'Shared Pool Rewards'
🥇1000 GFT + 1000 (5 Attribute Ores) + Diamond Season NFT💎
🥈400 GFT + 500 (5 Attribute Ores) + Gold Season NFT
🥉200 GFT + 500 (5 Attribute Ores) + Silver Season NFT
And, as you can see in the table below, if you rank in the top 20 players for the season you'll get a Limited Edition NFT. That's pretty sweet!
You can refer to the table for more info!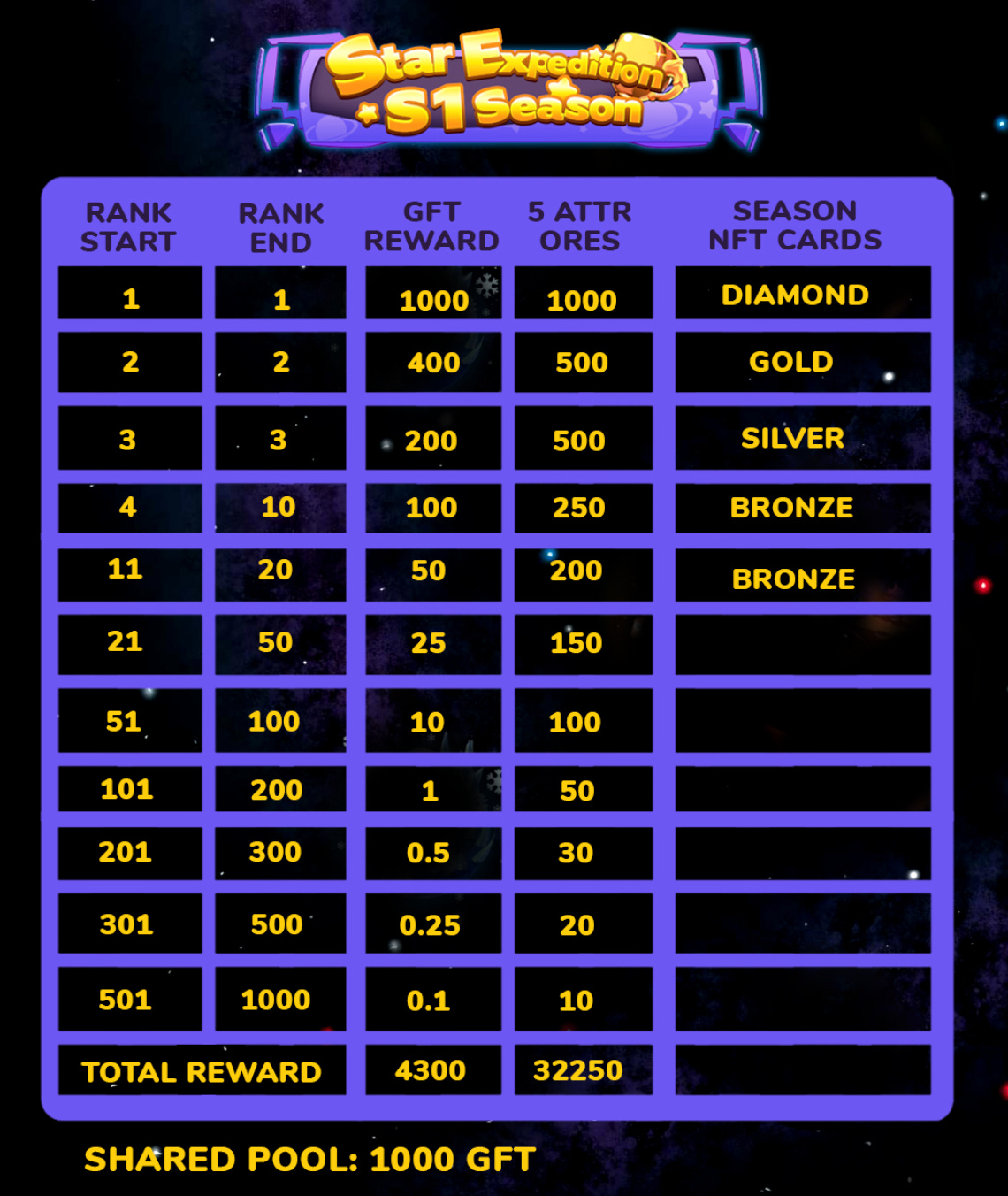 Quick note: For registration for a PvP battle, we advise that you register 30 minutes before a battle. We don't want you to miss playing.
We know you could figure this out on your own but we don't want you to work any harder than you have to. So we offer you this PvP guide to get you started. This is what people call a 'living document'. It's going to change, both to be clearer and certainly as we add additional features. But this is a great place to start.
New fusing instructions
When you go to fuse / synthesize your Starz you will find the process has changed. We've implemented these changes to make StarCrazy more secure and reliable. Here's what you'll see and the steps to take going forward.
In the first step we need to authorize the contract execution:
  Wait a few seconds for the execution to complete and the button will change to:
  At this time, we can select two cards, and then click the Synthesis button.
This execution of the contract will create a synthesis process, but will not actually do the synthesis.
At this point, both cards will disappear from your address. But don't worry.
We can keep going for the next step. When the execution of the contract is completed, the window for the next contract execution will pop up immediately, and you need to continue to execute the contract one more time. After the contract is executed, the synthesis process can be completed, and a new card will be synthesized as usual.
However, if you do not proceed to the next contract execution for various reasons. Then you can't get the result of synthesis temporarily. But, again, rest assured you have nothing to lose. Because the synthesis process is still there, you only need to select another two cards and click to combine again, and you will be reminded you that there are still unfinished processes:
If you don't complete the last synthesizing process you will not be able to proceed to the next synthesis. Click 'Goto' to continue the contract execution that you interrupted last time to synthesize a new card.
The above is the new version of the synthesis rules, which is a major update for the security and privacy of our game.
Bottom of the Email
Wow! You've made it this far. Good for you! To reward you we'll share a little tidbit (Shhh! Don't tell anyone we told you.)
There might be a flash sale next week where you might be able to snag some special NFTs to buff your Starz. Don't tell a soul that you heard it here.

Steps to enter the game:
Option 1: Metamask
Step 1: Install the metamask: https://metamask.io/
Step 2: Add a custom RPC/Network In the MetaMask browser extension, open the "Networks" drop-down menu at the top, and click the "Add Network":
Step 3: Input the respective network values for IoTeX Mainnet:
Network Name: "IoTeX Mainnet"
RPC URL: See Babel API Endpoints » (Example: https://babel-api.mainnet.iotex.io)
Chain ID: 4689
Symbol: IOTXExplorer URL: https://iotexscan.io
Step 4: Click the Save button and make sure IoTeX is selected as the active network
Step 5: Click the link to enter the game: https://game.starcrazy.com/?cid=nov
Option 2:
Using Iopay Wallet you can download though this link: Iopay.me