Markets
Bitcoin is currently facing weak prices again, as it trades just below $ 12,000. The Bulls tried to recharge this level, but failed. After the rejection, the cryptocurrency fell back into the trading zone, in which it has been operating since last Saturday. One of the key events that could help BTC jump past $ 12,000 is the closing of the daylight just above $ 11,800.
DeFi is dominated by Band Protocol (BAND) and Chainlink (LINK), which have gained more than 100% in the last few weeks. Two of the most important tokens are the Band Protocol (BAND) and Chainlink (LINK), which have risen sharply by 348% and 88% in the last ten days. Since the beginning of August, the price of the BAND has risen from $ 3.9 to $ 17.78, and in the same period, LINK rose sharply from $ 7.6 to $ 14.45 at its peak on August 10.
Cryptocurrencies
Google's search for Ethereum at its annual maximum
People want to know what's happening with Ethereum more than ever this year. And not just in the United States, but around the world, and according to Google trends, global interest is even greater.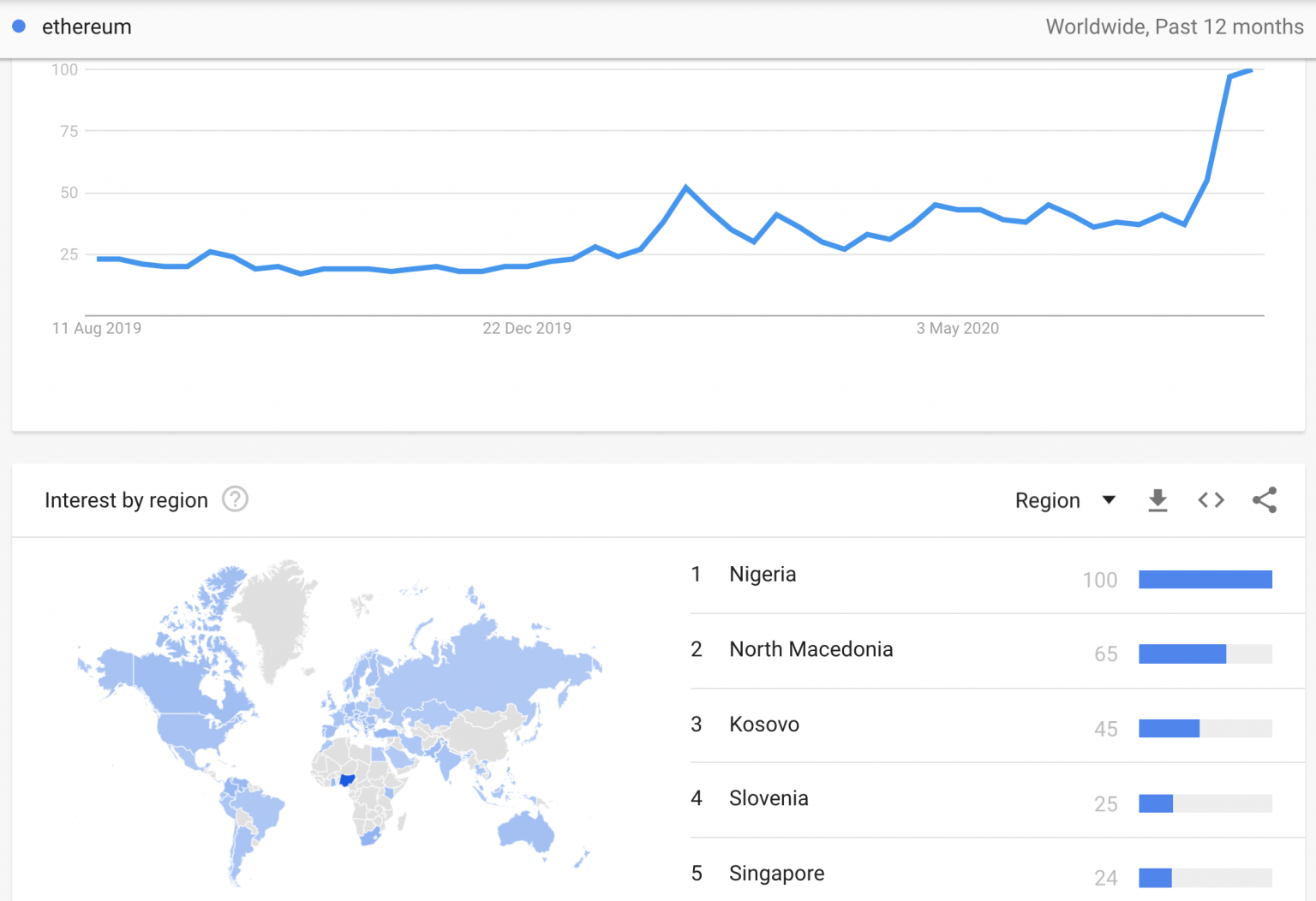 ETH whale shifted the ETH price to $ 450 on Uniswap
A single wallet address pushed up Ethereum prices on DeFi exchange Uniswap to just short of $450. The trade involved a series of swaps totaling $17.9 million USDT to purchase slightly over 40,000 ETH. With ETH prices at about $400, the trade was valued at about $16 million⁠—equating to a loss of almost $2 million to slippage. 
Chrysalis update on IOTA is already functional, it adds scalability
IOTA has launched the first phase of its Chrysalis project, the beginning of a series of upgrades leading to IOTA 1.5. The update comes with a number of upgrades to improve network performance. MIOTA, the project's native token, has added more than 12% in the last 24 hours.
Cryptocurrency Exchanges, Banks, Companies
Crypto exchanges and decentralized exchanges are now experiencing a surge of users
Reports show that crypto exchanges have seen a massive increase in web traffic. Data from ICO Analytics, a company that analyzes cryptocurrency movements, shows that web traffic on global exchanges recorded an average increase of 13% last month compared to the previous month. Decentralized exchanges have also risen sharply, see the chart below.
Facebook has set up a new group for online payments, led by David Marcus
Marcus, who co-created stablecoin Libra, said via tweet that he would continue to run the subsidiary Novi. The restructuring will allow the social media giant to better integrate its payment transactions for Messenger, Instagram and WhatsApp.
Scams, hacks
Australian hacker got 2 years behind bars for stealing $ 300,000 in XRP
The judge sentenced Australian citizen Kathryn Nguyen to a maximum of 2 years and 3 months in prison for her role in stealing more than 100,000 XRP tokens in January 2018. Nguyen was indicted in October 2018 and confessed to fraud the following August. According to an Aug. 11 report in Australian publication Information Age, Nguyen was sentenced over the theft of more than $300,000 in XRP two years ago. She was initially charged in Oct. 2018 and pled guilty to fraud charges the following August.
DeFi
Compound ready to launch decentralized Oracle
The Compound protocol is ready for the introduction of Open Price Feed - a decentralized Oracle, whose crypto market prices will enable the operation of the project's loan system. Open Price Feed is currently being tested on various networks. Kovan and Ropsten have been operating on the Ethereum (ETH) test network for almost two weeks. The developers are urging the community to test the new system and integrate it into the protocol as soon as possible. The system was continuously audited.