I have been looking for a good online crypto poker room ever since the activity on Wink dropped before they stopped their online casino (nobody lost money or got rugged on it) and it looks like I finally found it over at opebetai.io which is now one of the rare Crypto Casino Sites that has active Poker Tables! This is an initial Review...
Openbetai.io recently rebranded from Offside and is a relatively new Crypto Casino with the main token and Dividend Distribution on the Arbitrum 2nd Layer for Ethereum. Basically, they are using the software from Owl.Games for their casino and Sportsbook and they also share their player pool in the poker room. I spotted Owldao in the past but skipped on it since I did not like the tokenomics. For Openbetai these are just way better with a very low market cap still on the OPENBET token which got me to make an initial investment as I'm also using and enjoying the platform myself.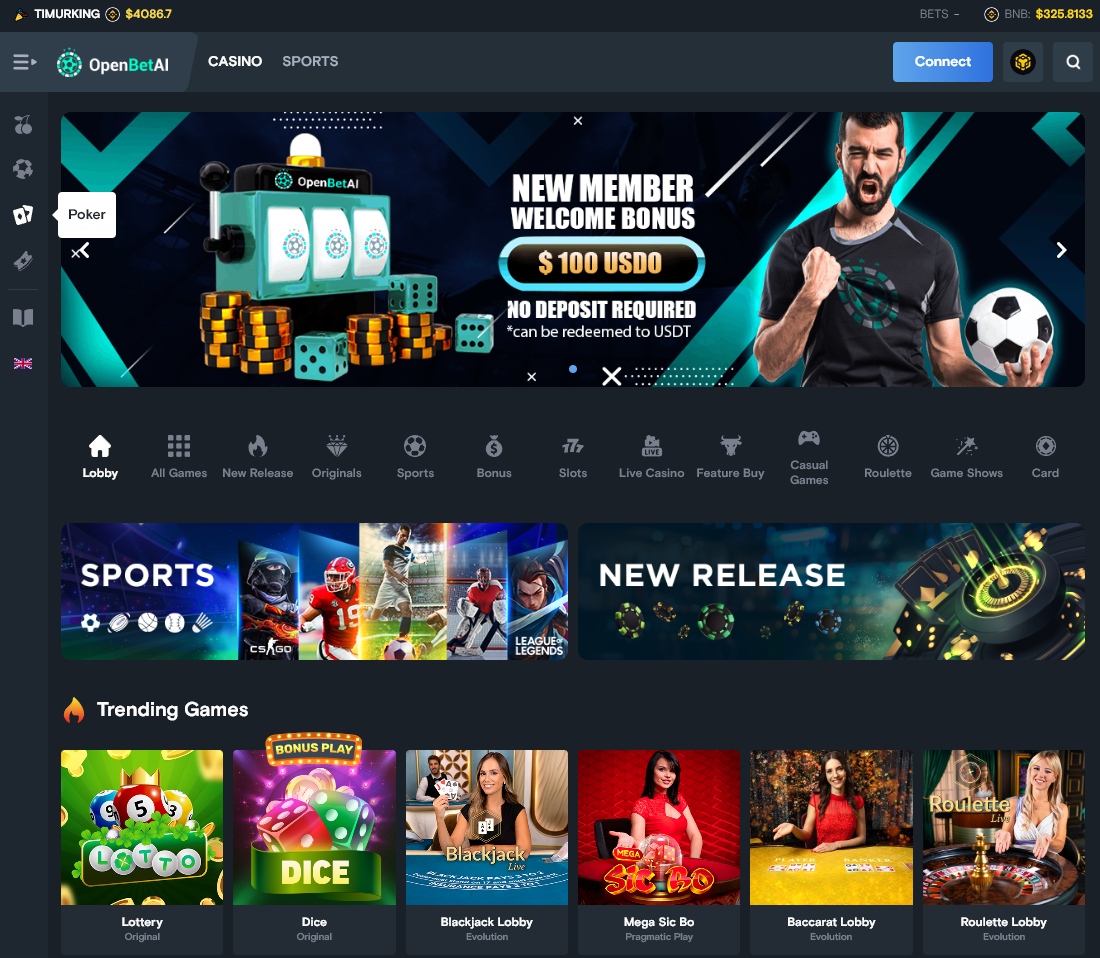 The Site right now is fully centralized which means that you need to make a deposit in order to be able to play and you can't just use funds straight from your wallet without having to give up control over them. This is something always to keep in mind since they pretty much can do whatever they want with your funds so keep caution in how much you actually deposit. The great thing is that you can directly log in with Metamask or WalletConnect and make easy deposits in different currencies (USDT / USDC / BUSD / BNB / ETH / ARB / MATIC / ...) straight from the Binance Chain, Ethereum, Polygon, or Arbitrum which is just extremely convenient and user friendly to crypto native people.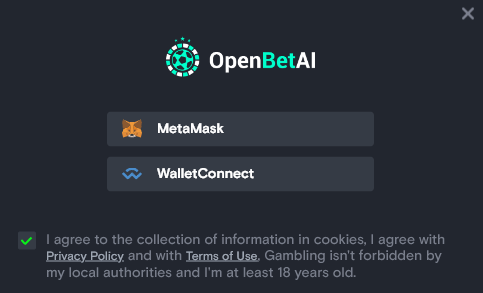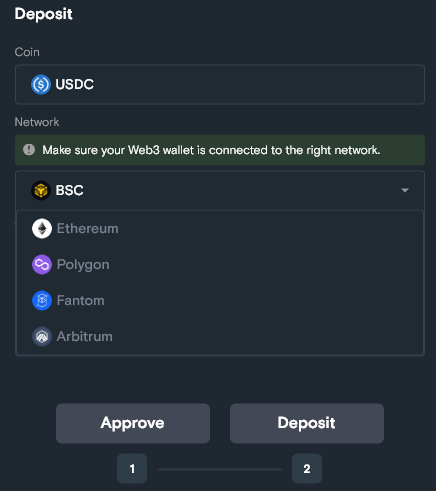 They also offer an option for anyone to list their own EVM Chain compatible tokens on the website to be used by gamblers. See Whitepaper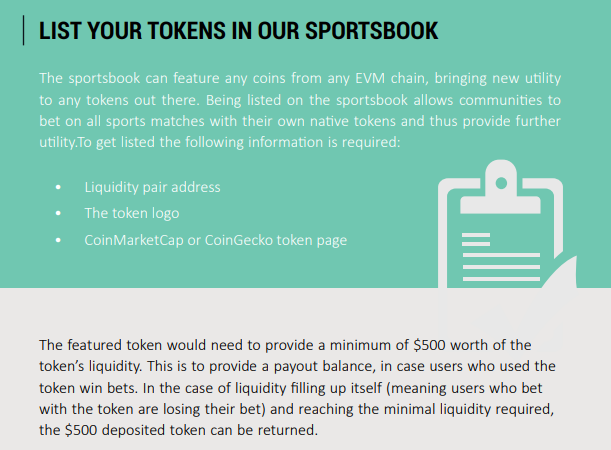 ---
Openbetai Poker Room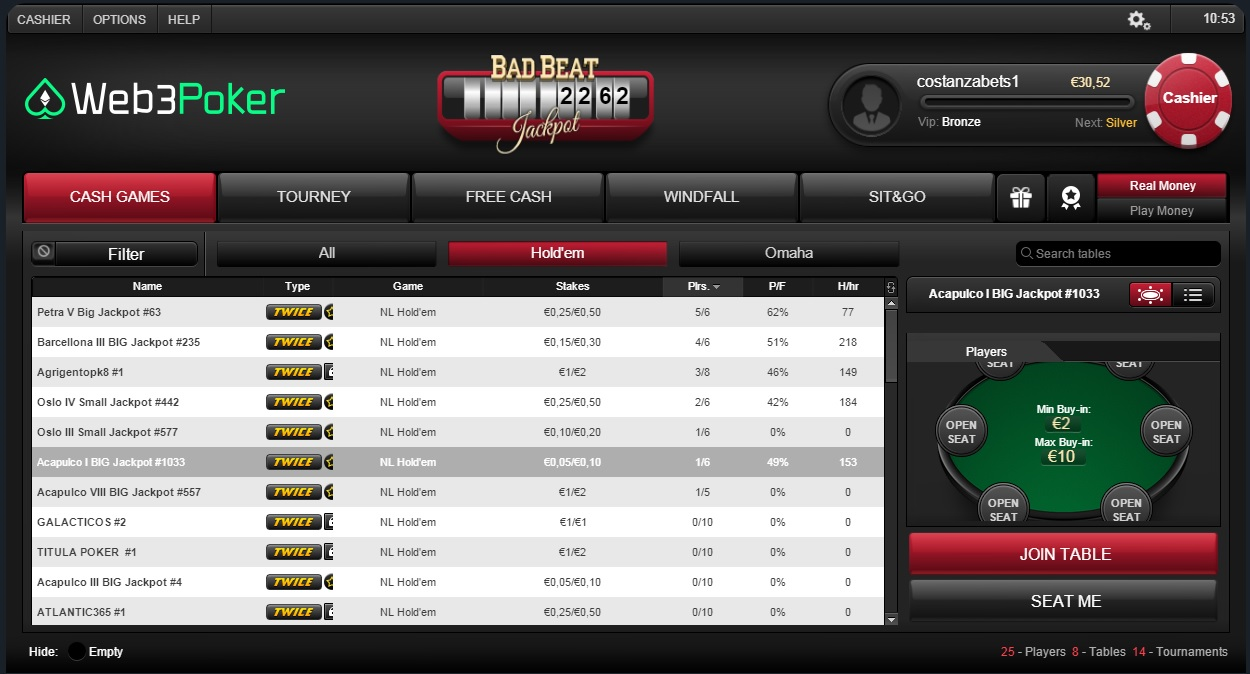 There is no need to download anything and you can just log into the poker room straight from the Openbetai.io website. While there isn't a ton of action, there are nearly always a couple of NL Hold'em tables of stakes between 0.05€-0.10€ and 1€-2€ blinds active to jump in on. The main currency on the site is Euro and your funds are automatically displayed in them for you to use.
The software works perfectly the way these poker rooms are supposed to work. There are options to take notes or mark players which I rarely use and there is also a jackpot (I have no clue how they work) and the option to 'cash out' instead of running it when being all in or to run it twice if both player choose that option. These things are not mandatory and they can highly reduce the variance for those who like that. There is also an option to change your ingame name and you don't see the player names until the point where you joined and got into your first hand. The only kind of annoying thing is that you manually need to click 'wait for BB' as otherwise it puts it in regardless your position. The good thing is that if you do wait, it gives an edge as many players don't and put in an unneeded big blind in a bad spot.
Soft Poker Opponents
The opponents tend to be casual gamblers and not so much poker sharks since the action isn't big enough for multi-tabling to make it worth the effort. Generally, there is a lot of limping with not too aggressive play, and rarely any 3-betting. Occasionally you will get a crazy gambler on your table who goes all in out of nowhere just to get the gambling rush. This was the case for me today when I played some so it was just a matter of time before getting the best of it.
In the First Big Hand I had KK on the button opting for a standard x3.5 raise hoping the crazy player behind me would shove which he had been doing a lot. He turned out doing so with A4o for just over 50 Big Blinds and a limper with 4js with 22 BB ended up calling for me to go all in in a favorable position with KK. Off course the ace came on the turn making me initially lose half my stack. In initially topped up my balance to be in the best position possible to get all the chips on the table.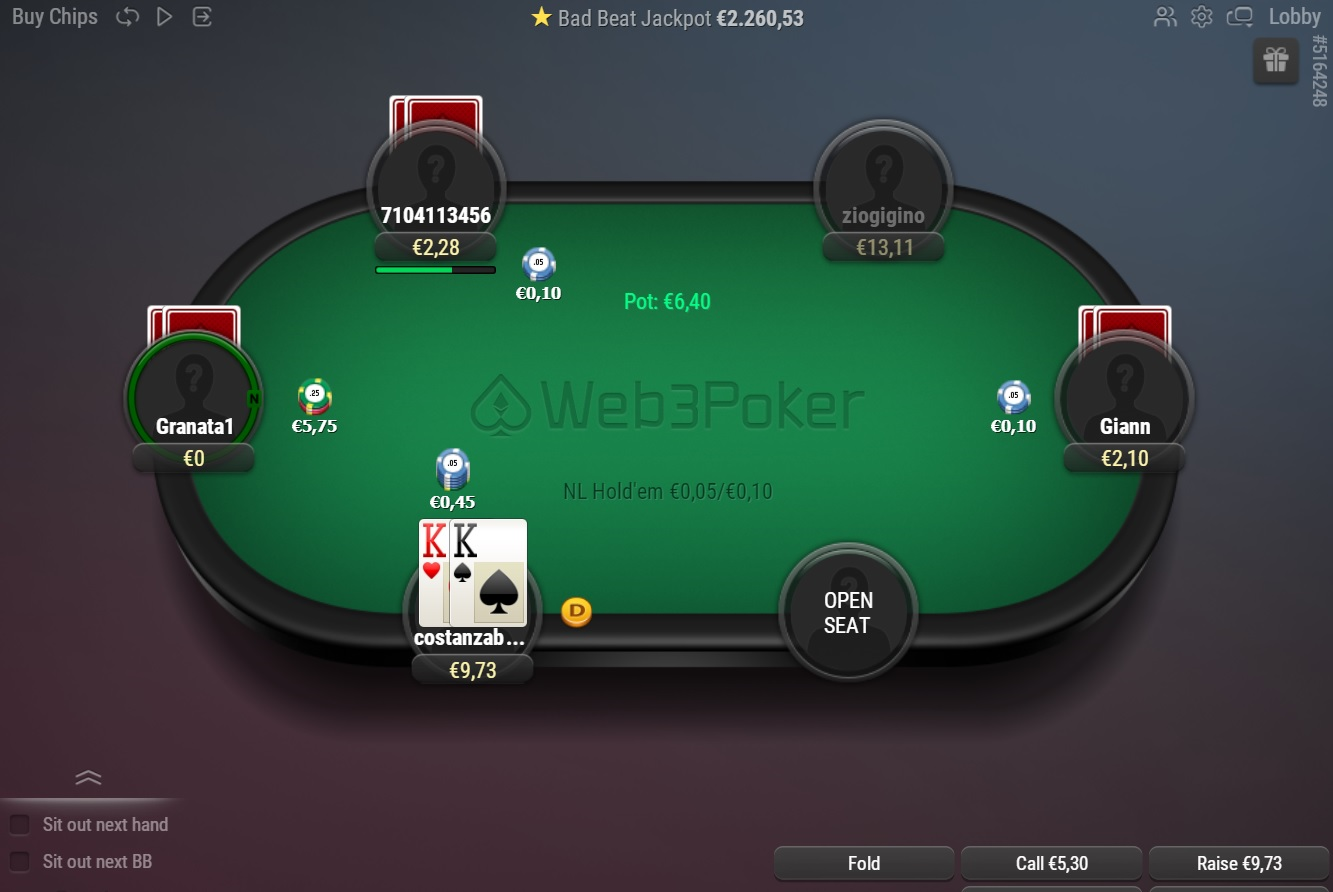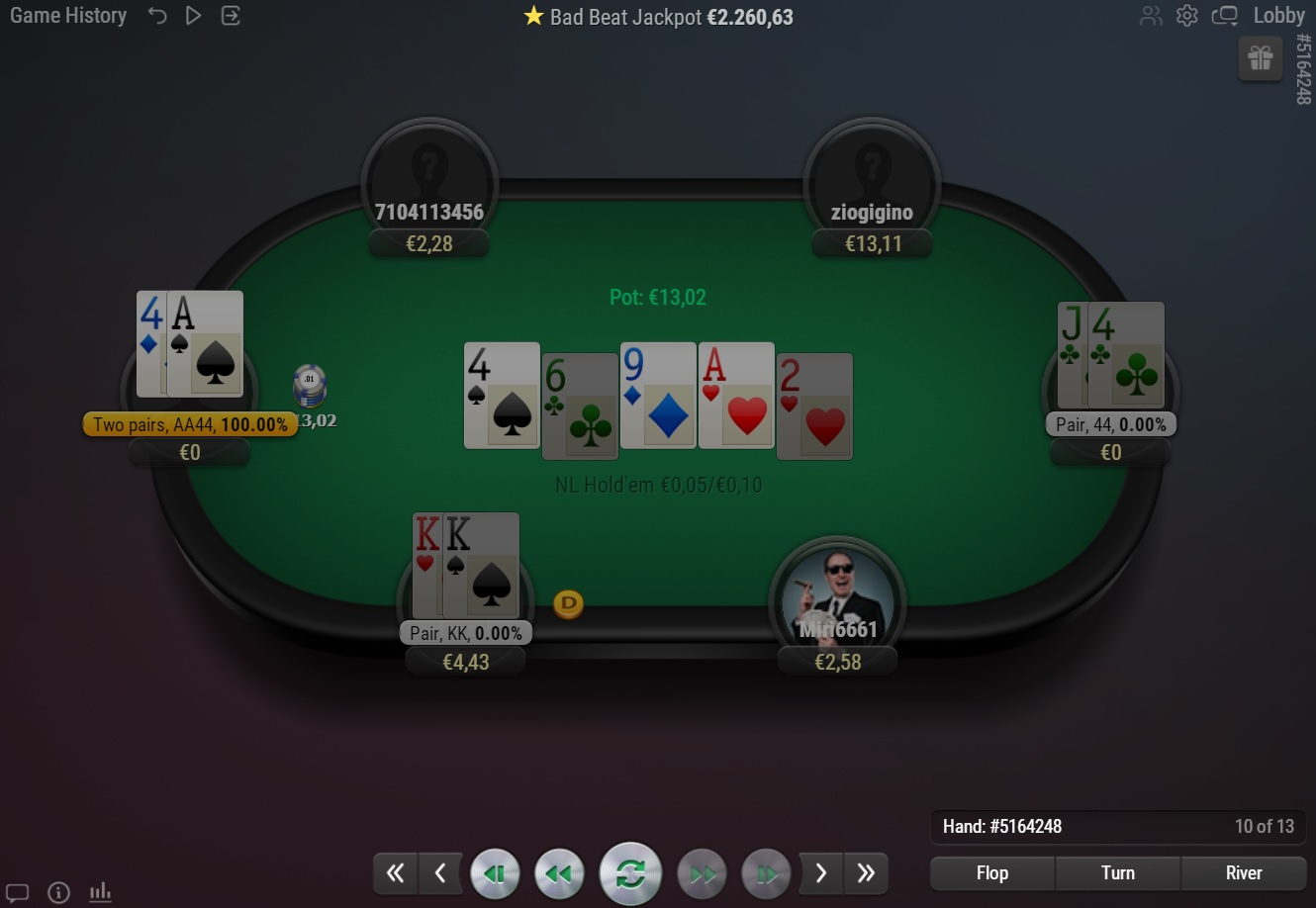 In the 2nd Big Hand I had A10o on the button going or a x5.5 raise after 2 limpers and I got again shoved in by the wild player. For a moment I considered to call and take the gamble hoping for another A4o type of hand but I kept my discipline and just folded waiting for a better spot.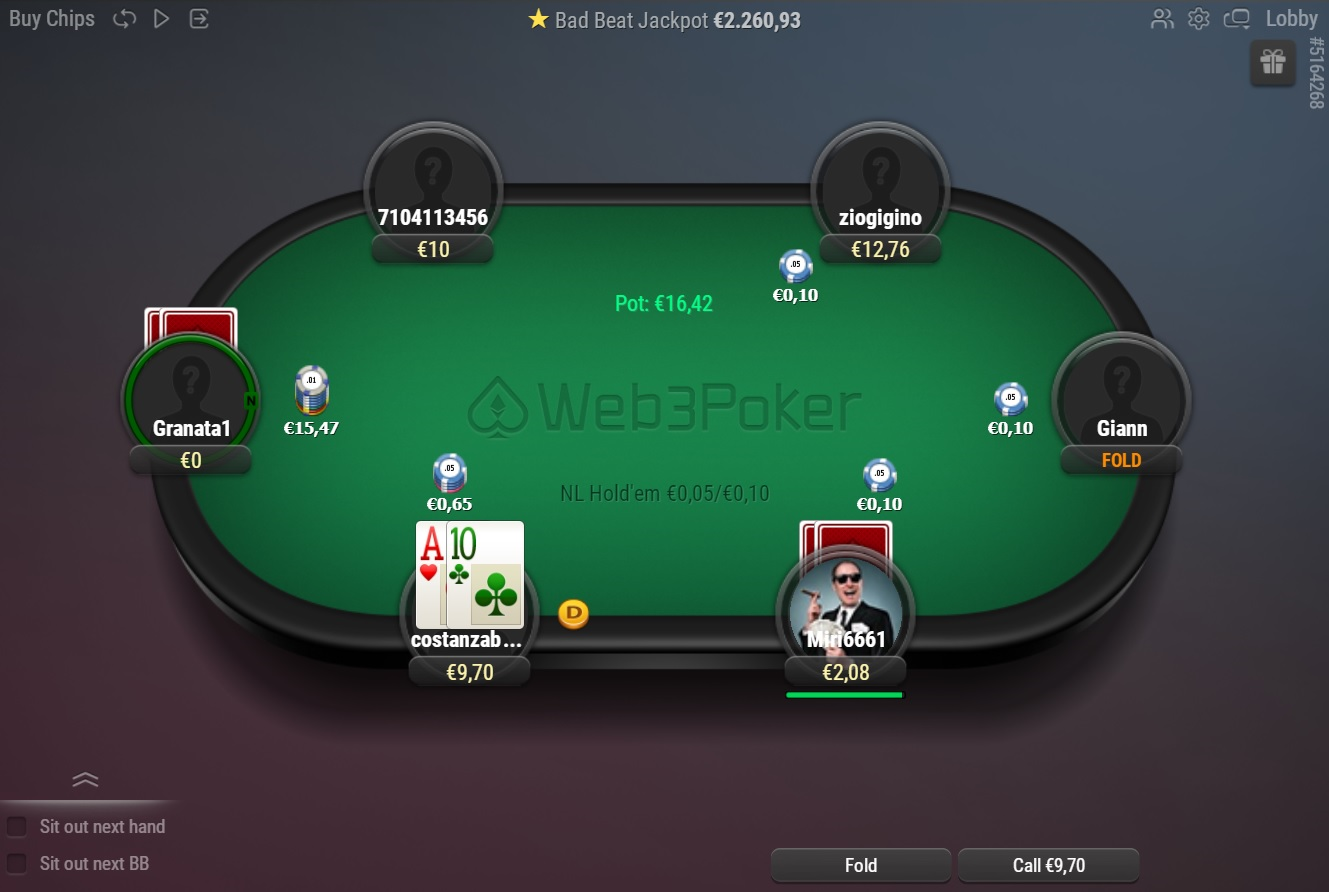 In the 3rd Big Hand I got QQ and this time just limped with and eye to 3bet anticipating a raise from the wild player. As it turned out he Shoved 226 Big blinds into me with a 10 Big Blind short stack calling which make this an easy call for me. He turned out to have another A7o type of hand with the small stack caller having 99. I did hold up as the big favorite winning everything and more back that I lost on the 1st hand actually making quads.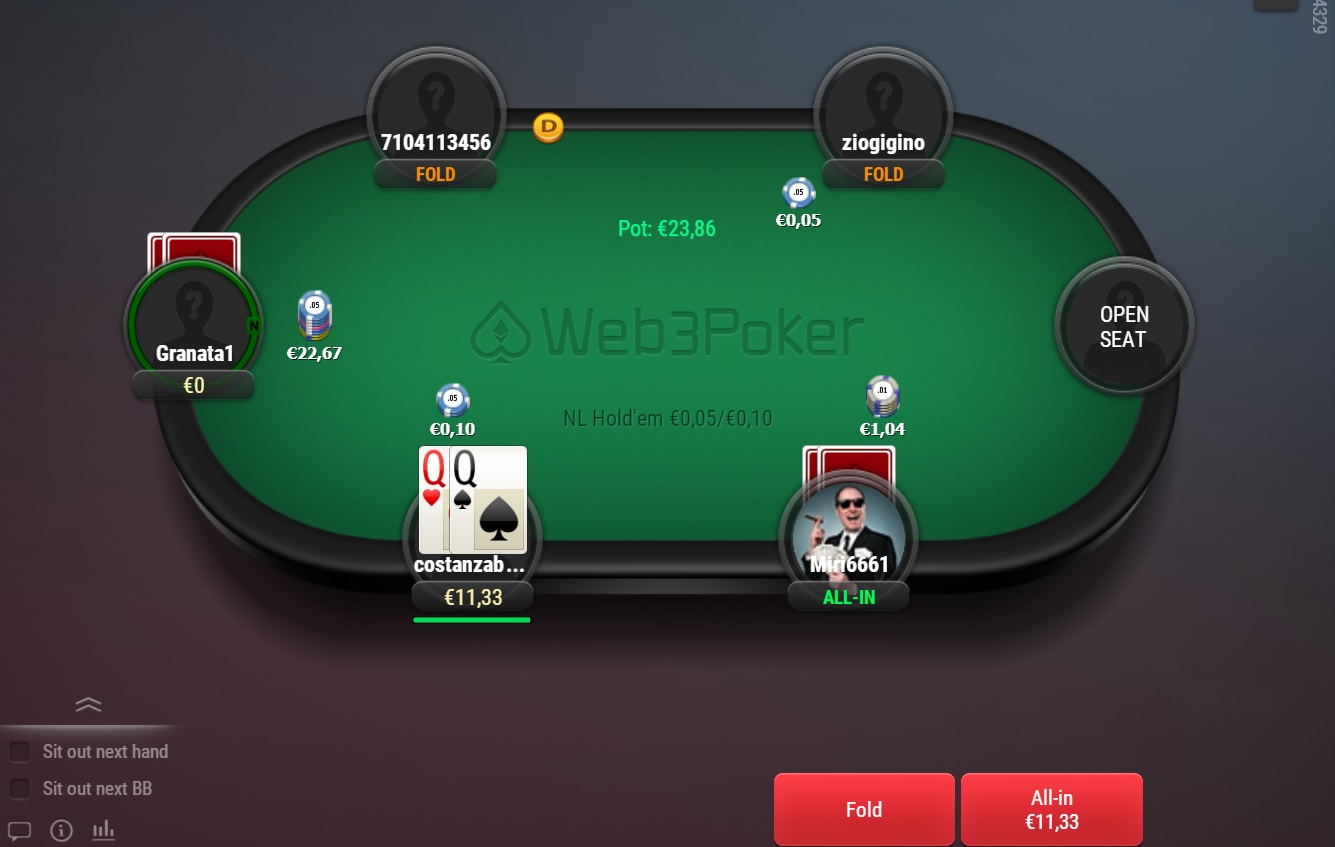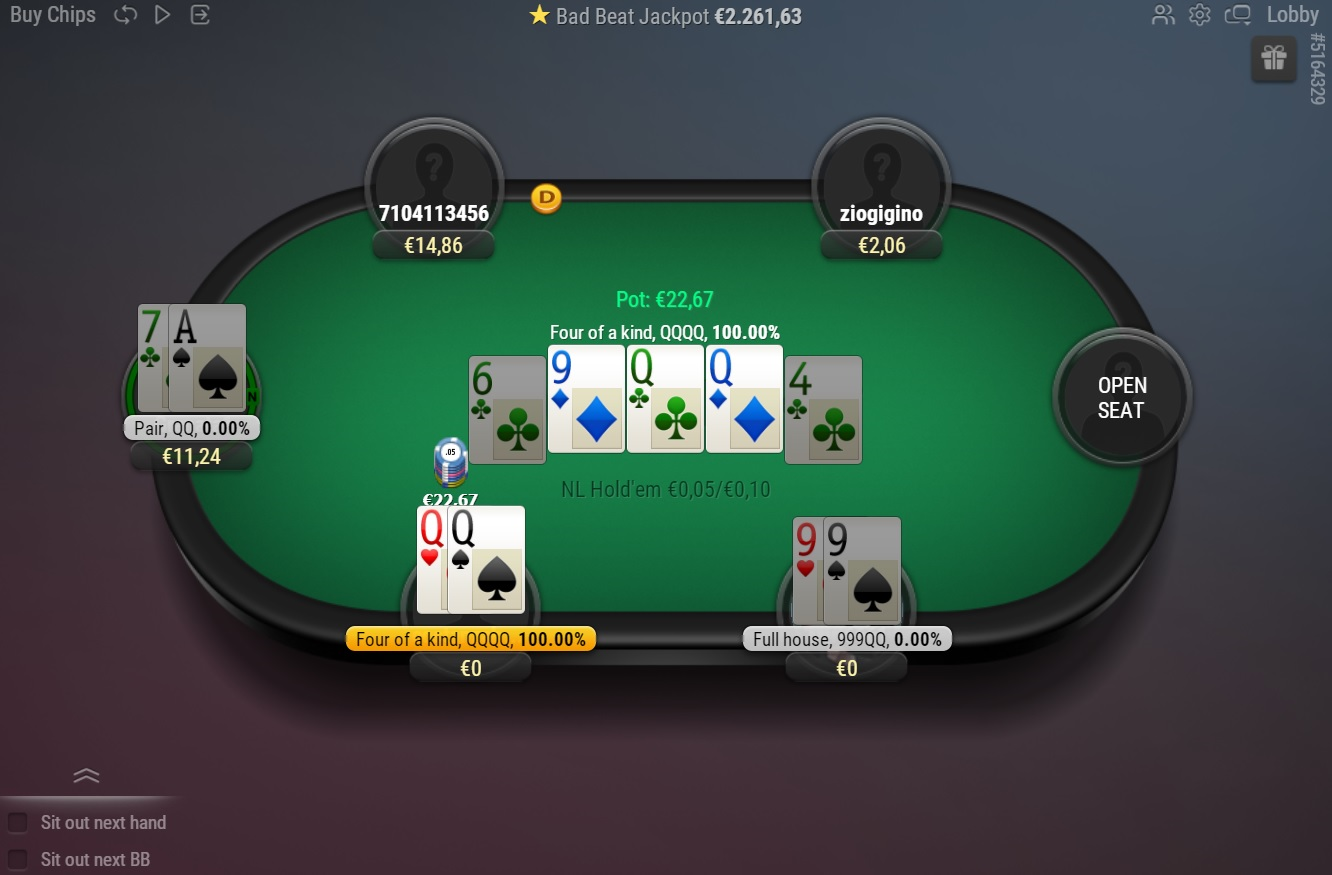 While I usually don't play if there are 4 players or less since it doesn't suit my style, I was willing to keep going knowing there was a good chance that I could stack the crazy player. So patiently I waited for the right spot which came getting shoved on while holding the nuts on the turn on a limped pot.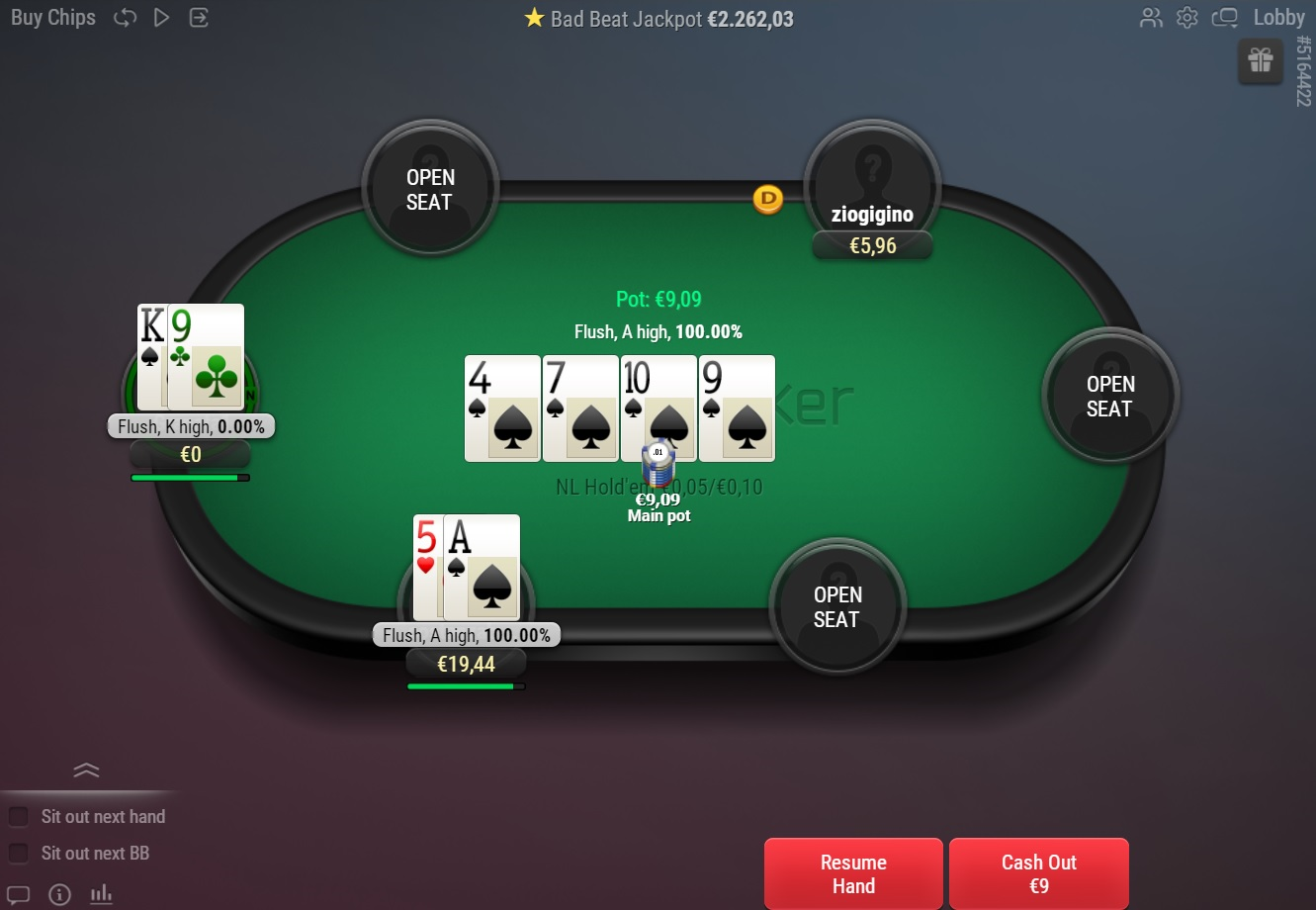 So overall that was a fun little session initially having some frustration but staying disciplined for eventually the inevitably to happen and to stack the player who was looking to gamble. This by no means is the norm on openbetai poker but you will face players like this regularly.
---
Rewards & Rakeback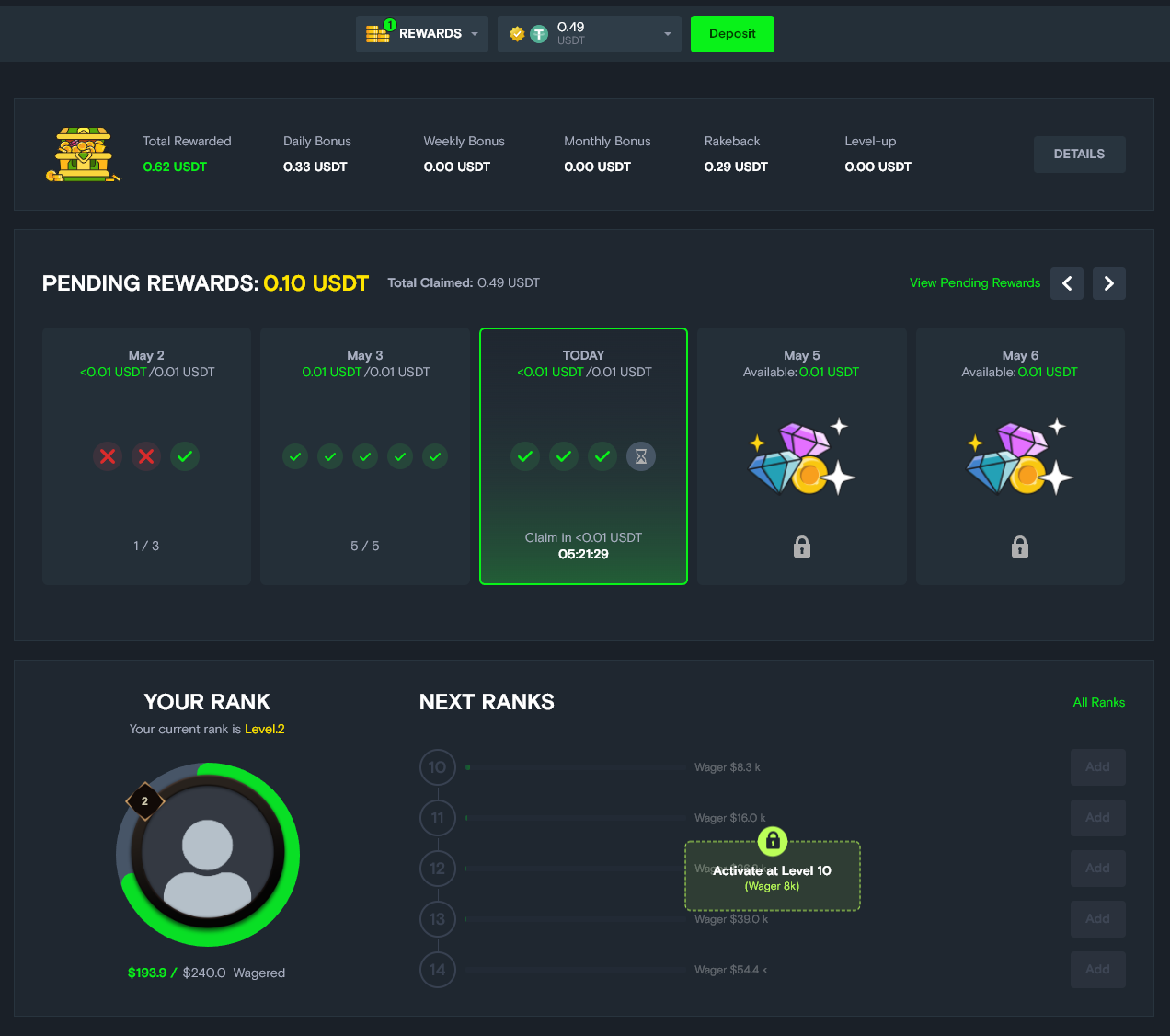 Openbetai.io does have a Reward / Rakeback program which is mainly aimed toward the casino games. The poker action doesn't count toward your ranking but you will get some rakeback which can be claimed periodically similar to on Rollbit.com and it is all done in USDT. You do need to log in daily to get the most of it.
100$ No-Deposit Bonus
For those who want to play on the site without an initial deposit or any risk , it is possible to get 100$ in USDT as a no-deposit bonus. The way this is done is that you can request 100 USDO on Telegram or Discord by giving the wallet that you connected with. These 100 USDO can be used to try out the casino (not poker or sports betting) and everyone succeeds in rolling it over 50x without losing all of it will receive 100$ in USDT that can be used to withdraw or play for real as a regular currency on the site.

I think the maximum bet is 2 USDO so it will take a while unless you put something on AUTO and get lucky. You can track your progress in the History-Bonus Tab. There you can also see your in and outflows of funds of the poker room and bets in general.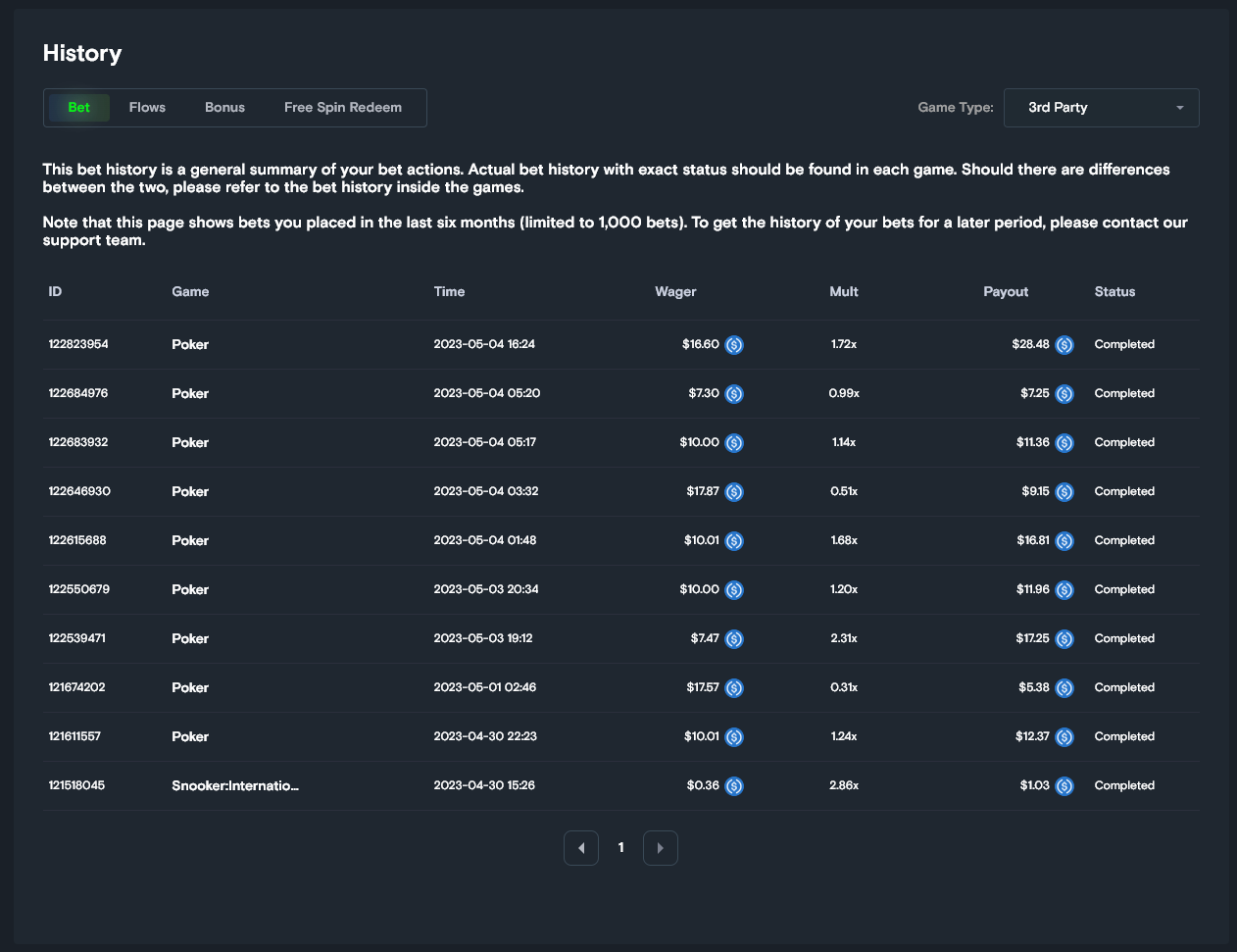 Revenue Share & NFTs
The site and the tokens are quite new and the team seems to have good knowledge of how the crypto space operates. There are 10M Tokens and 3M are locked still. From what I understand, funds from a pre-sale was put into an initial liquidity pool which included 24.5% of all tokens listed at an initial low price. This got the attention of people that hunt for new crypto projects and look for quick profit. This pumped the price to 0.155$ at the top or a 1.55 Million Market Cap Fully Diluted. This then came down again as these people started taking profit as they aren't the long-term holders that the project needs. Yesterday there was some more capitulation of someone that paid 10 ETH near the top now selling for a lot less (Transaction).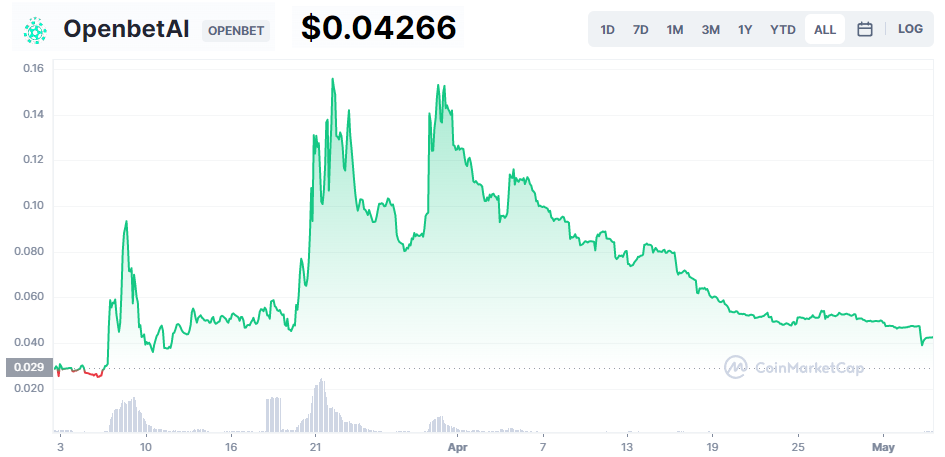 There is a 5% Buy & Sell Tax which goes to strenghten the liquidity pool and the project gets a 99% Security score on There is a 5% Buy & Sell Tax OPENBET Analytics which from what I understand can be changed in the future and the liquidity pool is locked so it can't get rugged.
There is a monthly Revenue share wich is done automatically to holders without the requirement to stake. The locked tokens along with the liquidity pook are excluded. In the first month this was 15098$ in total and this moth it is said to be more. Based on the current price and the dividends of last month it provides a very high yield with potential to get a lot higher as sites like Rollbit have 15k as less than 20% of the profit generated in 16 hours time.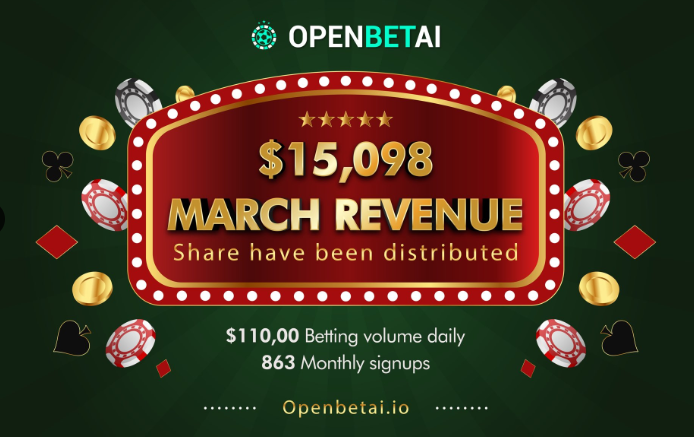 There are plans to also have an on-chain casino which also will pay out dividends. Right now things are set at 100% of the profit (after costs) that is paid out but this is more something of an initial promotional stunt for holders as it will drop to 50%. There are also plans to give out NFTs to players (similar to rollbit) to incentivize players which will also provide somewhere around 10% of the revenue share.
Conclusion
So far, I have only good things to say about Openbetai.io and I'm very much enjoying the poker action along with the sports betting that they offer. It remains a new project with lots of development to go and trust needed in the people behind it so approach it with caution. I did make OPENBET part of my core GambleFi Portfolio aside from SBET / BFG / & Rollbit NFTs which all provide a passive revenue share stream. I will continue to make weekly reports on them on my Hive blog for those who are interested in the numbers. (hive.blog/@costanza)
Crypto & Blockchain-Based Bookies and Exchanges that I'm personally using as they allow anonymous betting with no KYC or personal restrictions...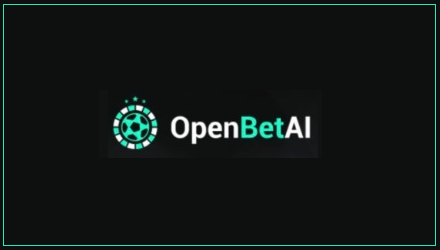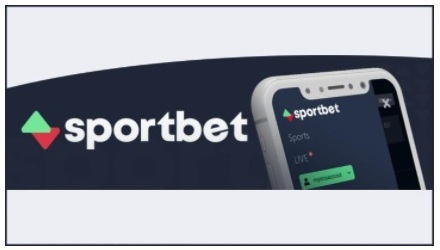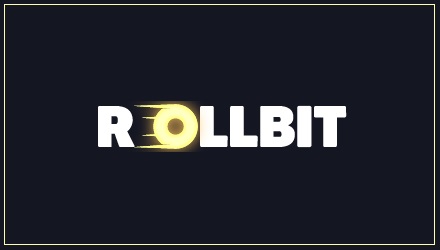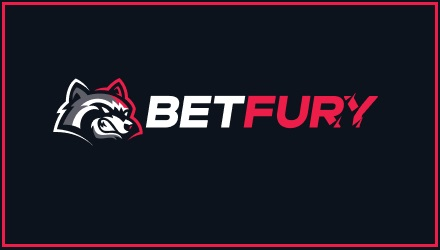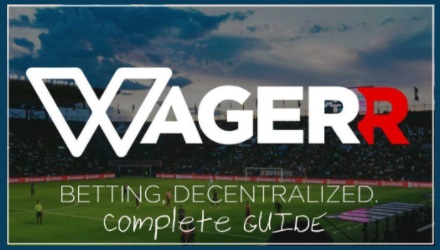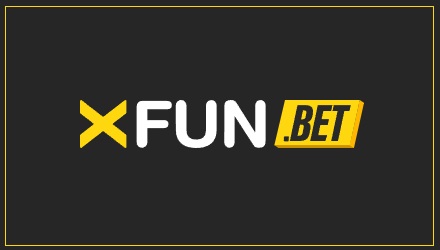 Play2Earn Games I'm Currently Playing...

---
Hive: https://hive.blog/@costanza
Noise.cash: https://noise.cash/u/costanza
Leofinance: https://leofinance.io/@costanza
Twitter: https://twitter.com/costanzabets