While my blogging the last 5+ months has mostly been focussed on Crypto, Trading & Splinterlands, my primary subject the last 3 years has documenting my journey betting the Belgian League which has been my bread and butter for decades now. Making Previews while sharing actual bets I take along with keeping close track of the results has helped me to stay sharp and I plan to keep this up during the 2020-2021 season. These are my Final Betting results from last season which ended abruptly.
(I'm not sure Publish0x is the best place for these posts or in any of the 600+ followers I build up here are in any way interested in it. I will see the response and possibly only post crypto-related posts here.) 
---
This was the 3rd season I used my blog as a way to keep sharp maximizing my chances to beat the betting market by systematically making preview on all the matches also sharing many of my bets and always keeping a fully transparent record on the actual betting results each week. Last season due to the circumstances only had 29 weeks in the regular season, so I missed out on a lot of potential betting action. I always say that making around +10 full units is a season makes it well worth all the effort earnings wise and that's about where I landed.
Season 2019-2020 Final Results
1406 Bets | 591W-599L-216P | 390.178 Units Staked | +9.690 Units Profit | +2.48% ROI
The overall results pattern was very similar to the 2018-2019 season with a clear edge in the early stages with somewhat of a drop back afterward just landing below what I generally expect to win. Overall, I can't complain all too much but I realize things aren't getting easier and I will need to put in the work in order to stay profitable.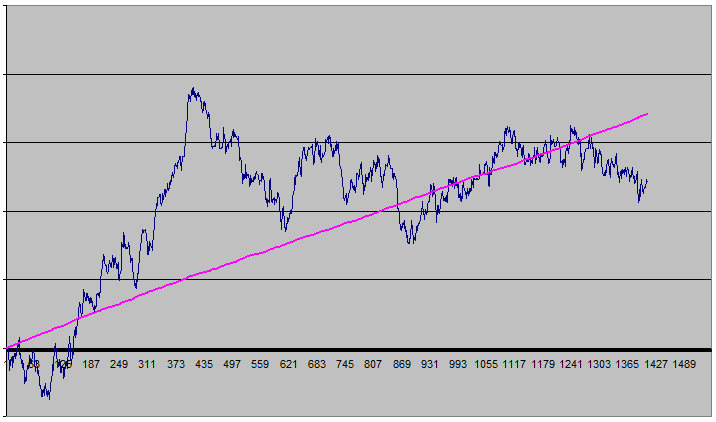 I still do all my regular Betting on my betting broker Sportmarket Pro which I have been using for many years and always provides me with the best odds on the market and good limits. I will for sure continue to use them in the coming season and would highly recommend all serious bettors to look into what they have to offer!

All Personal Weekly Results 2019-2020
Week 29 Results 19 Bets | 10W-06L-03P | Staked 05.742u | +1.179u Profit
Week 28 Results 43 Bets | 20W-16L-07P | Staked 13.856u | -1.750u Loss..
Week 27 Results 54 Bets | 22W-26L-06P | Staked 14.090u | -0.689u Loss..
Week 26 Results 53 Bets | 23W-19L-11P | Staked 16.278u | -1.182u Loss..
Week 25 Results 44 Bets | 15W-16L-13P | Staked 12.880u | +0.880u Profit
Week 24 Results 50 Bets | 16W-24L-10P | Staked 12.554u | +0.352u Profit
Week 23 Results 50 Bets | 18W-27L-05P | Staked 13.936u | -1.087u Loss..
Week 22 Results 40 Bets | 18W-17L-05P | Staked 10.256u | +1.227u Profit
Week 21 Results 50 Bets | 17W-19L-14P | Staked 11.698u | +1.225u Profit
Week 20 Results 59 Bets | 30W-21L-08P | Staked 15.308u | +2.212u Profit
Week 19 Results 54 Bets | 26W-21L-04P | Staked 13.806u | +1.244u Profit
Week 18 Results 44 Bets | 12W-23L-09P | Staked 12.008u | -3.747u Loss..
Week 17 Results 43 Bets | 12W-24L-07P | Staked 12.008u | -1.100u Loss..
Week 16 Results 66 Bets | 35W-25L-06P | Staked 16.542u | +2.101u Profit
Week 15 Results 56 Bets | 21W-29L-06P | Staked 15.506u | -2.922u Loss..
Week 14 Results 42 Bets | 20W-15L-07P | Staked 10.174u | +0.648u Profit
Week 13 Results 35 Bets | 25W-36L-05P | Staked 10.070u | +2.865u Profit
Week 12 Results 66 Bets | 25W-36L-05P | Staked 16.210u | -1.500u Loss..
Week 11 Results 60 Bets | 23W-27L-10P | Staked 16.514u | -1.640u Loss..
Week 10 Results 65 Bets | 21W-31L-13P | Staked 16.396u | -3.069u Loss..
Week 09 Results 44 Bets | 23W-18L-03P | Staked 13.186u | +3.774u Profit
Week 08 Results 65 Bets | 34W-24L-07P | Staked 17.781u | +4.371u Profit
Week 07 Results 31 Bets | 16W-08L-07P | Staked 10.263u | +1.059u Profit
Week 06 Results 52 Bets | 21W-26L-05P | Staked 13.694u | +0.595u Profit
Week 05 Results 46 Bets | 16W-17L-13P | Staked 13.265u | +1.459u Profit
Week 04 Results 54 Bets | 28W-22L-04P | Staked 17.272u | +4.471u Profit
Week 03 Results 56 Bets | 24W-24L-08P | Staked 16.52u | +0.099u Profit
Week 02 Results 36 Bets | 13W-18L-07P | Staked 10.95u | -0.452u Loss..
Week 01 Results 32 Bets | 15W-10L-07P | Staked 09.82u | -0.923u Loss..
---
Shared Pre-Game BTC Bets Results
I have been using both Nitrogensports and Sportbet.io to selectively take some extra on my strongest bets also sharing them exactly as I take them when the odds are available for anyone to follow. I also posted every single one on my Twitter (@costanzabets) for those that want notifications. I did also take these bets on Copytip where they can automatically be followed. All stakes are flat 0.01BTC
These are the bets that were shared during the 2019-2020 Season...
Season 2019-2020 BTC Bets Results
25 Bets | 15W-09L-1P | 0.25 BTC Staked | +0.06086 BTC Profit | +24.34% ROI
Overall a very solid year on BTC bets and I plan to continue going about things in the same way during next season.
---
Shared Discord Live Bets Results
I have pretty much covered every Match Live on the SBC Discord Server also sharing some of my stronger Live bets there. (All these bets I take on Sportmarket Pro) with 1 unit Flat Stakes. These were the results on them...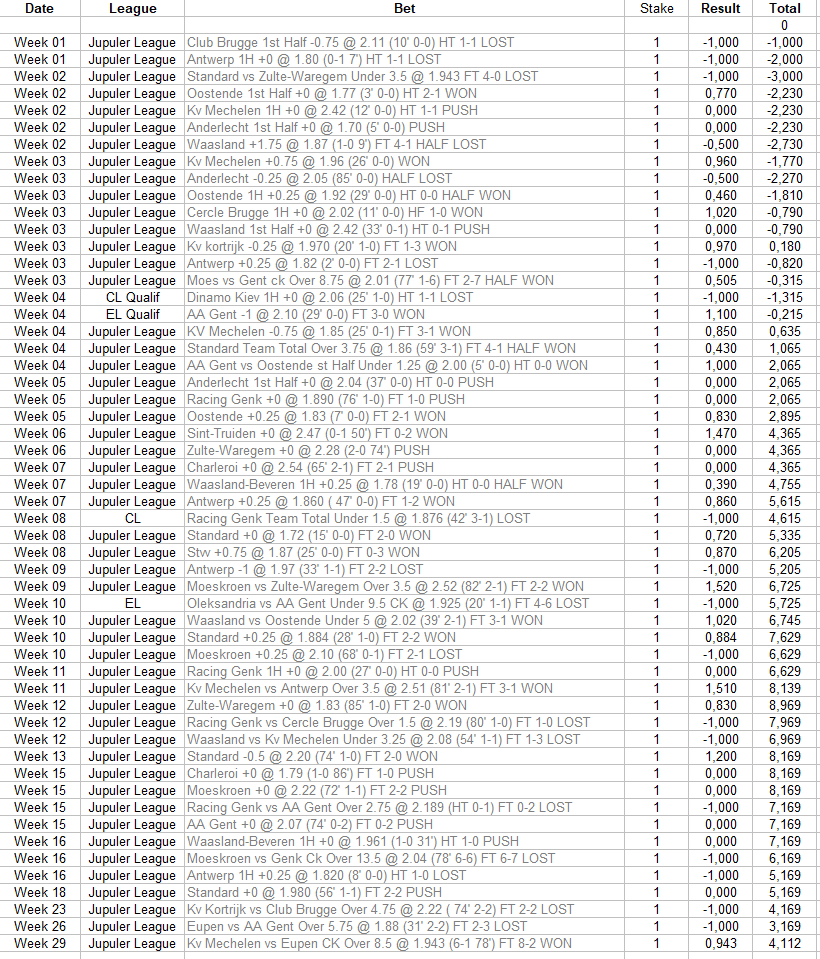 Season 2019-2020 Discord Live Bets Results
54 Bets | 23W-19L-13P | 54 Units Staked | +4.112 Units Profit | +7.61% ROI
---
Belgian Jupiler League Season 2020-2021 Plans
I plan to do pretty much exactly the same for the next season (Don't fix what's not broken) even though I will very likely take a much more cautious approach given the different circumstances. The first matches will be played this weekend with the Cup Final Between Club Brugge and Antwerp with the actual league being set to start the week after. if it will start that is because there is a lot of drama around the Relegation being invalid due to the fact that the season was not properly finished. I will always continue to keep close track of all the results. So far I managed to grind out a sample size of around 3800 bets during the last 3 years doing +3.59% overall on my personal bets. Past results don't guarantee future results in any way though and the curve seems to be flattening so I will likely have to step it up!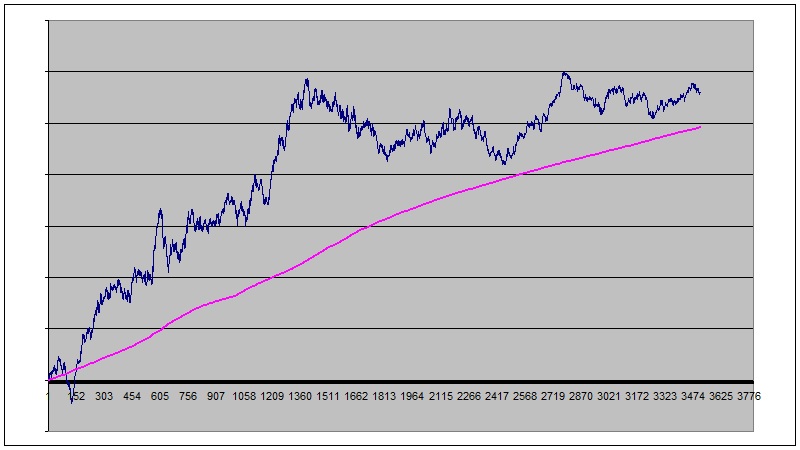 Let's Do This !!!
---
Hive: https://hive.blog/@costanza
Steemit: https://steemit.com/@costanza
Uptrennd: https://www.uptrennd.com/user/costanza
Twitter: https://twitter.com/costanzabets