This is a weekly overview of my personal sports trading results on teams from the Belgian Jupiler League documenting my journey toward long-term profit with some insights on my overall approach.
The playoffs have started and they traditionally haven't been my strong side since a lot of the dynamics change compared to the regular season and my overall focus tends to drop a bit after a long season while the weather is getting better. I still believe to have an edge and enjoy it so I continue to keep going. I will keep a cautious approach and track the results from zero not allowing myself to feed on the results from the regular Season.

I had 222 pre-game bets highlighted during the regular season good for +21.370 units profit and a solid +9.63% ROI. Likely there will be less action during the playoff but I'm tracking the results regardless. 3 Bets last week of which 2 came on the cup with some profit going 1W-0.5L-1.5P for a profitable start.
---

I had no big bets last week that I wanted to include in the bets I take some extra on over at Copytip while sharing it in the SBC Discord Channel. I will see how it goes and get in some action if the opportunity presents itself.
Copytip /Discord Bets Season 2020-2021
19/04/2020 Anwterp -0.5 CK @ 1.92 (73' 6-3) FT 9-4 Bet WON
14/03/2020 Racing Genk +0 @ 2.720 (0-2 69') FT 1-2 LOST
11/12/2020 Racing Genk +0 @ 1.945 FT 1-0 LOST
01/11/2020 Antwerp +0 @ 2.500 FT 1-0 LOST
03/10/2020 OHL vs Zulte 1H U 1.25 @ 1.989 HT 1-0 HALF WON
30/08/2020 Club Brugge -0.25 @ 1.846 (20' 0-0) FT 2-1 WON
22/08/2020 Zulte Team Total over 2 @ 1.924 (37' 1-0) FT 4-1 WON

I take all my Pre-Game & Live bets with my Betting Broker Sportmarket Pro who always provides the best offers on the market with a 1 click solution and doesn't limit winning players offering high limits. For more info check my Sportmarket Pro Review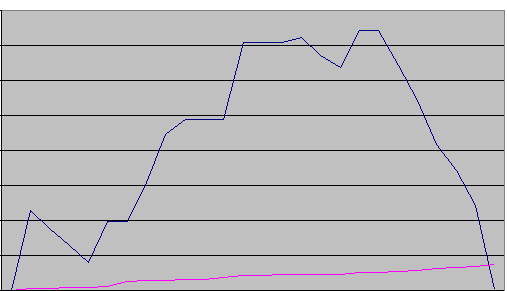 I reduced the expected profit pink line to a conservative +2.4% for the playoffs based on previous performances. The number of bets that I will be able to get it will be nowhere close to represent the expected profit and it is likely to end way above or way below that.
Playoff Results 2020-2021
Playoffs W1 Results 25 Bets | 08W-11L-06P | Staked 06.250u | +0.004u Profit
 Regular Season 2020-2021 Results
1389 Bets | 636W-612L-142P | 361.457 Staked | +11.518u Profit | +3.19% ROI

---
Season 2019-2020 | 1406 Bets +2.48% ROI
Season 2018-2019 | 1090 Bets +2.47% ROI
Season 2017-2018 | 821 Bets +7.22% ROI
---
5 more matches are coming up next weekend so expect me to cover all of them both pre-game and live getting some bets in while bringing the results 7 days from now.
Hive: https://hive.blog/@costanza
Leofinance: https://leofinance.io/@costanza
Twitter: https://twitter.com/costanzabets