The World Health Organisation (WHO) has declared the coronavirus disease 2019 (COVID-19) a pandemic. A global coordinated effort is needed to stop the further spread of the virus. A pandemic is defined as "occurring over a wide geographic area and affecting an exceptionally high proportion of the population."The last pandemic reported in the world was the H1N1 flu pandemic in 2009.
On 31 December 2019, a cluster of cases of pneumonia of unknown cause, in the city of Wuhan, Hubei province in China, was reported to the World Health Organisation. In January 2020, a previously unknown new virus was identified, subsequently named the 2019 novel coronavirus, and samples obtained from cases and analysis of the virus' genetics indicated that this was the cause of the outbreak. This novel coronavirus was named Coronavirus Disease 2019 (COVID-19) by WHO in February 2020.
MODE OF TRANSMISSION OF THE CORONAVIRUS
The corona virus is unline other virus which are basically transmitted by physical contact with a carrier of contaminated surfaces, it is that one should always avoid contacts with our eyes mouth and nose since these are the places where this virus can be contacted through. This novel virus has killed thousand of people and we are advised to always wash our hands as frequent as possible to avoid contacting the virus. It is observed that Most respiratory droplets fall to the ground within a few feet. People who are in close contact with those infected, particularly family members and health care workers, may catch the virus this way, suffice it is to say that this virus is easily transmitted through the eyes, mouth and nose.
COVIR
What is Covir.io
Covir is the exclusive partner of www.octopusrobots.com for the funding of robotic disinfection systems international licences based on tezos blockchain. 
Covir,s aim is the funding of robotics manufacturing by its token sale. The manufacturer of the Robots is Octopus Robots. Covir introduced the system of funding via token-sale and giving a profit of the product sale to investors with the help of blockchain technology. Covir.io is the bridge between a crypto and a physical company profits. The Covir.io distributing royalties of Octopus Robots sells to CVR holders. Covir a crypto linked to a physical company. For 3 years, Covir have been working on blockchain technologies with Covir-Pagest Environnement, with the aim of processing and guaranteeing the DATA captured and recorded by the robots (temperature, humidity, pollution, treatments etc.).
Benefits
Because Covir has automated the whole process through tokenization and the decentralized quality of blockchain there are many benefits of Covir. In partnership with COVIR.IO, operational pre-financing vehicle, Octopus Robots launches the pre-financing of its global portfolio of potential licenses by TOKENIZING ITS LICENSING RIGHTS ON THE TEZOS BLOCKCHAIN. The digitalization of License's rights, intangible assets, thanks to the tokenization, will allow a better liquidity, pooling and opening to all the countries or geographical area. The blockchain technology helps to gain efficiency, thanks to COVIR.IO smart contract automating the sale of the token and the distribution of the royalties. Covir aims to disinfection Corona Virus in public and other places through Octopus Disinfection Robots. Covir can also be used as a normal cryptocurrency for funds transfers and trading etc.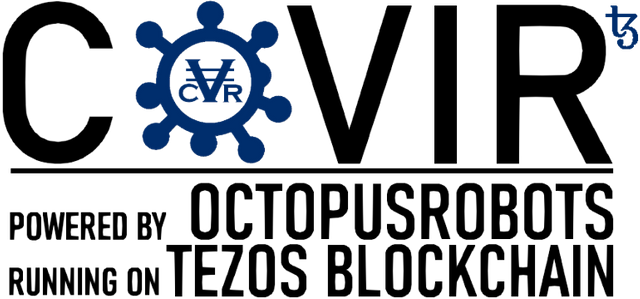 What is Octopus?
Octopus Robots is a robot manufacturing company which is designing and developing unique kind of Robots. Octopus Robots was founded in 1987. The company was specializing in developing and manufacturing metrology products for industrial applications. Octopus Robots is listed on the stock exchange. It filed a patent on February 7, 2017 PCT / FR2017 / 050277 (valid for 20 years i.e. 2037) and is developing a technology for air disinfection (spray) of spaces and surfaces potentially contaminated by viruses e.g. Covid-19, or bacteria. The Octopus Robots is playing its vital role during the pandemic era of Covid-19.
Octopus Biosafety

Octopus Biosafety is a robot manufactured by Octopus Robots. The Octopus Biosafety is the first robot of its kind. Octopus Biosafety efficiently treats very large volume environments. It can treat oversized premises compare with existing aerosol delivery systems. Its unique atomization module delivers biocides in aerosolized form (ultramicroscopic particles) while getting away from temperature gradients and air flow issues that may negatively impact disinfection operation. It continuously maps indoor conditions and alert operators in case of anomalies detected. The robots is fully autonomous and reliable. The below video is a little presentation of the Octopus Biosafety robot.
Octopus Robots Company Stats
Because Covir is distributing royalties of Octopus Robots among Covir holder it is necessary to know about the company stats. Octopus Robots is running successfully and selling their products for 33 years. Here are some stats of Octopus Robots in the stock exchange at May 22, 2020.
Share Price : €3.60-€3.70
Average Volume : 8.47K
Shares Outstanding : 2.03M
Why Blockchain Technology Covir.io is using blockchain to automate the whole process. Covir is creating a transparent and decentralized platform to contribute to biosafety projects without going through an intermediary. The blockchain will help to collect funds through token sale and also the distribution will be tokenized. As the blockchain has market grown up and growing more day twice and night trice. Because of the trend of blockchain, Covir has decided to create a blockchain startup. The blockchain made everything easy, the payments, online contracts and distribution etc.
Why Tezos Blockchain
Why Covir chose Tezos blockchain for creating Covir Token?
Our founders thought about various available platforms that we can use to execute our project. One platform kept on ringing in our mind, Tezos. Tezos is an open-source platform designed for assets and applications supported by a team of validators, researchers and builders. We chose Tezos not only because we believe the platform accurately represents blockchain technology and its objectives. Its simplicity, safety and scalability are lacking in many of its peers. Tezos equally allows for flexibility as advised by our community, without any complications. 
Tezos is the new emerging blockchain in the market.
Tezos is looking perfect at :-
-Security
-Economic
-Huge and multiple developments in progress thanks to one of the largest developer communities in the world.
-Participatory and community-based management of technology
-Huge potential
Covir and the CVRs are the first general public tokens issued to date on this blockchain. Covir is only the 2/3rd private blockchain operational on Tezos and the others being very fin tech , very pro , et techniques. We believe in a huge development as Tezos and crypto are used, and therefore the potential for our CVR to be leveraged with XTZ is incredible.
How Investment in Covir is Beneficial Investing in Covir is too beneficial. Covir is making system that will provide profit to investors that can be understood by the below diagram. The crypto world investors will buy CVR in sale and the fiat investors will buy shares of Octopus Robots. From the investment company will manufacture products. Now when the client will buy license or products from the Octopus Robots. Octopus Robots will separate a percentage of royalties that will be distributed among crypto investor in XTZ and fiat investor as their divided. The other amount will be the cost of manufacturing. That makes the investment in Covir every interesting. If you have CVR it like you have shares of the company. The crypto linked to a physical company.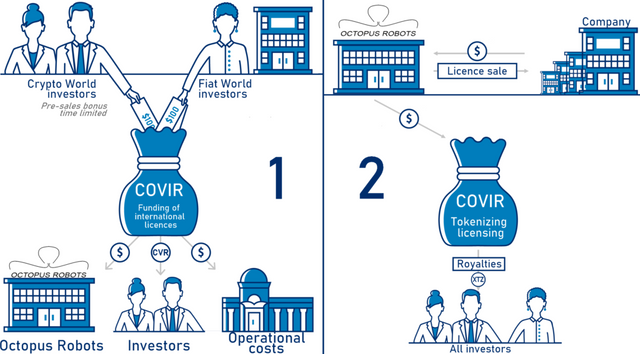 Covir Royalties Distribution System

Let talk about distribution of royalties.The royalties distribution is held after every three months. COVIR redistributes the Royalties to all of our investors (in proportion to the number of CVR held by each investor). As simple as it sounds, + you have CVR + you'll receive high royalties.
The royalties work on 2 phases:
Octopus Robots sells licenses. 50% of the royalties of its licenses are redistributed to Covir and the remaining 50% remains with Octopus Robots.
When Octopus Robots sells a product (whatever the product) it includes the patent, and therefore generates up to 10% royalties per product. 5% of these royalties are redistributed to Covir and the remaining 5% to Octopus Robots.
Covir Token Sale Covir is selling 30% of its total supply. The Covir private sale is still live you can take part and can have successful investment. The current price per token 1 CVR = 0.2 USD. To participate in the token sale follow this link----> https://wallet.covir.io/. CVR can be bought in BTC, ETH, Tron, XTZ and USD(Credit Card) .
INVESTING IN COVIR TO SAFEGUARD LIFES:
Investing in a project from its start is the key to profit. 
Investing in a project from its start is the key to profit. For Example When the Bitcoin was nothing peoples send it to others as fun The first person to sell bitcoin auctioned 10,000 BTC for $50 but no buyer found. On 17 March 2010, now-defunct BitcoinMarket.com started operating as the first bitcoin exchange The price at that time was 0.003$ per BTC now it had reached more than $19,783. If any person holds bitcoin from then to now has a more than super-duper profit.
Don,t think that if you buy bitcoin at that stage you will be a billionaire today, Because still there are new opportunities like bitcoin in the face of new projects. One of the innovative projects is Covir.io that brings a huge opportunity of making profit
Private Sale
Private Sale has a higher bonus. One week remaining in last date of private sale.
Private Sale Bonus
Higher Bounty Up to 30%
+15% - Private Sale
+5% - Buy With XTZ
+5% - 5 000 CVR min.
+5% - 50 000 CVR min.
Private Sale deadline : May 31, 2020

Public Sale

After private sale pre-sale will start. You can also participate in it and assure your share in Covir and indirectly in Octopus Robots.
Pre-sale - Bonus
Super Bounty Up to 25%
+10% - Pre-Sale
+5% - Buy With XTZ
+5% - 5 000 CVR min.
+5% - 50 000 CVR min.
Pre-Sale deadline : August 31, 2020
Future of Covir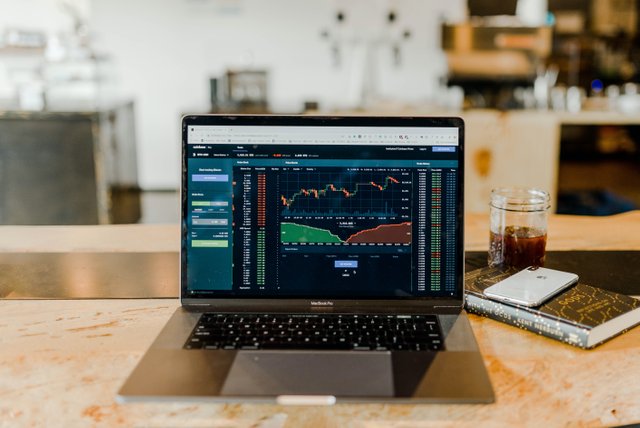 Covir has a bright future. The company is planning much for upcoming days. The unique system of Covir is the key behind its success. The Octopus Robots sale has increased because of the Corona Virus. The Covir is growing day by day. But in end I would like to say that don't miss this opportunity like the bitcoin one.
Official Links